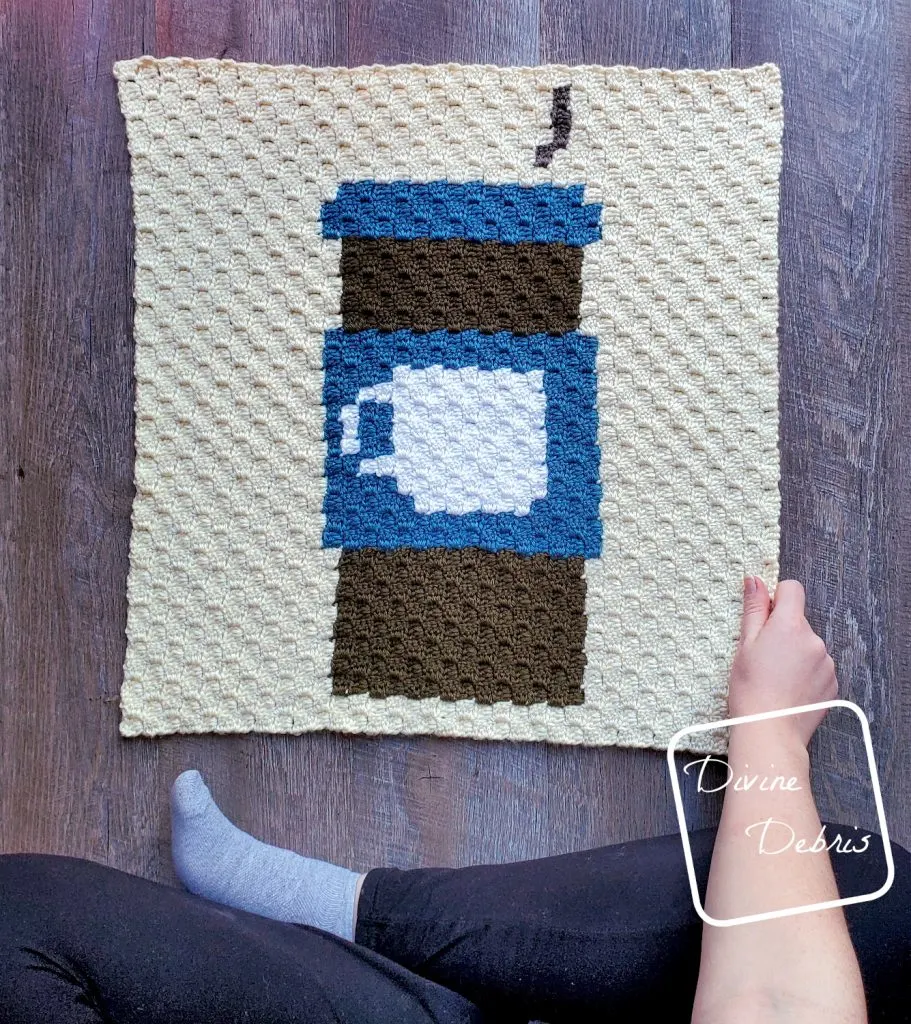 Hi everyone! So, uh, how are you? Anyone else trying to stay at home and stay safe but also stay sane? Is crochet helping with that? It helps me, which is why I'm still excited to share with you this week's new pattern, the Travel Mug C2C Afghan Square!
Are you following along with this year's CAL? This year I took the opportunity to try something new, learn to make a C2C pattern, and I am LOVING it! And, of course, I had to make my favorite design ever, coffee! And this month's square is based on one of my favorite designs from a couple years ago, the 8″ Tapestry Coffee Mug Afghan Square. I was trying to think outside the box with that designs… so why not steal it for this year's CAL?
Anyway, I hope you do like this month's square and give it a chance while you're hanging out, all safely, at home. I might take your mind off all the things going on. I know that's what I'm using crochet for. That an exercise (if you watch my IG stories you might have seen me talking about running, which I'm doing because it's nice to focus on other things. Ya know?).
Oh! And I wanted to mention that I've included a couple videos below on how I like to change colors and carry yarn in C2C patterns. I hope they're helpful to you. If they are, let me know, and I'll try to include more in future patterns… even if it was very scary to record. Did I even make sense? Who knows! Ha.
Like all the C2C squares, I followed industry standards, I decided to have the written instructions in the pdf only and below is the graph. If you find you'd rather have the instructions written out for you, I do hope you'll purchase the pdf.
Happy crocheting! I hope you like the Travel Mug C2C Afghan Square <3
---
(this post contains affiliate links)
---
If you appreciate my weekly patterns I hope you'd consider purchasing an ad-free pdf of this pattern in my Ravelry shop.
Thank you to all my patrons on Patreon!
---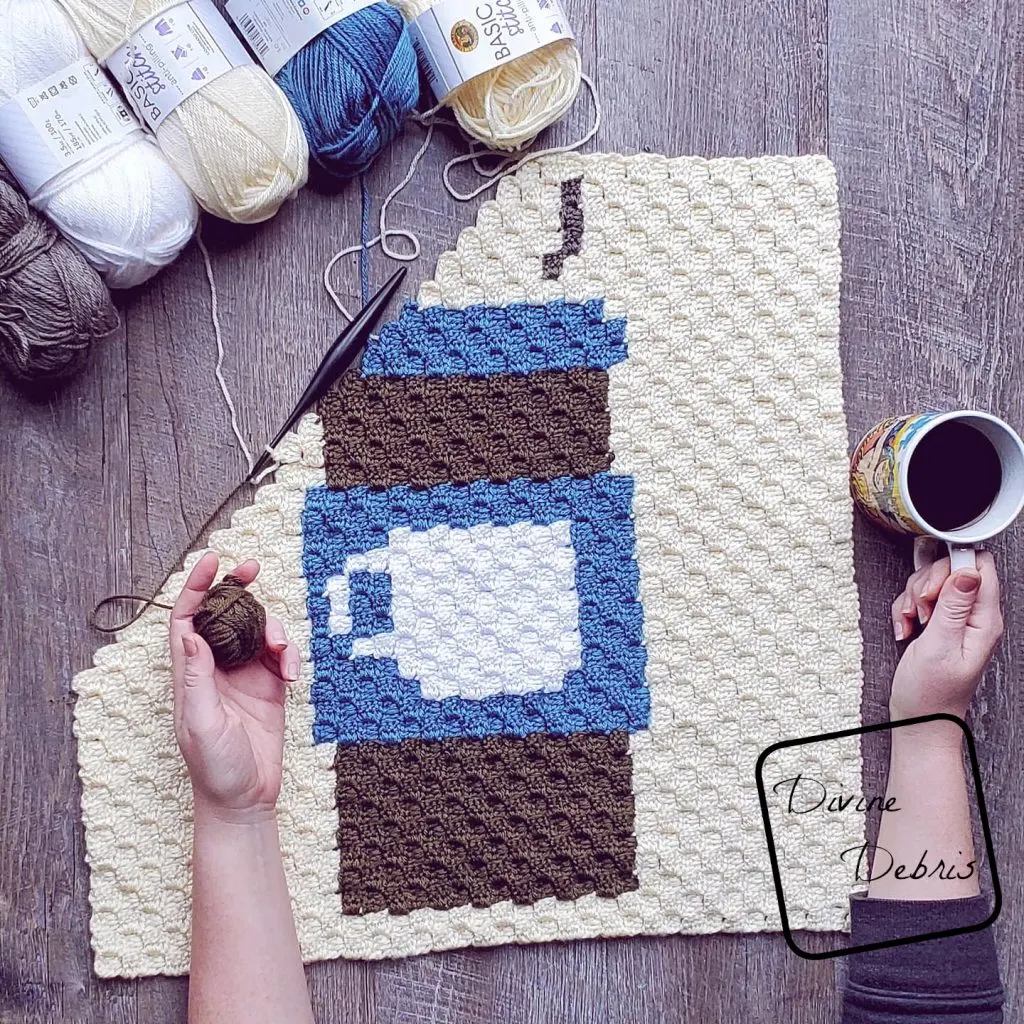 2020 Coffee C2C Afghan Square CAL or #DivineDebrisC2CCoffeeCAL
-Details-
12 squares (one a month)
23″ x 23″
New square will be released on the 4th Tuesday of each month
Graphs will be free on my blog (although there will be pdfs available for purchase for the written instructions)
Use the tag # DivineDebrisC2CCoffeeCAL or #DivineDebris so I can see the projects – I might share them on my social media
See all the 2020 C2C Coffee Squares here
Materials
US G (4.00 mm) crochet hook
Size #4/ worsted/ medium weight yarn

4 colors
Specifics in the Notes

Notions: needle, measuring tape, scissors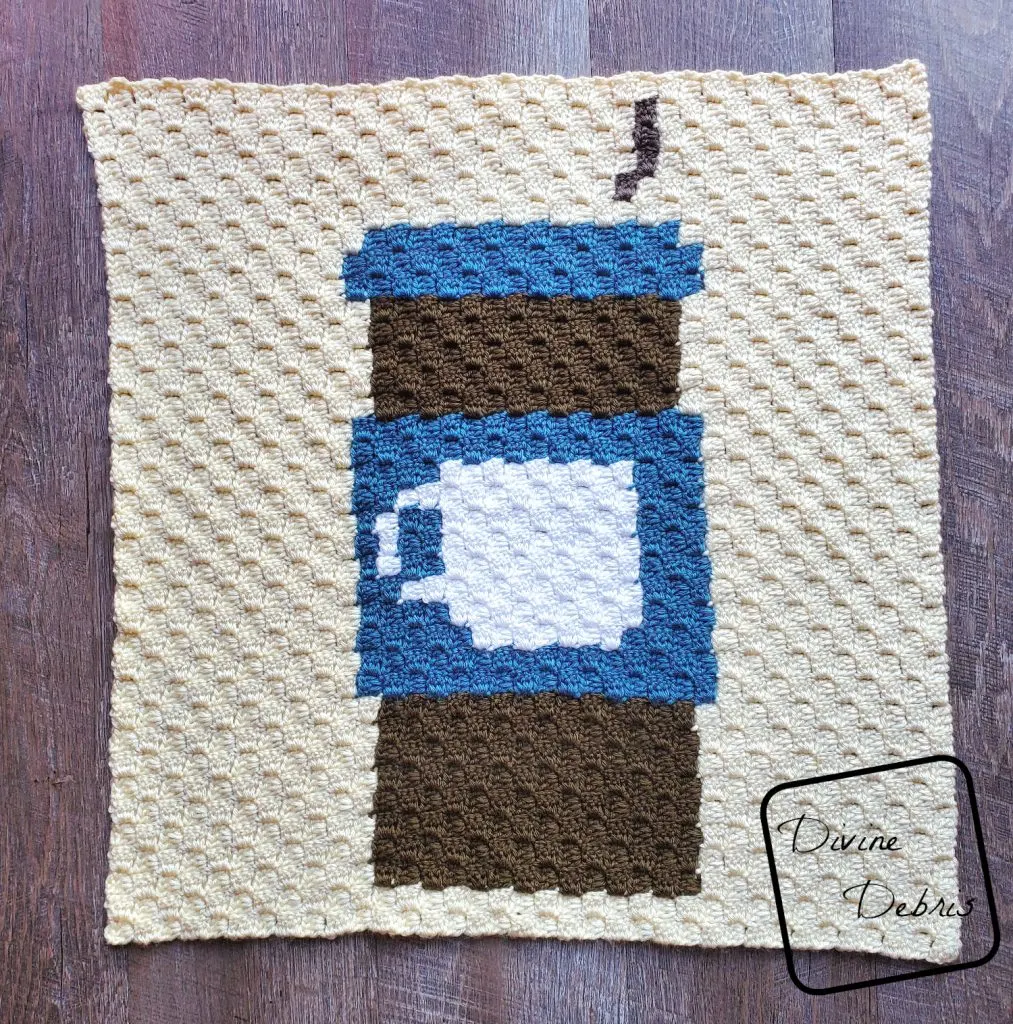 Finished product dimensions (measurements may vary by gauge and yarn used)
Approx 23″ x 23″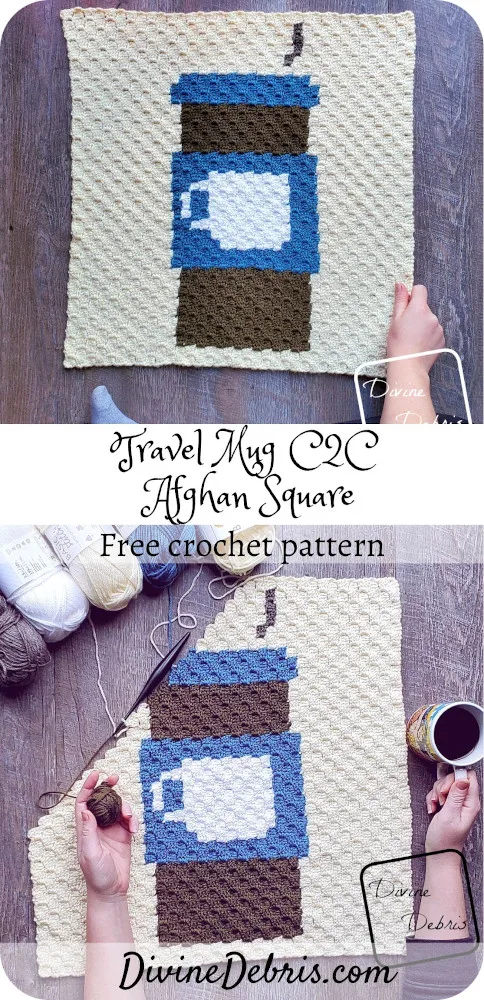 Travel Mug Afghan Square Graph
Colors in the graph: Color A is white, color B is gray, color C is pink, color D is yellow, and color F is brown.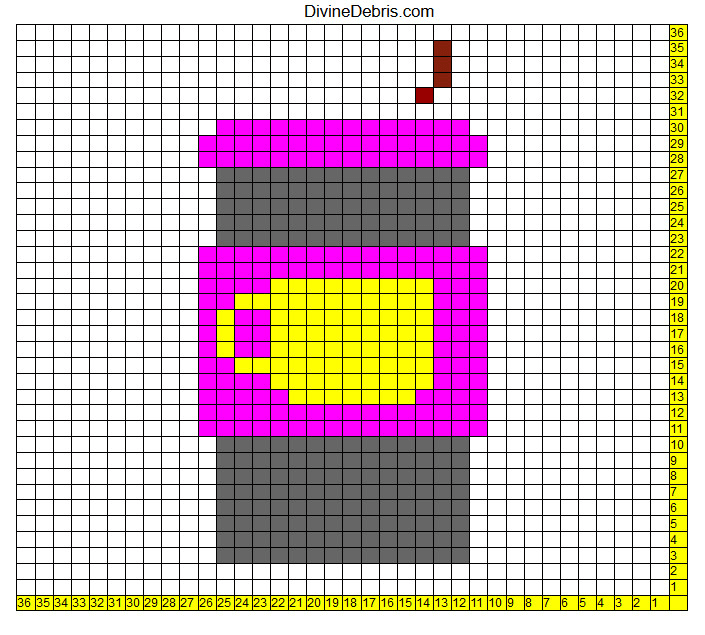 A couple videos on carrying yarn in a C2C project
At this time I haven't decided how I want to join all the squares, so feel free to drop a comment below if you'd have any advice. I might add a border to the squares later or maybe just sew them together. Who knows!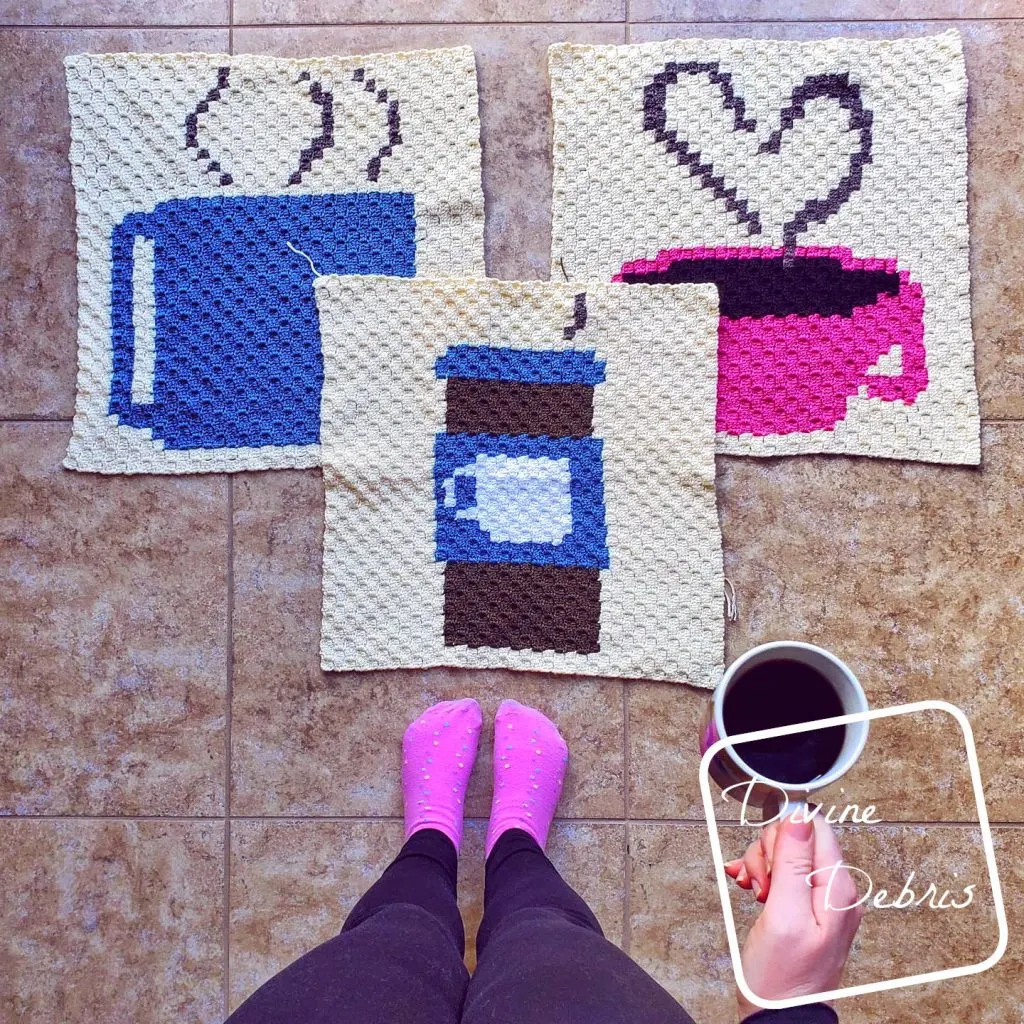 Don't forget, you can buy an ad-free pdf of the written instructions for this pattern in my Ravelry shop.
Tada! There it is, the C2C Travel Mug Afghan Square! I hope you love it and use the hashtag #DivineDebris on Instagram and I'll share it in my stories!