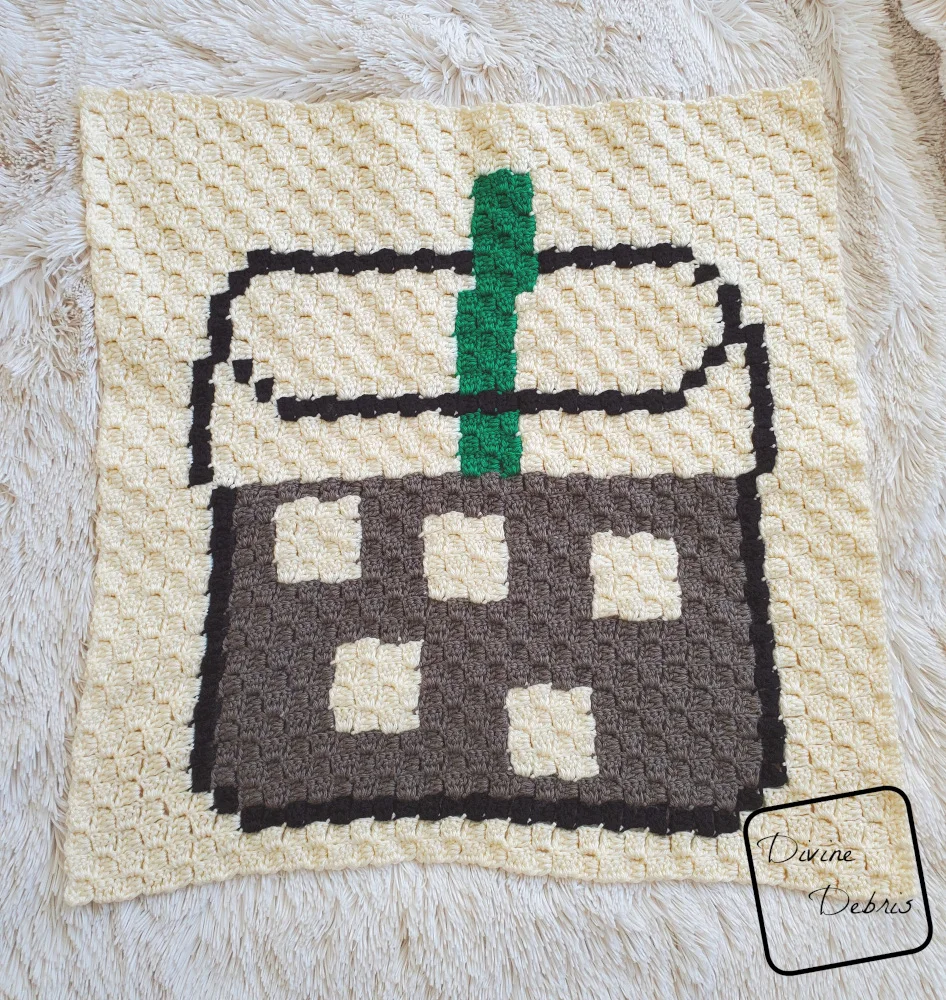 Welcome coffee lovers, to the last post of July and this month's Coffee C2C Square! I think you've already guessed, if you follow me on social media, that this month's coffee design is in honor of how hot it is – the Iced Coffee C2C Afghan Square! Nothing better than when you can sip on a nice cool coffee when it's 90 degrees outside. Right?
So, as I was saying, this design is based on the ever refreshing iced coffee so many of us enjoy when the weather turns to melting. I haven't had one this year, as I've been staying in the house, but I have unintentionally made one by letting my cup of coffee cool for too long. Ha! It's not the same, sadly, just not the same. I can't wait to be able to go out and get a nice cool coffee but better safe, ya know?
Wow, got off on a tangent there. Oops!
Oh, one thing I did want to talk about is that this square is the last 23″ one until December, which I already have an idea for. If you've looked at all the collection of squares you'll see I've broken this project up into 6 23″ squares and 6 11″ squares – I wanted to make a fun visual of different sized squares in the final product. The next couple of months you will only be seeing the smaller 11″ squares with some fun cup designs.
I am so hopeful as this project grows that it will be a fun and funky finished blanket. Sometimes I think I should spend more time planning out what I want to make but other times I just like to go with the flow – see how I feel the month before the square is due and go from there. But then the blanket is a surprise to me as much as it is to you all, so maybe I'll keep doing that. Ha! Who knows.
Anyway, I hope you all are healthy and happy where you are. Please be kind to one and other, wear your masks, wash your hands, and be safe friends!
This post is linked to Hookin on Hump Day 220
Please note: I was provided the yarn for this pattern by Lion Brand Yarn for the purposes of making this design, without compensation. I wasn't provided the yarn with the expectations of positive or negative reviews but I did enjoy using this yarn, I've used it many times and it's always a great worsted acrylic yarn.
---
(this post contains affiliate links)
---
If you appreciate my weekly patterns I hope you'd consider purchasing an ad-free pdf of this pattern in my Ravelry shop.
Thank you to all my patrons on Patreon!
---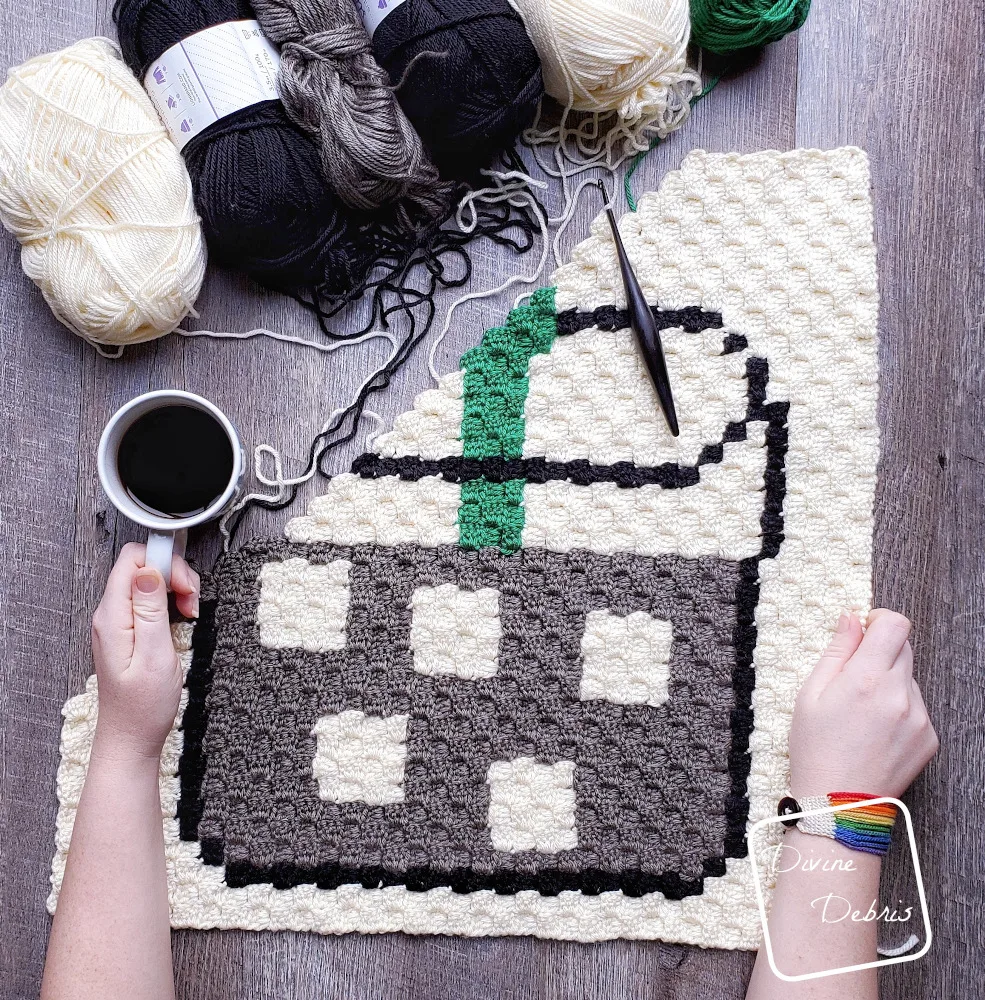 2020 Coffee C2C Afghan Square CAL or #DivineDebrisC2CCoffeeCAL
-Details-
12 squares (one a month)
23″ x 23″
New square will be released on the 4th Tuesday of each month
Graphs will be free on my blog (although there will be pdfs available for purchase for the written instructions)
Use the tag # DivineDebrisC2CCoffeeCAL or #DivineDebris so I can see the projects – I might share them on my social media
See all the 2020 C2C Coffee Squares here
Level
Intermediate (must know how to C2C)
Materials
US G (4.00 mm) crochet hook
Size #4/ worsted/ medium weight yarn

8 colors
11 oz/ 582 yds total
Specifics in the Notes

Notions: needle, measuring tape, scissors
Gauge
Notes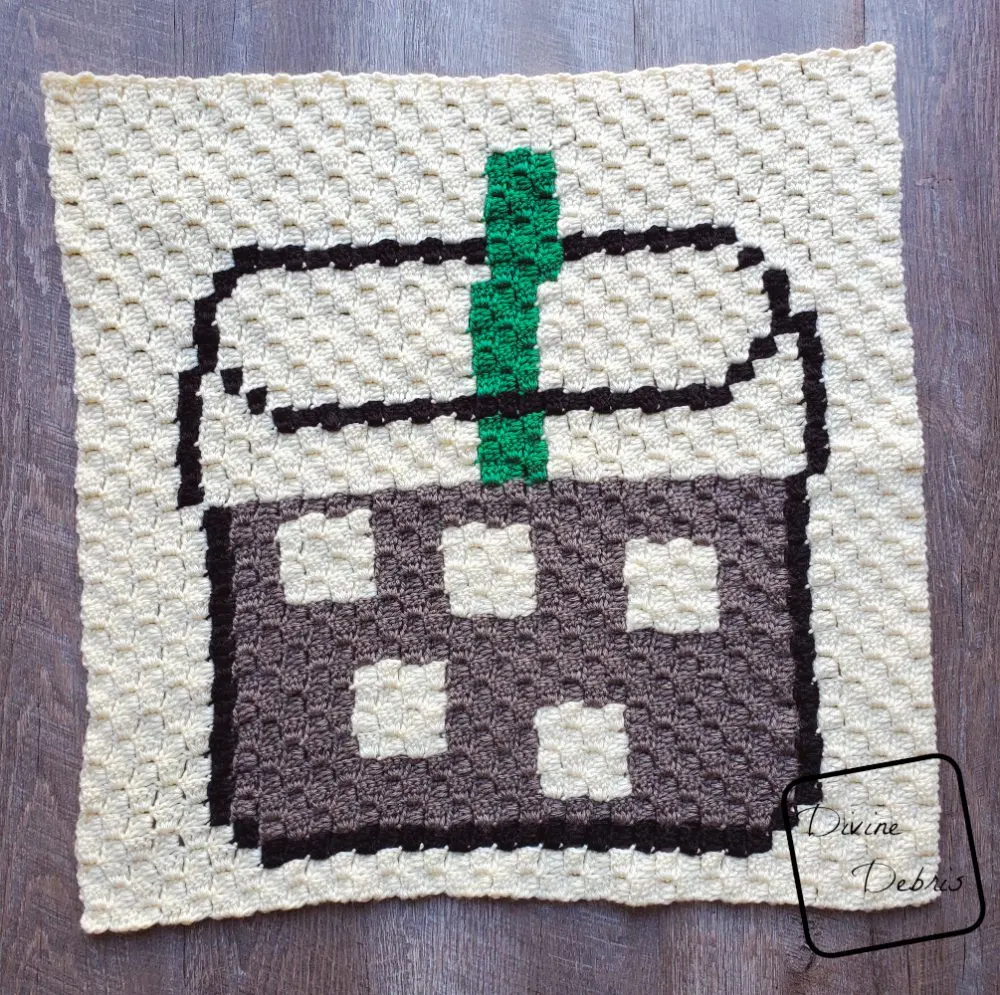 Finished product dimensions (measurements may vary by gauge and yarn used)
Approx 23″ x 23″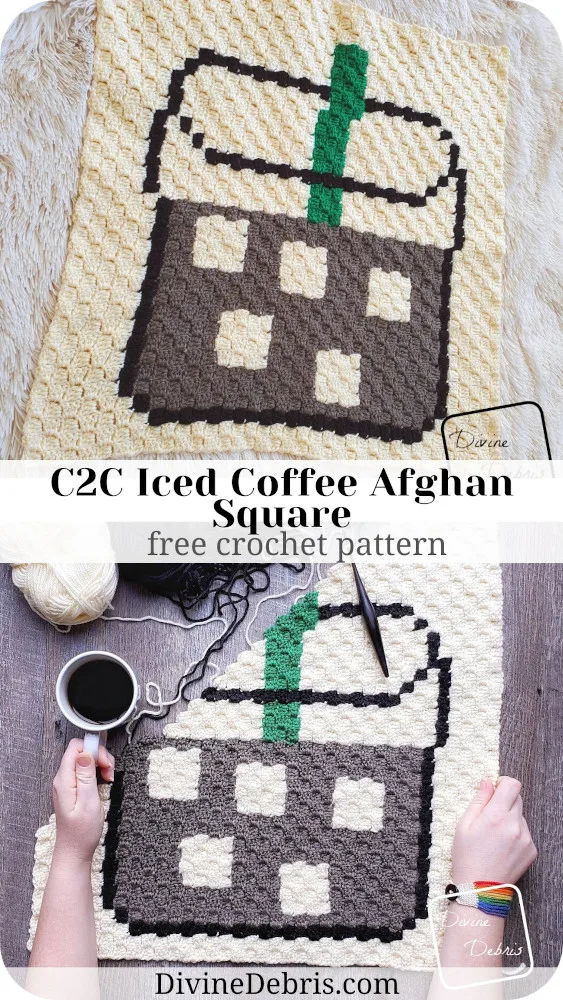 Graph for Iced Coffee C2C Afghan Square
Key: Color A is white, color B is dark brown, color C is tan, and color D is green.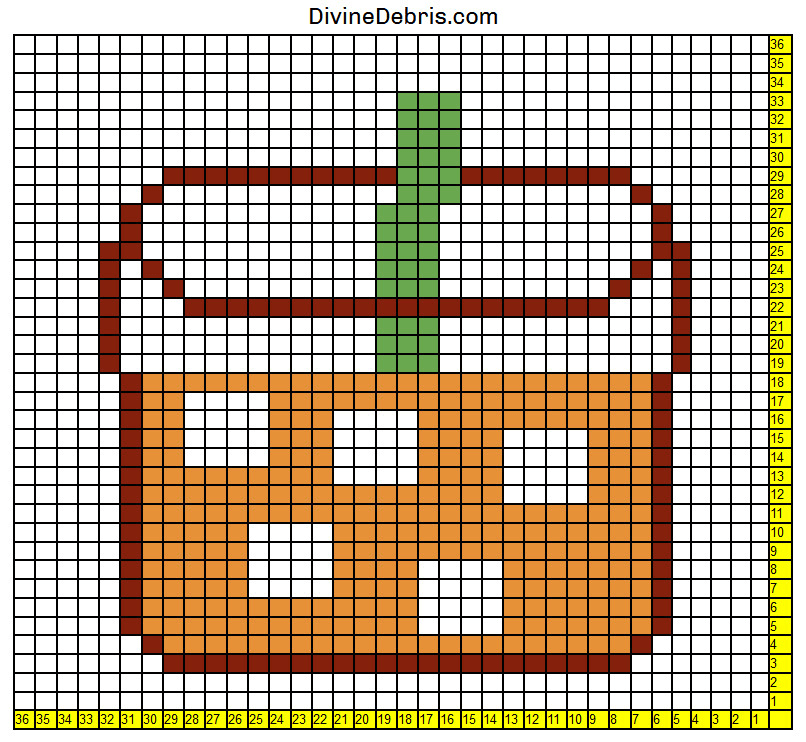 A couple videos on carrying yarn in a C2C project
At this time I haven't decided how I want to join all the squares, so feel free to drop a comment below if you'd have any advice. I might add a border to the squares later or maybe just sew them together. Who knows!
Don't forget, you can buy an ad-free pdf of the written instructions for this pattern in my Ravelry shop or in my LoveCrafts shop.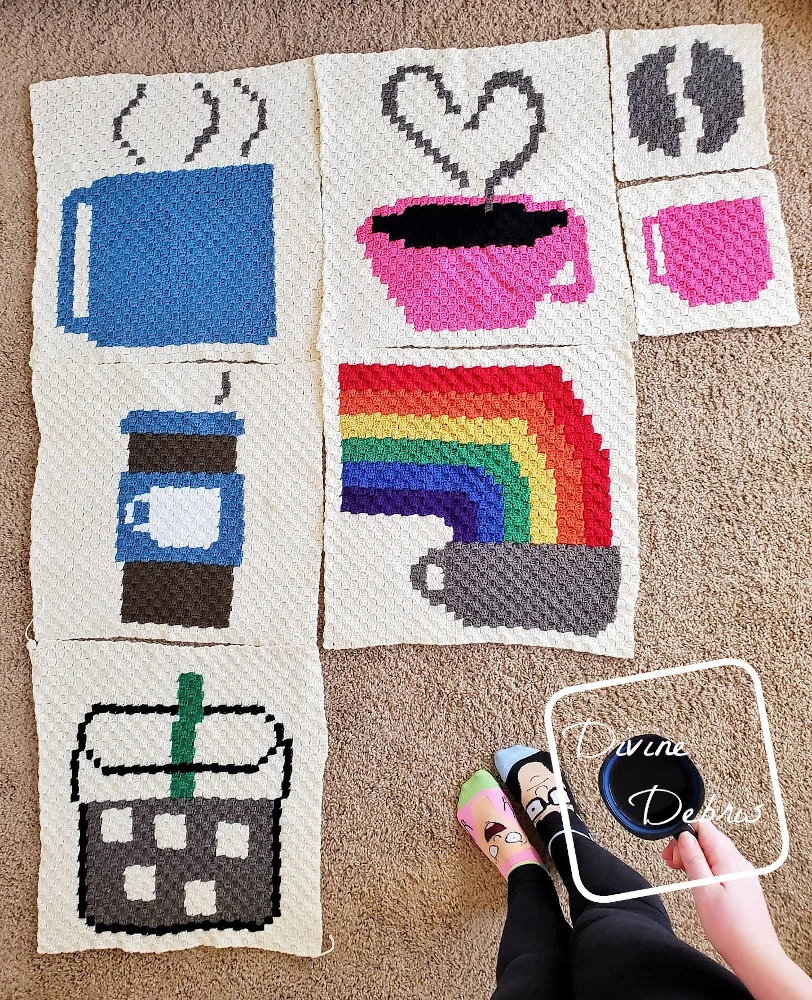 Tada! There it is, the Iced Coffee C2C Afghan Square! I hope you love it and use the hashtag #DivineDebris on Instagram and I'll share it in my stories!