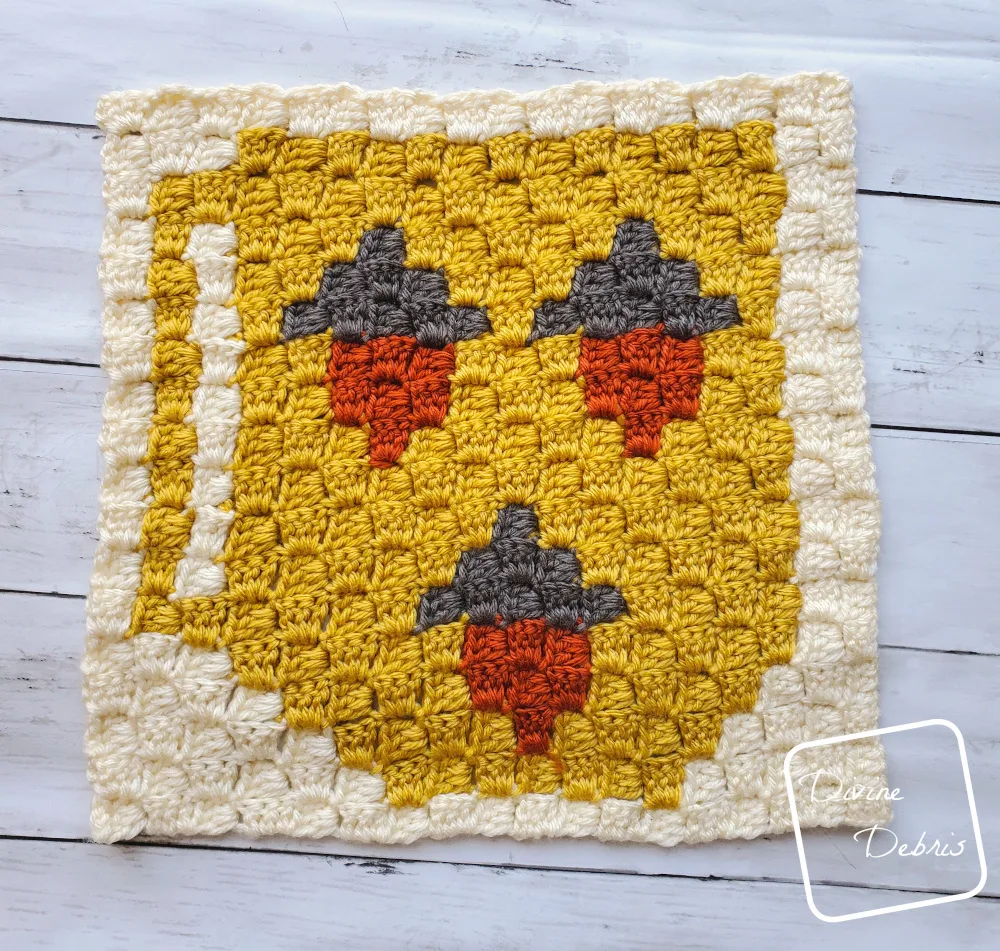 Do you know what today is? Of course you do, because it's National Coffee Day in the US! And how cool is it that I release my 9th square in my coffee themed c2c CAL, the C2C Tiny Acorn Cup Afghan Square, on this day? So cool! Or hot? I guess it depends on how you take your coffee, huh?
Ok, in all seriousness, it's kinda fun for me to release this pattern today. It's only one day a month that I release my coffee squares and some how this month it aligned. Wait, it's a whole year thing so it makes it even more special. Like last week when I released my Crinkle Pumpkin Ami on the first day of Fall. In a normal year I'd be amazed by how special it all felt. This year feels less, uh, special. Ya know?
Anyway… this month's cup is designed with a whole cup in mind. Like, in my head I see the 3d cup, with acorns all around the outside (kinda like my All the Acorns Basket but with 2 rows of acorns) in a fun design. I wanted a kind of style I could really see someone drinking coffee from that cup. Honestly, I often think of my cups as 3d images in my head. It doesn't really change how the design looks but makes me think "yeah, I'd buy that cup."
Like I said last C2C square post, all the coffee afghan squares will all be the tiny ones until December. I hope you like these squares! I can't wait for next month's – I have it already designed and my testers are almost done. I can't wait to share it 🙂
So I leave you friends – I hope you all are healthy and happy and like this new design. Please be kind to one and other, wear your masks, wash your hands, and be safe friends!
Please note: I was provided the yarn for this pattern by Lion Brand Yarn for the purposes of making this design, without compensation. I wasn't provided the yarn with the expectations of positive or negative reviews but I did enjoy using this yarn, I've used it many times and it's always a great worsted acrylic yarn.
---
(this post contains affiliate links)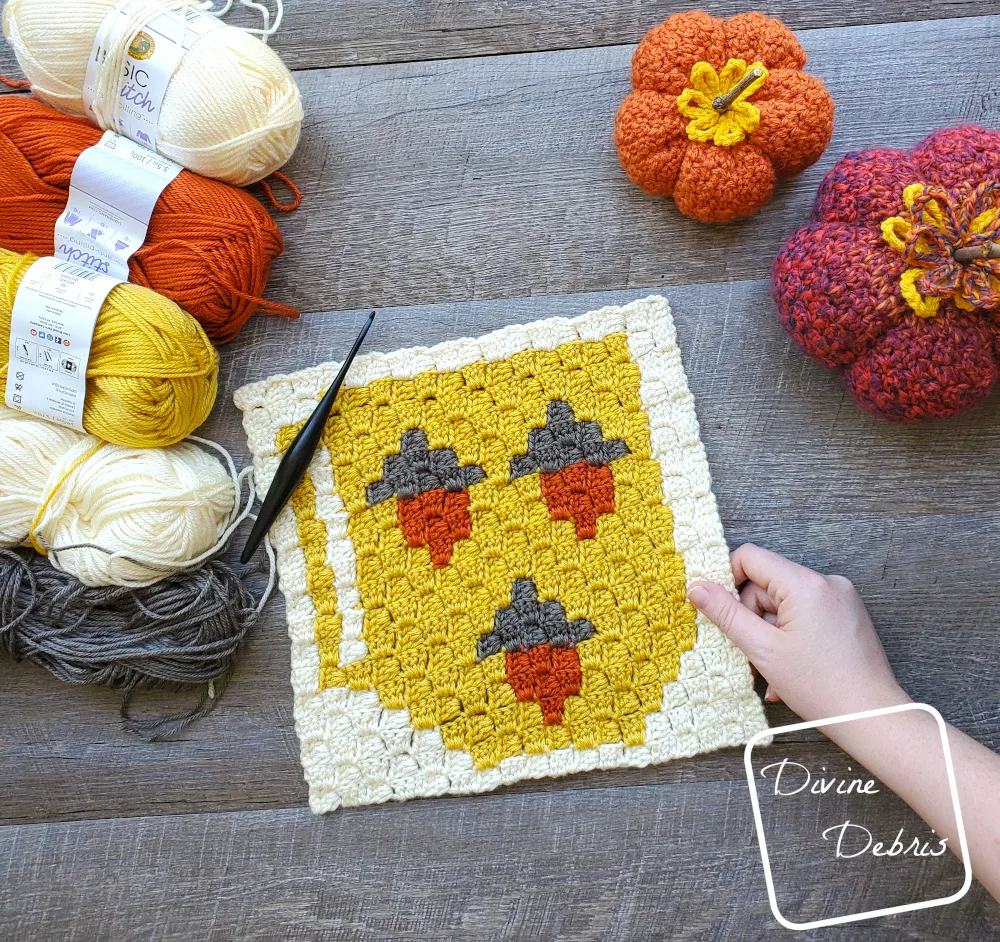 ---
If you appreciate my weekly patterns I hope you'd consider purchasing an ad-free pdf of this pattern in my Ravelry shop and Lovecrafts shop.
Thank you to Lacey and Cynthia for becoming my newest patron on Patreon!
---
2020 Coffee C2C Afghan Square CAL or #DivineDebrisC2CCoffeeCAL
-Details-
12 squares (one a month)
23″ x 23″ or 11.5″ x 11.5″
New square will be released on the 4th Tuesday of each month
Graphs will be free on my blog (although there will be pdfs available for purchase for the written instructions)
Use the tag # DivineDebrisC2CCoffeeCAL or #DivineDebris so I can see the projects – I might share them on my social media
See all the 2020 C2C Coffee Squares here
Level
Intermediate (must know how to C2C)
Materials
US G (4.00 mm) crochet hook
Size #4/ worsted/ medium weight yarn

4 colors
3 oz/ 154 yds total
Specifics in the Notes

Notions: needle, measuring tape, scissors
Gauge
Notes
As is industry standard, this pattern is just a free graph and not written instructions but you can purchase the pattern for free in my Ravelry shop.
This is a C2C pattern worked from the bottom right corner to the top left corner.
This pattern is a square, so you don't have to worry about increasing on one side and decreasing on the other.
Each C2C square consists of 3 double crochets and a ch-3. The directions will only tell you what color (ie: Color A, Color B, etc…) and the number tells you how many squares to make.
Check out the tutorial by Meghan Makes Do on how to do C2C designs if you're unfamiliar on this technique.
You will need to know how to change colors in a C2C for this pattern.
Rows 1 – 36 you will be increasing and rows 37 – 71 you will be decreasing.
The even-numbered rows are worked down and the odd-numbered rows are worked up. The even-numbered rows are the Right Side.
In the photos: Color A is cream (Lion Brand Yarn Basic Stitch Anti-Pilling in Ecru 1.4 oz/68 yds), color B is yellow (Lion Brand Yarn Basic Stitch Anti-Pilling in Mustard 1.5 oz/79 yds), Color C is orange (Lion Brand Yarn Basic Stitch Anti-Pilling in Pumpkin .4 oz/19 yds), and color D is orange (Lion Brand Yarn Basic Stitch Anti-Pilling in Taupe Heather .4 oz/19 yds).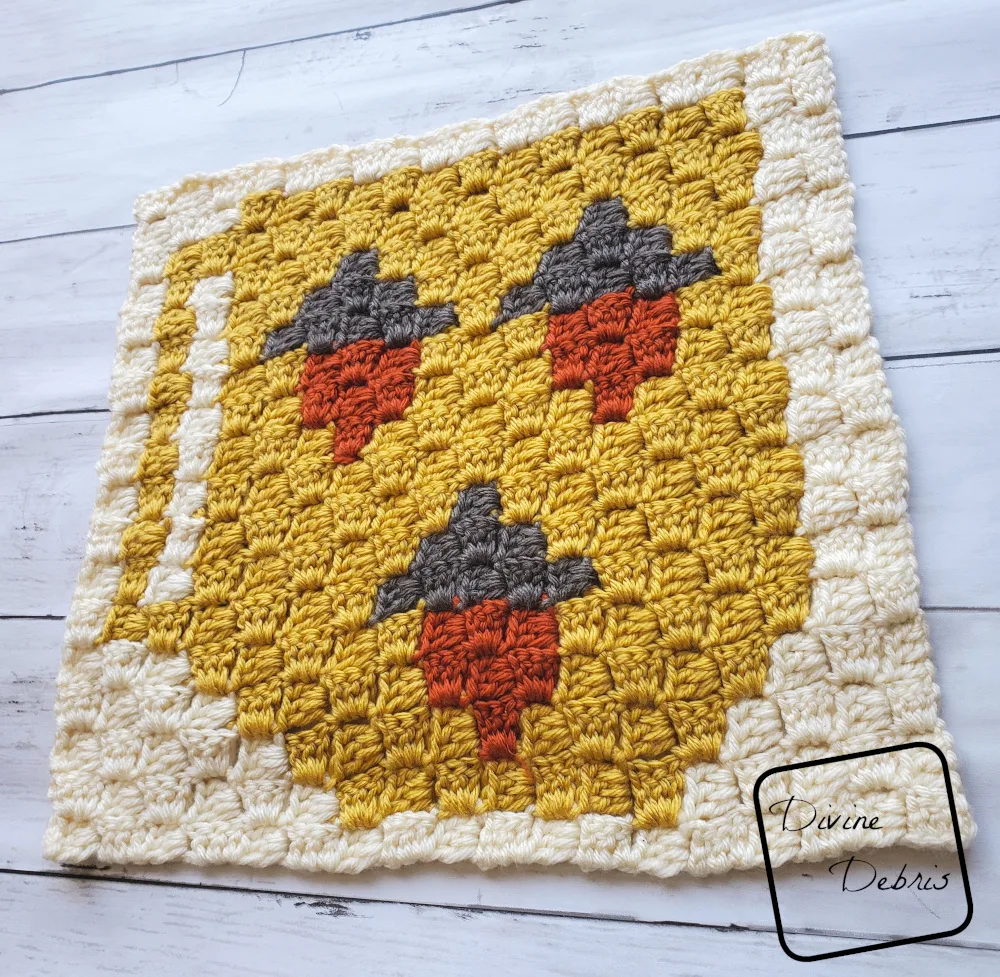 Finished product dimensions (measurements may vary by gauge and yarn used)
Approx 11.5″ x 11.5″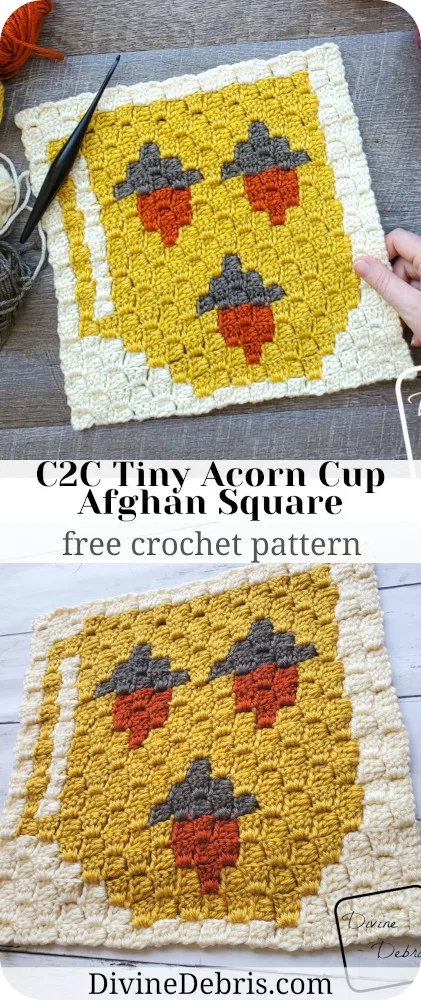 Graph for C2C Tiny Acorn Cup Afghan Square
Key: Color A is white, color B is gold, color C is orange, and color D is brown.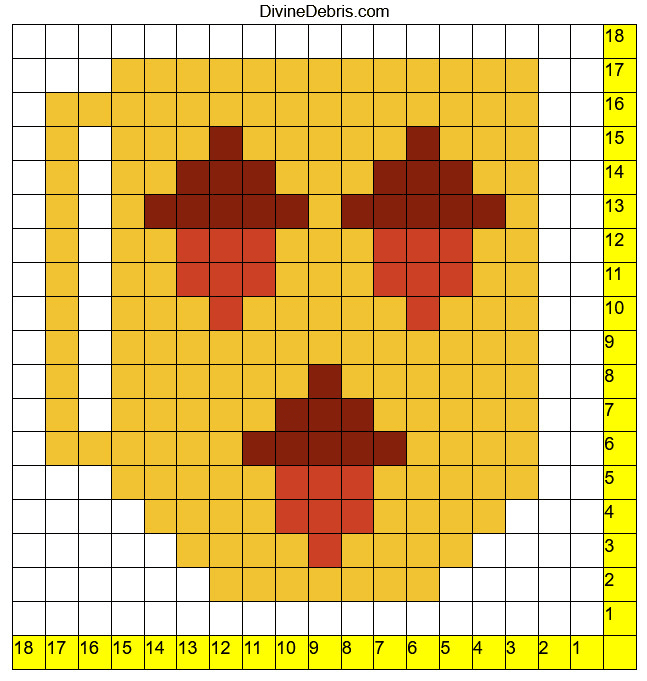 ---
At this time I haven't decided how I want to join all the squares, so feel free to drop a comment below if you'd have any advice. I might add a border to the squares later or maybe just sew them together. Who knows!
Don't forget, you can buy an ad-free pdf of the written instructions for this pattern in my Ravelry shop or in my LoveCrafts shop.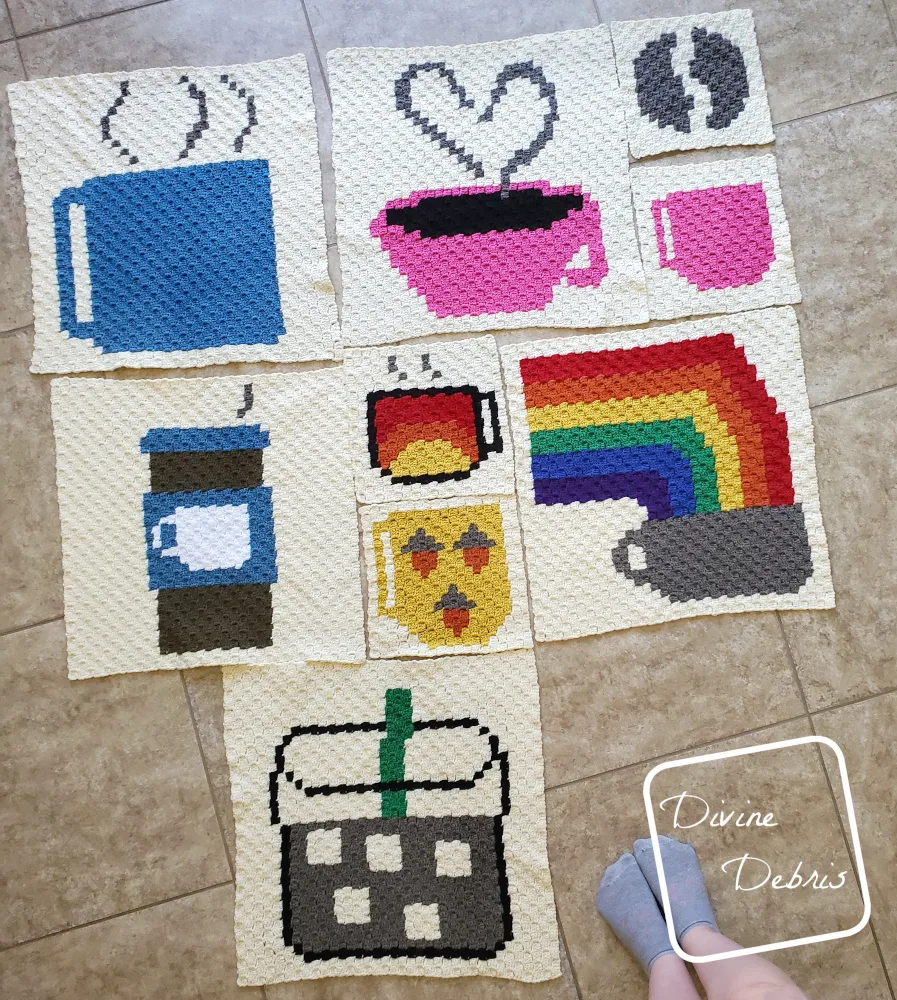 Tada! There it is, the C2C Tiny Acorn Cup Afghan Square! I hope you love it and use the hashtag #DivineDebris on Instagram and I'll share it in my stories!