Delicious Desserts C2C CAL: The C2C Ice Cream Cone Afghan Square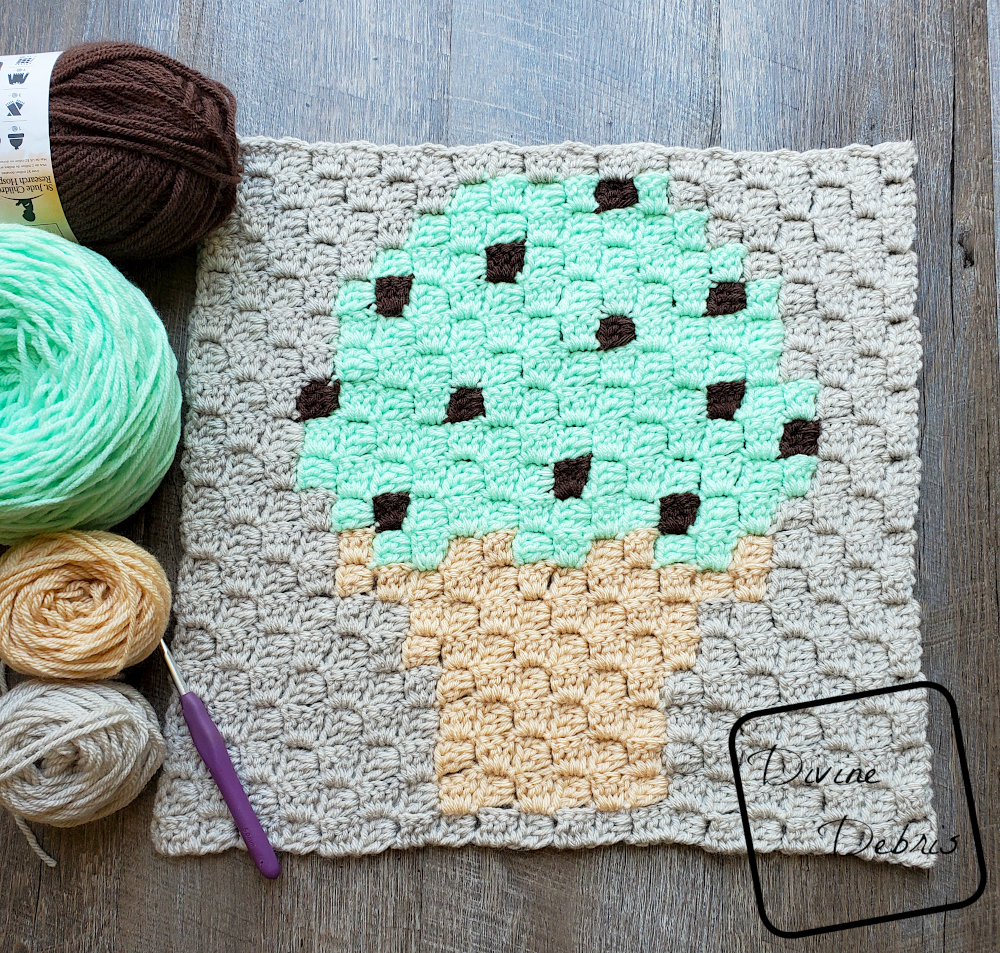 And so it goes, another end of the month and another Delicious Desserts square. This week I tried to bring a treat that's going to beat the heat of the summer (at least where I live), so say hello to the C2C Ice Cream Cone Afghan Square.
I have always been an ice cream fan. I was raised as an ice cream fan and it wasn't until I started to get older that dairy and I became distant (not my fault, I swear, my body just stopped being cool with ice cream as a food group). But I remember so many wonderful and fun cooling memories of ice cream in the Summer. Even just a few years ago when the AC was out my husband and I sat on the floor and unintentionally ate an entire carton of ice cream in one go. It was lovely (I don't recommend doing that all the time, I had quite the belly ache the next day). And I'm sure you've got your own memories of ice cream, right? It's just so iconic.
Now when it came to picking the flavor of this ice cream I didn't start out with mint chocolate because one big, important fact – I hate mint chocolate. I really, seriously do. It's right there with peanut butter in terms of flavors I wouldn't touch if it was the last thing available. But, even though I do hate to eat it I will admit it looks amazing and is also quite iconic. And making a mint chocolate chip? Now you've really got that contrast and fun going. But the chocolate chips do mean there's lots of ends to deal with (if you choose to do them) and for that I'm quite sorry. But I am so happy with how this square turned out so it was worth it.
So now you have to ask yourself, chocolate chips or not? Maybe make it into a cherry chocolate? Gonna make them into sprinkles on a vanilla ice cream? Or maybe leave them out entirely and use a variegated yarn to make it look like one of those swirly ice creams. Oh man, I just had a flash of a white and caramel yarn being used and it looks just like a caramel swirl ice cream, I love that idea.
Anyway, I hope you like this pattern and get your sweet cool treat on with this one. And I can't wait to see what you pick as your ice cream flavor.
I hope you like this year's theme and join in using the hashtag #DeliciousDessertsC2CCAL and #DivineDebris so I can share your makes!
Want more CALs? Check out 2021's Plant CAL here, 2020's C2C Coffee CAL, 2019's Coffee Tapestry Squares, and the 2018's Tapestry Afghan Squares.
I hope you all are healthy and happy and like this new design. Please be kind to one and other, wear your masks, wash your hands, and be safe friends!
Please note: I was provided the yarn for this pattern by Lion Brand Yarn for the purposes of making the C2C Ice Cream Cone Afghan Square, without compensation. I wasn't provided the yarn with the expectations of positive or negative reviews but I did enjoy using this yarn, I've used it many times and it's always a great worsted acrylic yarn.
---
(this post contains affiliate links)
---
If you appreciate my weekly patterns I hope you'd consider purchasing an ad-free pdf of this pattern in my Ravelry shop.
Thank you to Michelle for becoming my newest patron on Patreon!
---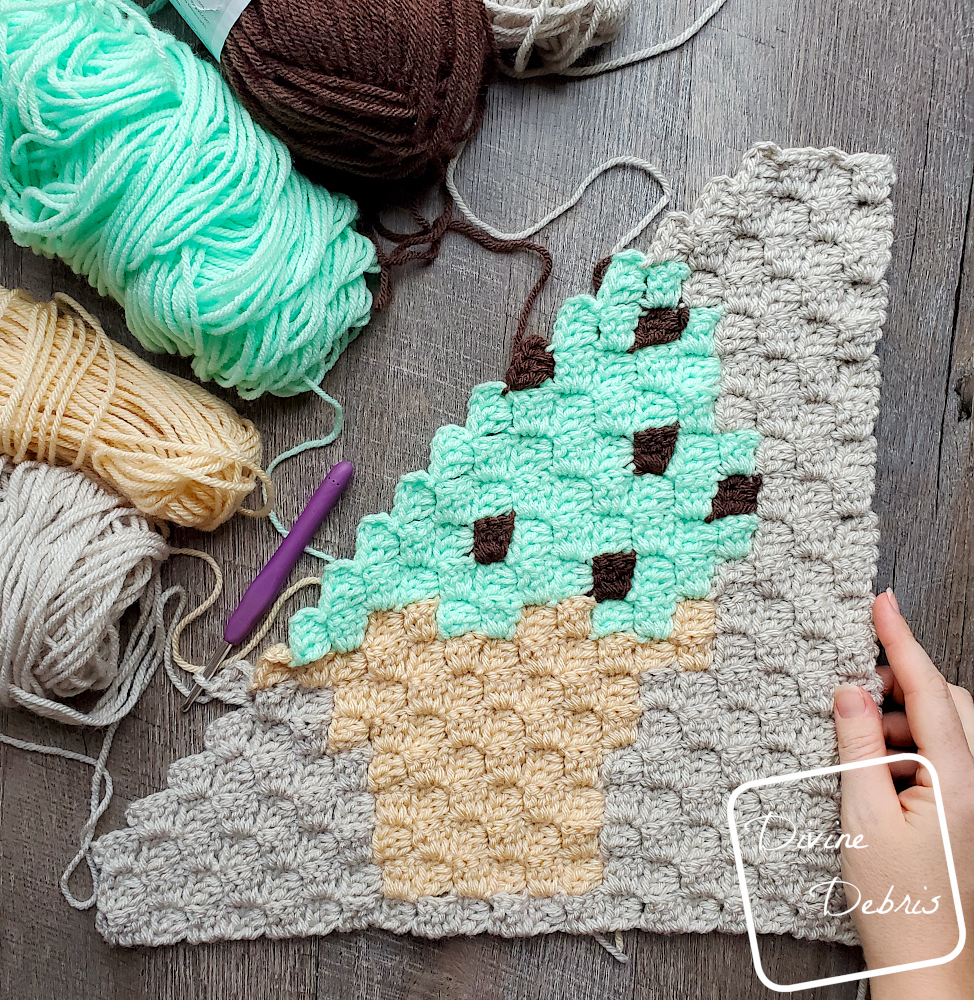 -Details-
12 squares (one each month)
16″ x 16″
New square will be released on the last Tuesday of each month
Graphs will be free on my blog (although there will be pdfs available for purchase for the written instructions)
Use the tag #DeliciousDessertsC2CCAL or #DivineDebris so I can see the projects – I might share them on my social media
Where to buy the C2C Ice Cream Cone Afghan Square
Level
Intermediate – must know how to C2C and read a graph
Materials
US H (5.00 mm) crochet hook
Size #4/ worsted/ medium weight yarn

4 colors
4.42 oz total/ 2.14 yds
Specifics in the Notes

Notions: needle, measuring tape, scissors
Gauge
5 squares x 5 rows = 4" (blocked)
Notes
In keeping with industry standards, the graph for this square is free here on my blog but you can purchase the written instructions here.
This is a C2C pattern worked from the bottom right corner to the top left corner.
This pattern is a square, so you don't have to worry about increasing on one side and decreasing on the other.
Each C2C block consists of 3 double crochets and a ch-3. The directions will only tell you what color (ie: Color A, Color B, etc…) and the number tells you how many blocks to make.
Check out the tutorial by Meghan Makes Do on how to do C2C designs if you're unfamiliar on this technique.
You will need to know how to change colors in a C2C for this pattern.
Rows 1 – 20 you will be increasing and rows 21 – 39 you will be decreasing.
The even-numbered rows are worked up and the odd-numbered rows are worked down. The odd-numbered rows are the Right Side.
In the photos: Color A is off-white (Lion Brand Yarn Vanna's Choice in Linen 2.49 oz/ 120.9 yds), color B is tan (VC in Beige .6 oz/ 29 yds), color C is teal (stash teal yarn 1.2 oz/ 58 yds), and color D is brown (VC in Chocolate .13 oz/ 6 yds).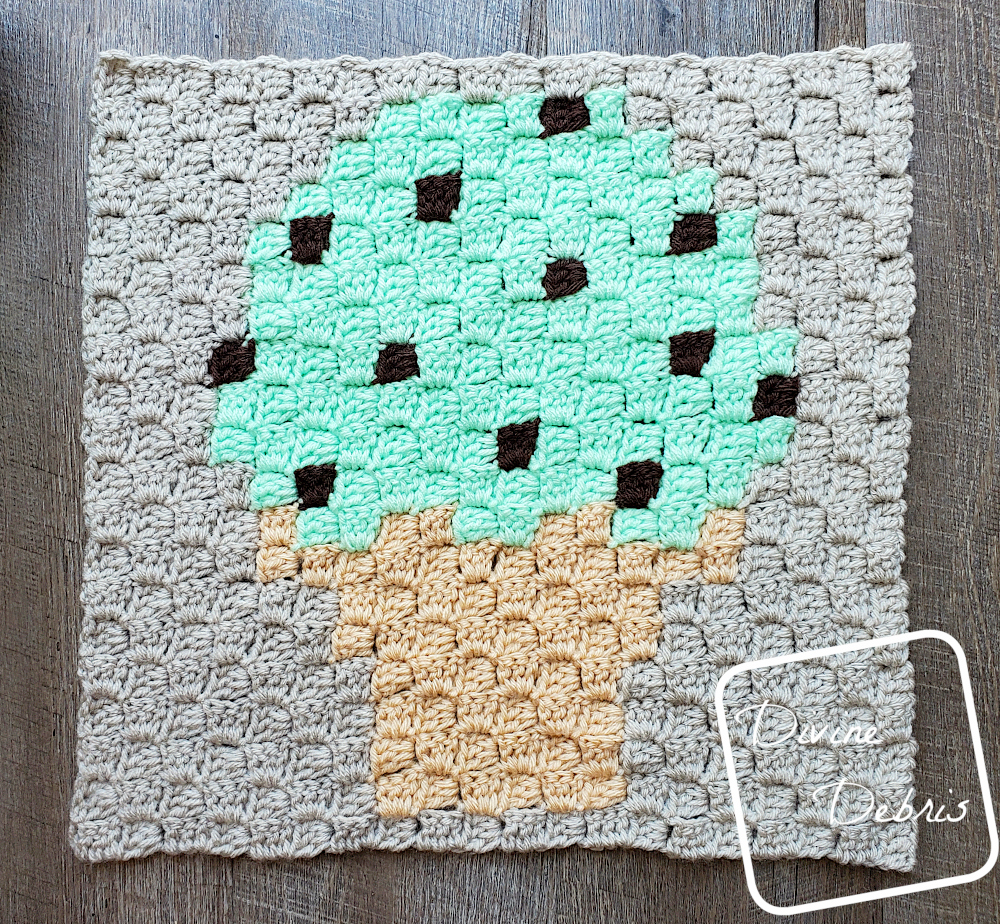 Finished product dimensions (measurements may vary by gauge and yarn used)
Approx 16″ x 16″
Graph for C2C Ice Cream Cone Afghan Square
Key: Color A is white, color B is tan, color C is teal, and color D is brown.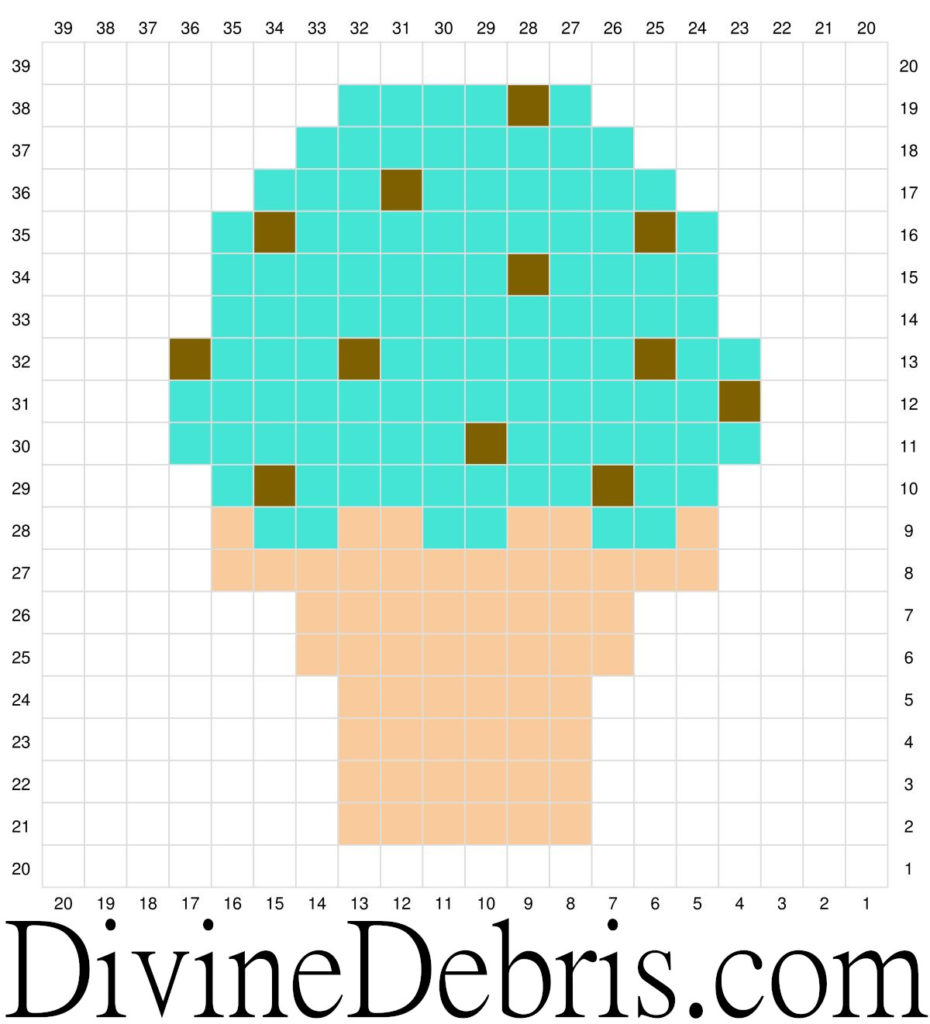 ---
Seaming
I plan on using the join method I used on my Concentric Squares Throw to join this new CAL, you can check it out here.
Don't forget, you can buy an ad-free pdf of the written instructions for this pattern in my Ravelry shop or in my LoveCrafts shop (coming soon).
Tada! There it is, the C2C Ice Cream Cone Afghan Square! I hope you love it and use the hashtag #DivineDebris on Instagram and I'll share it in my stories!