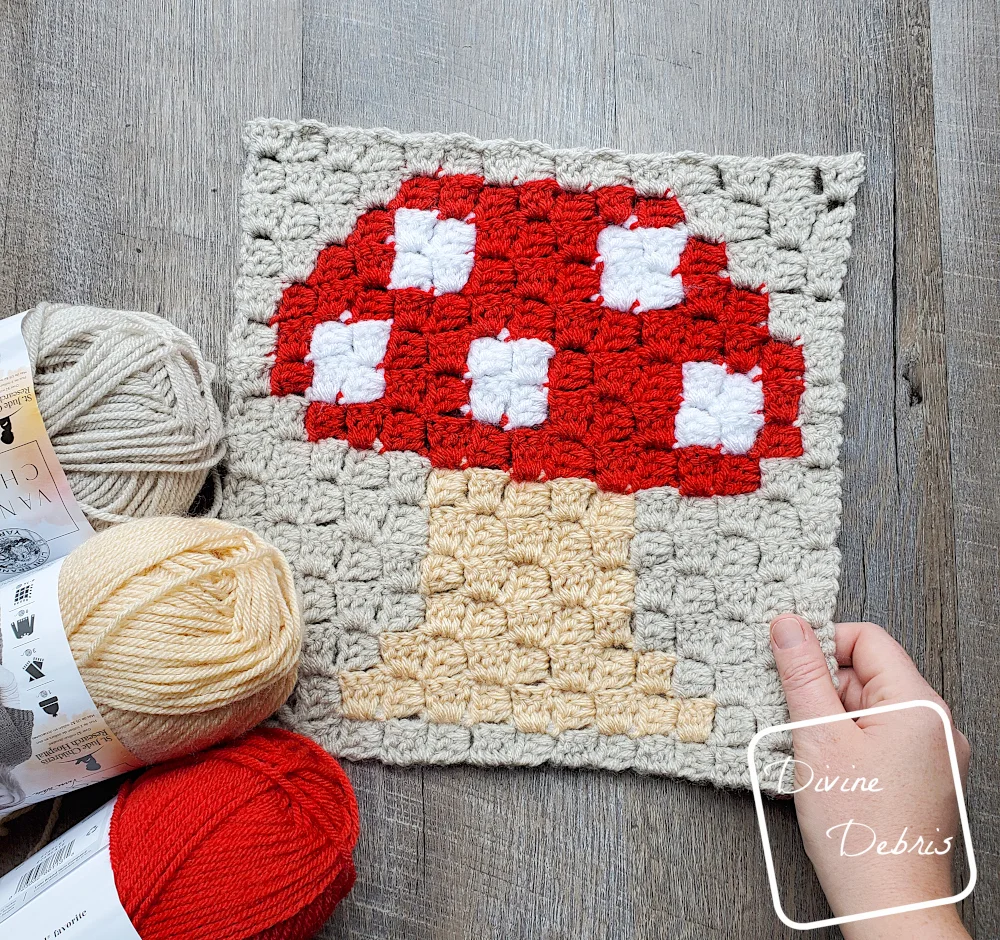 Wow, it looks like April has finally come to an end and that means that there's a brand new C2C square to share with the world. I don't know if you can sense it, but I'm particularly in love with this new design, the C2C Mushroom Afghan Square and I really hope you love it too.
Now, if you follow me on Instagram you probably already know the story of how the C2C Mushroom Afghan Square came into this world. I was originally thinking for April I would share some sort of vine or something but then in the Stitch Together group chat Lee of CocoCrochetLee was talking about how much she loves mushrooms and it gave me the idea. A mushroom square! How much fun would that be? And it would work to perfectly for how my ideas take shape, because April shower's bring out the mushrooms. Does that make sense to anyone else but me? ha!
So, yeah, that is the story of how I decided to design a mushroom for my plants CAL. Because, even though mushrooms are fungi and not proper plants, they're still awesome and can be found growing wild in nature. As I often say, as an artist I get to make some silly decisions. Creative license and all that. And after all, they're super cute.
Anyway, this is the second square in the year-long CAL. Don't forget to head back to the first square, January's Cactus Square, so you can get caught up. And make sure to tag me in your square photos on Instagram so I can share them! I love seeing them, truly.
Check out last year's 2020's C2C Coffee CAL, 2019's Coffee Tapestry Squares, and the 2018's Tapestry Afghan Squares.
I hope you all are healthy and happy and like this new design. Please be kind to one and other, wear your masks, wash your hands, and be safe friends!
Please note: I was provided the yarn for this pattern by Lion Brand Yarn for the purposes of making this design, without compensation. I wasn't provided the yarn with the expectations of positive or negative reviews but I did enjoy using this yarn, I've used it many times and it's always a great worsted acrylic yarn.
---
(this post contains affiliate links)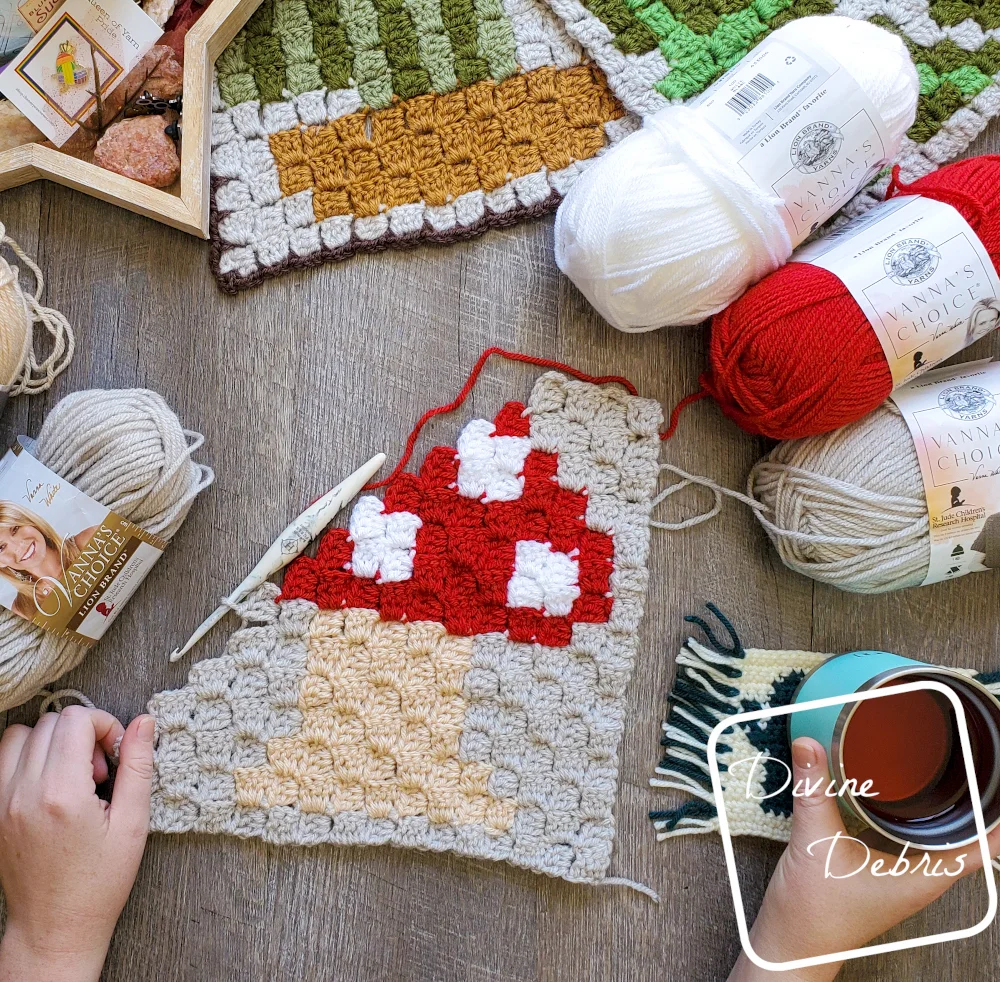 ---
If you appreciate my weekly patterns I hope you'd consider purchasing an ad-free pdf of this pattern in my Ravelry shop.
Thank you to Cynthia and Mary for becoming my newest patrons on Patreon!
---
2021 C2C Plants Afghan Square CAL or #DivineDebrisC2CPlantsCAL
-Details-
12 squares (one each month)
12″ x 12″
New square will be released on the 4th Tuesday of each month
Graphs will be free on my blog (although there will be pdfs available for purchase for the written instructions)
Use the tag # DivineDebrisC2CPlantCAL or #DivineDebris so I can see the projects – I might share them on my social media
Level
Intermediate (must know how to C2C)
Materials
US H (5.00 mm) crochet hook
Size #4/ worsted/ medium weight yarn

4 colors (with optional 5th)
2.3 oz total/ 112 yds
Specifics in the Notes

Notions: needle, measuring tape, scissors
Gauge
5 squares x 5 rows = 4" (blocked)
Notes
As is industry standard, this pattern is just a free graph and not written instructions but you can purchase the pattern for free in my Ravelry shop.
This is a C2C pattern worked from the bottom right corner to the top left corner.
This pattern is a square, so you don't have to worry about increasing on one side and decreasing on the other.
Each C2C square consists of 3 double crochets and a ch-3. The directions will only tell you what color (ie: Color A, Color B, etc…) and the number tells you how many squares to make.
Check out the tutorial by Meghan Makes Do on how to do C2C designs if you're unfamiliar on this technique.
You will need to know how to change colors in a C2C for this pattern.
Rows 1 – 15 you will be increasing and rows 16 – 29 you will be decreasing.
The odd-numbered rows are worked up and the even-numbered rows are worked down. The even-numbered rows are the Right Side.
In the photos: Color A is off-white (Lion Brand Yarn Vanna's Choice in Linen .8 oz/ 39 yds), color B is beige (Lion Brand Yarn Vanna's Choice in Beige .4 oz/ 19 yds), color C is light red (Lion Brand Yarn Vanna's Choice in Scarlet .9 oz/ 44 yds), and color D is white (Lion Brand Yarn Vanna's Choice in White .2 oz/ 10 yds).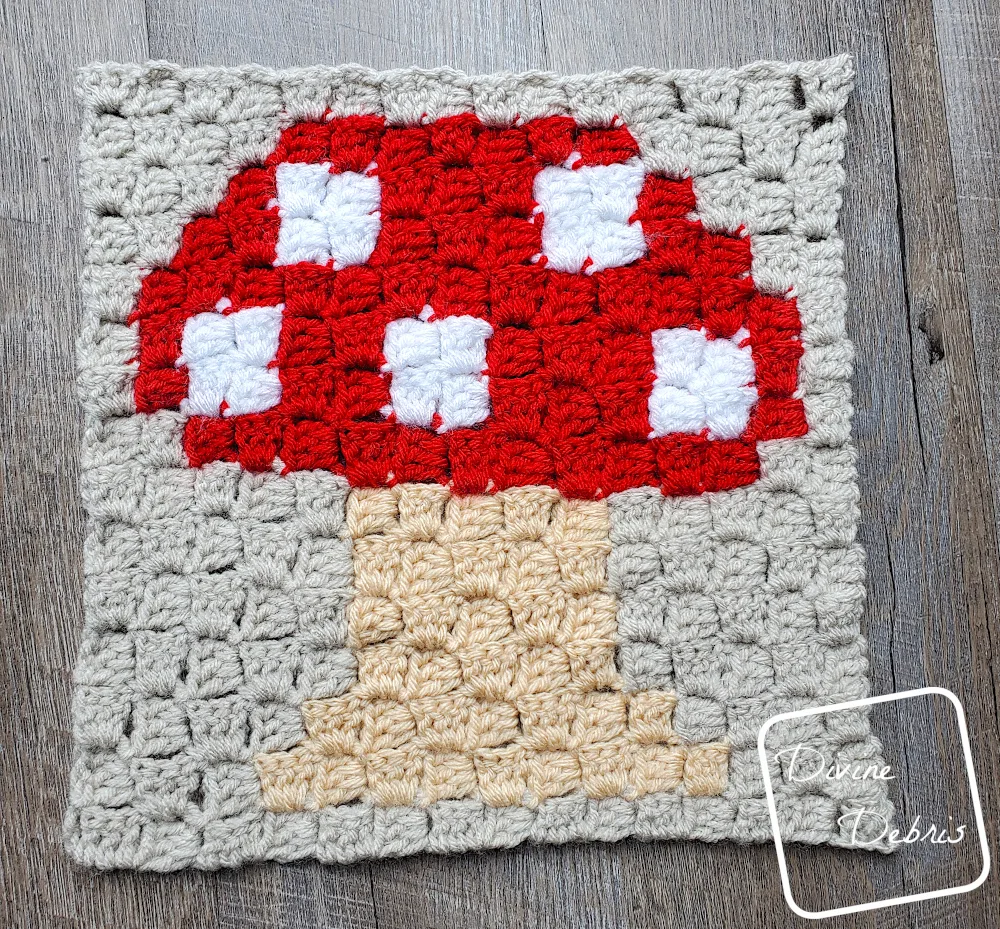 Finished product dimensions (measurements may vary by gauge and yarn used)
Approx 12″ x 12″
Graph for C2C Mushroom Afghan Square
---
Tada! There it is, the C2C Mushroom Afghan Square! I hope you love it and use the hashtag #DivineDebris on Instagram and I'll share it in my stories!