Plant C2C CAL – C2C Fall Pumpkin Square Free Crochet Pattern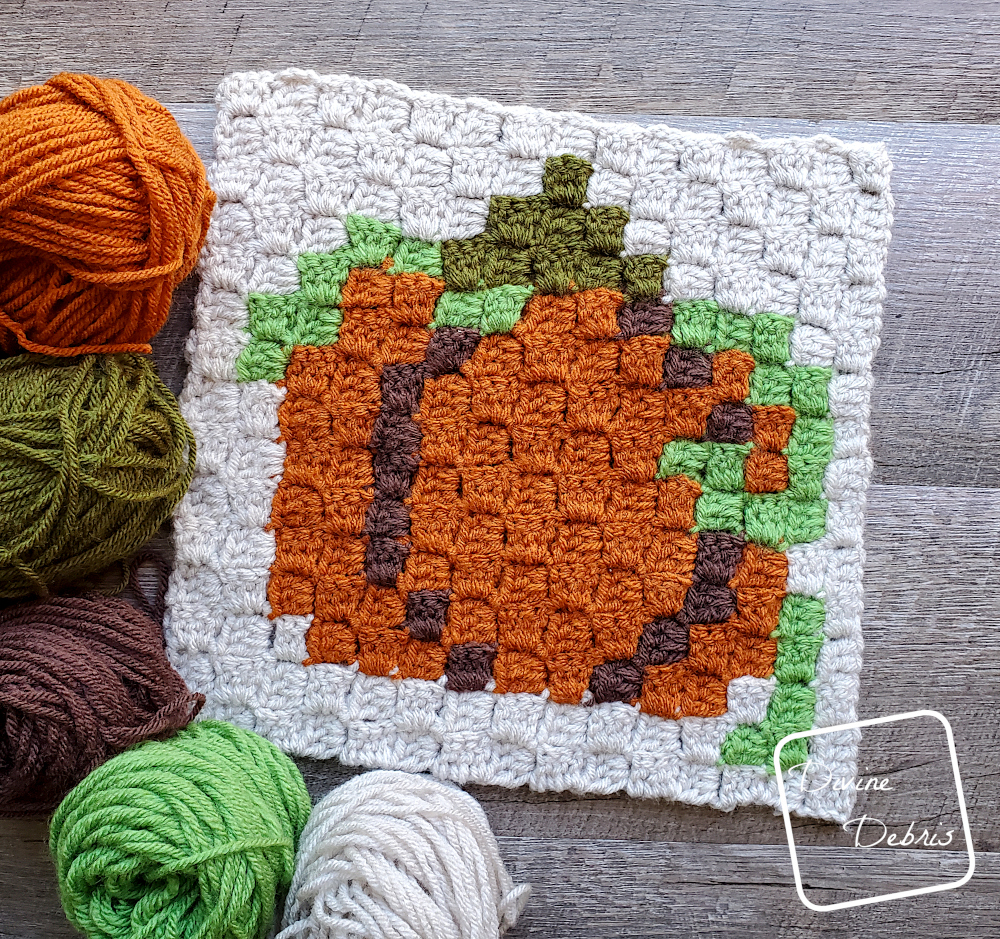 Well now, it's the last day of November. Like, really the last possible time to post this pattern but I'm doing it. I'm getting out the 11th C2C square of the Plants CAL and I'm doing it at the 11th hour. Ha! Month's with 5 Tuesdays really throw me off sometimes but anyway, I hope you're excited for the new Fall Pumpkin Afghan Square.
Yep, I'm still in Fall mode (well mostly, I have started watching Christmas movies but in my heart it's always Fall) and so I thought might as well pay tribute to Fall but with a pumpkin square. Once again I'm kinda playing it fast and loose with the "plants" name for this CAL by going a gourd for this square but what can I say? It's one of my favorite pies, I've made 3 this season alone.
I also felt like there was space for a pumpkin in this blanket because last month was a Spooky Tree and September's was a cute Mum Flower, so there needed to be a pumpkin. Ya know what I mean fellow Fall lovers? One needs to have a pumpkin something in a year-long CAL, right? And I've done them for all the other CALs (I think, I'd have to double check that, so don't quote me) so I wanted to do one for this as well.
Any way, I do hope you like this pattern and give it a try. It's gonna look so fun all collected along with all the other squares. Oh! I am looking for ideas for 2022's CAL, so if you've got some let me know!
Want more CALs? Check out last year's 2020's C2C Coffee CAL, 2019's Coffee Tapestry Squares, and the 2018's Tapestry Afghan Squares.
I hope you all are healthy and happy and like this new design. Please be kind to one and other, wear your masks, wash your hands, and be safe friends!
Please note: I was provided the yarn for this pattern by Lion Brand Yarn for the purposes of making the C2C Fall Pumpkin Afghan Square, without compensation. I wasn't provided the yarn with the expectations of positive or negative reviews but I did enjoy using this yarn, I've used it many times and it's always a great worsted acrylic yarn.
---
(this post contains affiliate links)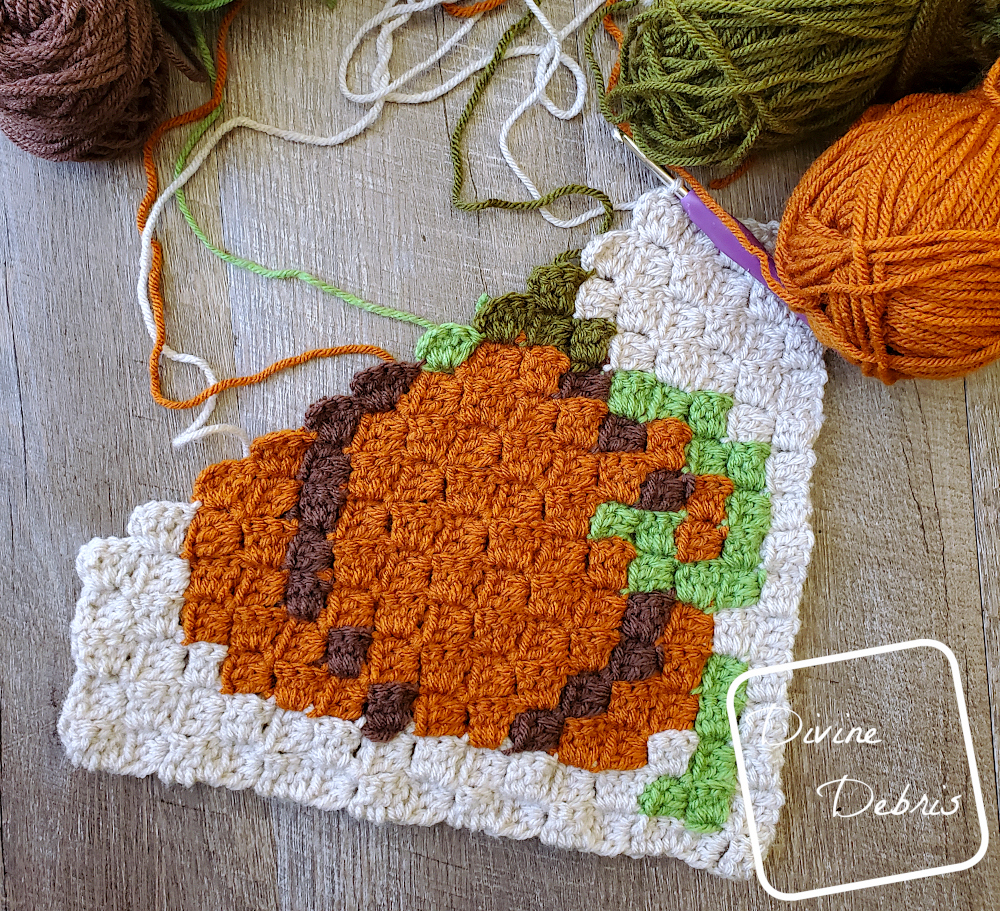 ---
If you appreciate my weekly patterns I hope you'd consider purchasing an ad-free pdf of this pattern in my Ravelry shop.
Thank you to Meagan for becoming my newest patrons on Patreon!
Learn how you can get 4 patterns a month and become a patron here for as low as $4 a month.
---

-Details-
12 squares (one each month)
12″ x 12″
New square will be released on the 4th Tuesday of each month
Graphs will be free on my blog (although there will be pdfs available for purchase for the written instructions)
Use the tag # DivineDebrisC2CPlantCAL or #DivineDebris so I can see the projects – I might share them on my social media
Where to buy the C2C Fall Pumpkin Afghan Square
Level
Intermediate (must know how to C2C)
Materials
US H (5.00 mm) crochet hook
Size #4/ worsted/ medium weight yarn

5 colors
2.6 oz total/ 126 yds
Specifics in the Notes

Notions: needle, measuring tape, scissors
Gauge
5 squares x 5 rows = 4" (blocked)
Notes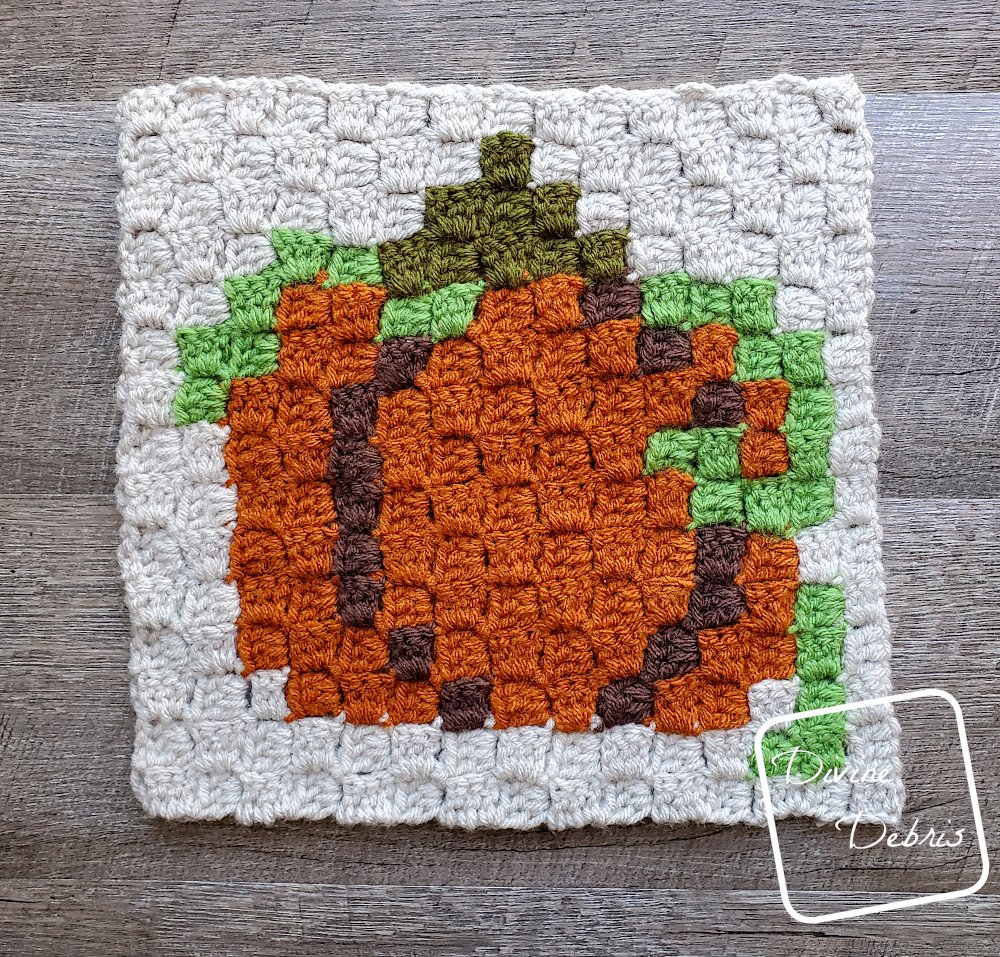 Finished product dimensions (measurements may vary by gauge and yarn used)
Approx 12″ x 12″
Graph for C2C Fall Pumpkin Afghan Square
Key: Color A is white, color B is light green, color C is orange, color D is brown, and color E is dark green.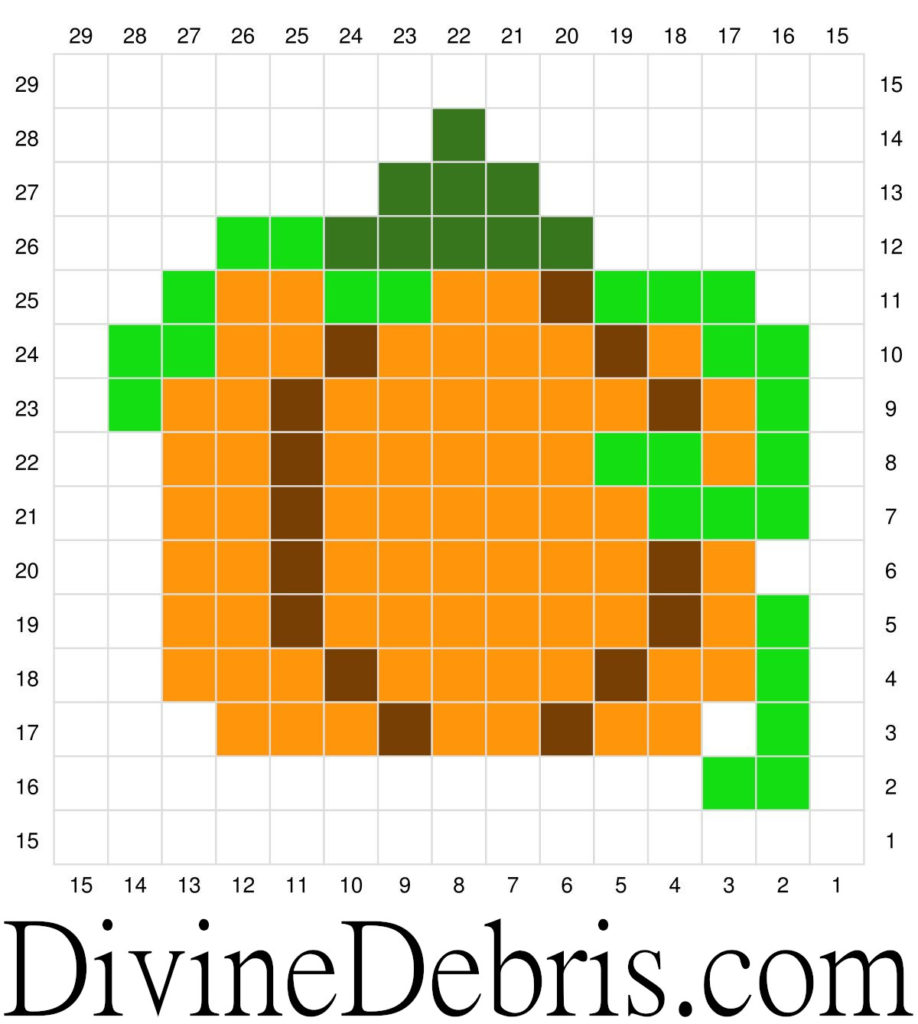 ---
Seaming
I plan on using the join method I used on my Concentric Squares Throw to join this new CAL, you can check it out here.
Don't forget, you can buy an ad-free pdf of the written instructions for this pattern in my Ravelry shop or in my LoveCrafts shop (coming soon).
Tada! There it is, the C2C Fall Pumpkin Afghan Square! I hope you love it and use the hashtag #DivineDebris on Instagram and I'll share it in my stories!