Delicious Desserts C2C CAL: The C2C Toaster Pastry Afghan Square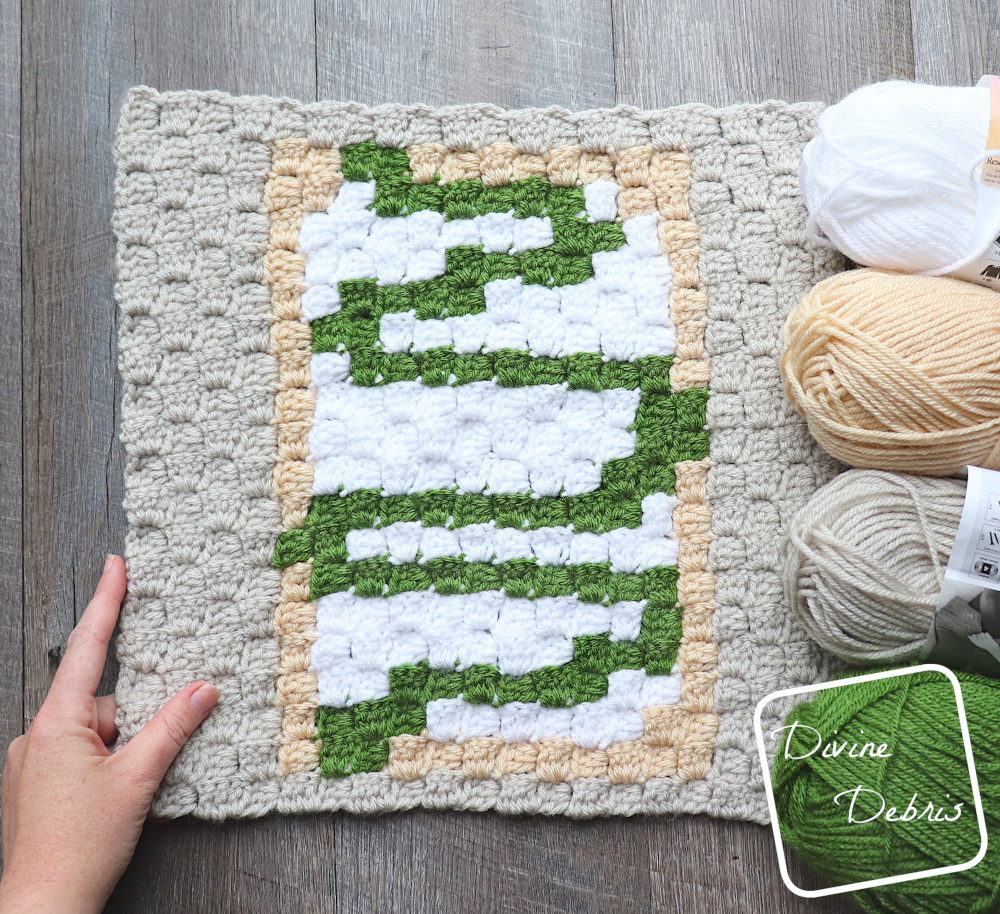 The last Tuesday of March already? Well then, I guess it's time for another sweet treat with this month's C2C project – the Toaster Pastry Afghan Square.
I talked about this on Instagram but this wasn't really my first pick for this month's square – I wanted to make a yummy macaroon cookie. But do you know how hard that is to design? I tried over and over again to figure out how to make it look right and, boy oh boy, I didn't get it. So after days of being just down right irritated at my lack of drawing skills, I was like "nope, this isn't working, I need a new idea" and in popped a much loved design from January, the Toaster Pastry Blanket, for inspiration.
As a kid, I grew up on Toaster Pastries. I had them hot, I had them cold, I had the in pieces, and even some times I just picked off the frosting to eat it alone. Isn't that what being a kid is all about? And this background in sweets is why I love this year's theme, Delicious Desserts, because it brings back all my favorite treats over the years and makes them fun and new again. So this design is really a kiss to my blanket (which I still snuggle in when it's chilly at night) and the kid I once was who would think this square is super cool.
So yeah, as far as construction this square is a pretty easy one. I used bobbins and carried the yarn as little as necessary to keep the white parts from peeking through colors, and then I had fun it with it. I think I might add little bits of a contrasting color for "sprinkles" but I haven't fully decided on that. Maybe I need to get yellow or blue, ya know? Wouldn't that look cute?
Anyway, I hope you give this square a try and share your projects on social media so I can see them. I do so love looking at your photos! And don't forget to share what flavor your toaster pastry is. I think mine is a key lime. Doesn't that sound like a very delicious flavor? So refreshing for the Spring 😀
I hope you like this year's theme and join in using the hashtag #DeliciousDessertsC2CCAL and #DivineDebris so I can share your makes!
Want more CALs? Check out 2021's Plant CAL here, 2020's C2C Coffee CAL, 2019's Coffee Tapestry Squares, and the 2018's Tapestry Afghan Squares.
I hope you all are healthy and happy and like this new design. Please be kind to one and other, wear your masks, wash your hands, and be safe friends!
Please note: I was provided the yarn for this pattern by Lion Brand Yarn for the purposes of making the C2C Toaster Pastry Afghan Square, without compensation. I wasn't provided the yarn with the expectations of positive or negative reviews but I did enjoy using this yarn, I've used it many times and it's always a great worsted acrylic yarn.
Copyright @ Divine Debris 2022. No part of this document may be reproduced or transmitted in any form by any means, electronic, mechanical, photocopying, or otherwise, without prior written permission from the author. Sales of finished products are permitted, but the designer requests that you link back to the pattern and credit Divine Debris with the original design under the Creative Commons Attribution-Share Alike license. If you have any questions, comments or concerns please contact info@divinedebris.com.
---
(this post contains affiliate links)
---
If you appreciate my weekly patterns I hope you'd consider purchasing an ad-free pdf of this pattern in my Ravelry shop.
Thank you to Sarah for becoming my newest patron on Patreon!
---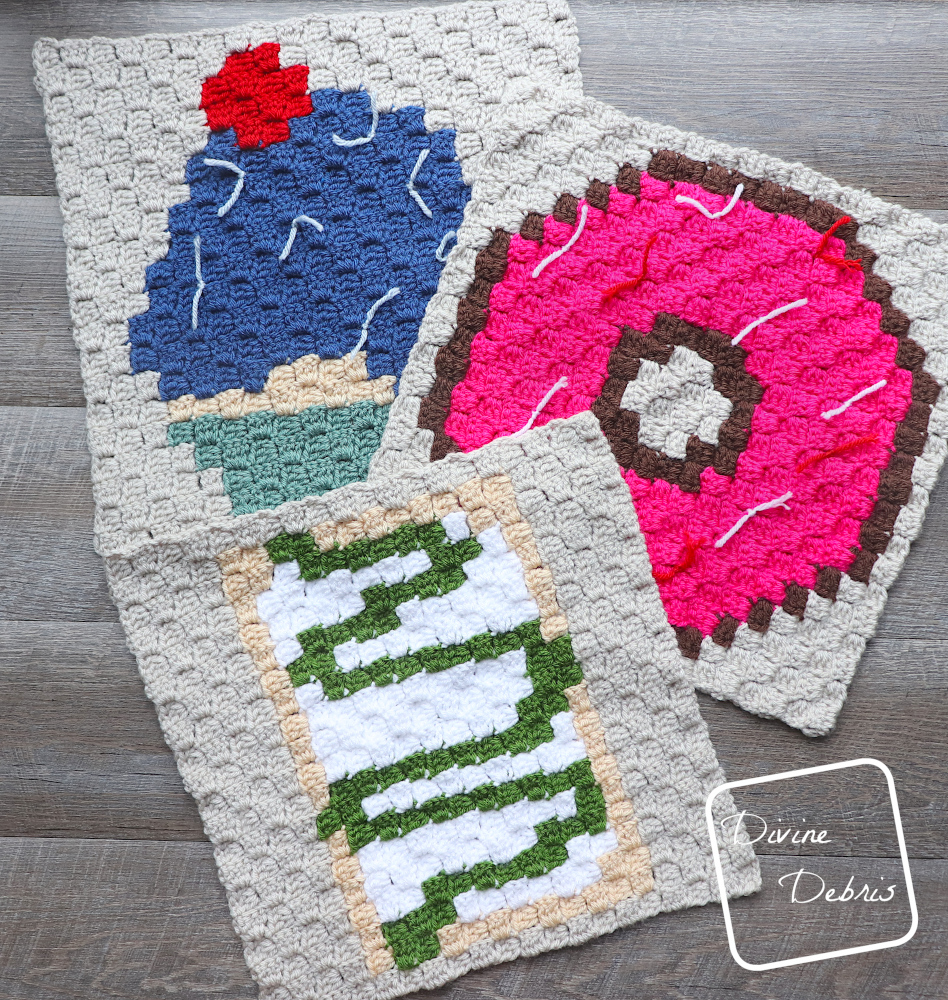 -Details-
12 squares (one each month)
16″ x 16″
New square will be released on the last Tuesday of each month
Graphs will be free on my blog (although there will be pdfs available for purchase for the written instructions)
Use the tag #DeliciousDessertsC2CCAL or #DivineDebris so I can see the projects – I might share them on my social media
Where to buy the C2C Toaster Pastry Afghan Square
Level
Intermediate (must know how to C2C and work from a graph)
Materials
US H (5.00 mm) crochet hook
Size #4/ worsted/ medium weight yarn

5 colors
4.5 oz total/ 203 yds
Specifics in the Notes

Notions: needle, measuring tape, scissors
Gauge
5 squares x 5 rows = 4" (blocked)
Notes
In keeping with industry standards, the graph for this square is free here on my blog but you can purchase the written instructions here.
This is a C2C pattern worked from the bottom right corner to the top left corner.
This pattern is a square, so you don't have to worry about increasing on one side and decreasing on the other.
Each C2C block consists of 3 double crochets and a ch-3. The directions will only tell you what color (ie: Color A, Color B, etc…) and the number tells you how many blocks to make.
Check out the tutorial by Meghan Makes Do on how to do C2C designs if you're unfamiliar on this technique.
You will need to know how to change colors in a C2C for this pattern.
Rows 1 – 20 you will be increasing and rows 21 – 39 you will be decreasing.
The even-numbered rows are worked up and the odd-numbered rows are worked down. The odd-numbered rows are the Right Side.
In the photos: Color A is off-white (Lion Brand Yarn Vanna's Choice in Linen 2 oz/ 94 yds), color B is tan (VC in Beige .6 oz/ 28 yds), color C is white (VC in White 1 oz/ 45 yds), and color D is green (VC in Kelly Green .8 oz/ 39 yds).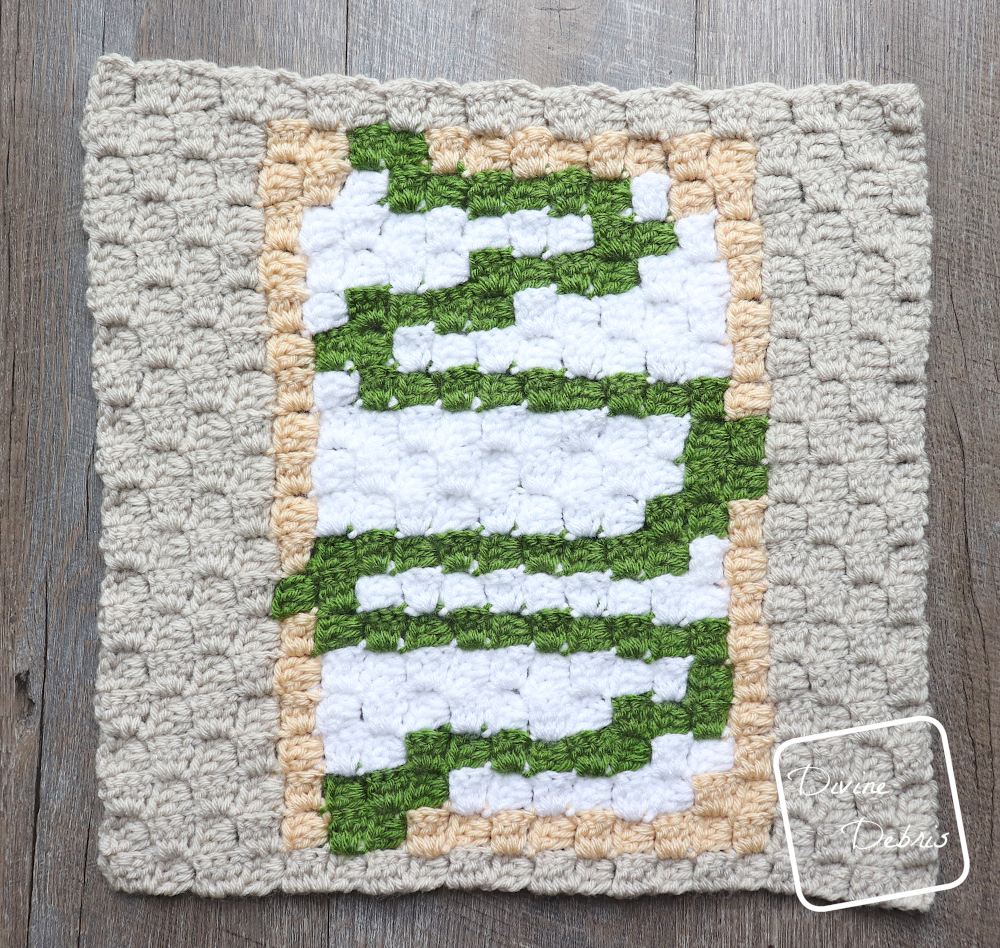 Finished product dimensions (measurements may vary by gauge and yarn used)
Approx 16″ x 16″
Graph for C2C Toaster Pastry Afghan Square
Key: Color A is off-white, color B is tan, color C is white, and color D is green.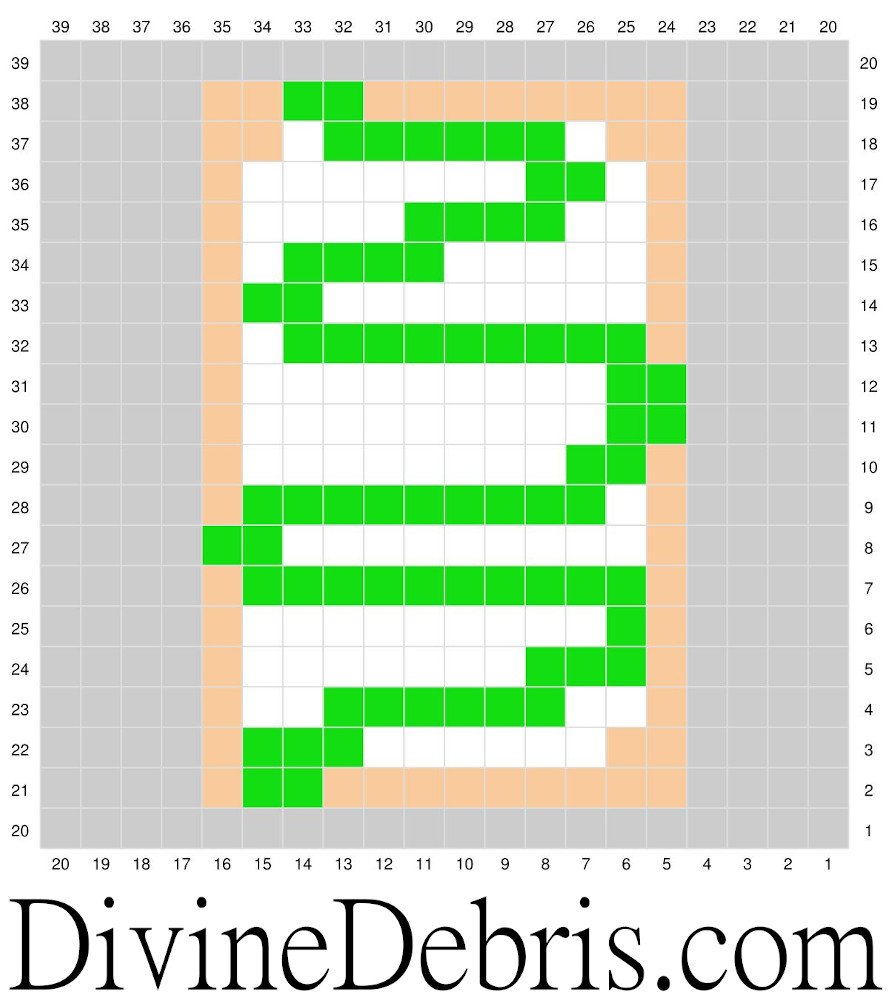 Fasten off, weave in your ends. Block if necessary to meet 16" x 16".
---
Seaming
I plan on using the join method I used on my Concentric Squares Throw to join this new CAL, you can check it out here.
Don't forget, you can buy an ad-free pdf of the written instructions for this pattern in my Ravelry shop or in my LoveCrafts shop (coming soon).
Tada! There it is, the C2C Toaster Pastry Afghan Square! I hope you love it and use the hashtag #DivineDebris on Instagram and I'll share it in my stories!