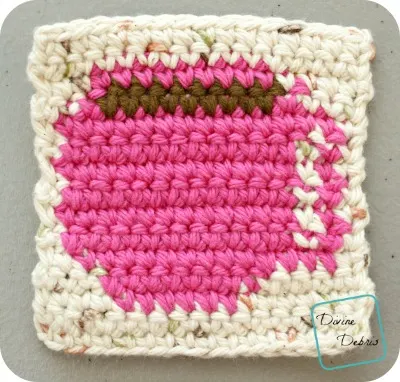 Happy Tuesday! At least, it's a good Tuesday here at my house. Just hanging out, enjoying a nice cinnamon flavored coffee and writing some crochet patterns. I told you last week was my last Halloween design, so here's a fun one that is great year-round and super quick. It's a nice project if you're just getting into tapestry design too. Although a wall hanging or bag is great, something small is easier to work with and will get you used to your tension and how to pull the yarn. And I was thinking about how you could make this into a scarf or a place mat by repeating the pattern, that would be so cute and so easy to customize!
I hope you give this quick pattern a shot and love it as much as I do.
Materials:
US G (4.00) mm crochet hook
Worsted weight/ size #4/ medium weight yarn
Yarn needle
Gauge:
4.5" x 4.5" = 19 dcs x 9 rows
Terms/ stitches:
RS: right side (side that faces out)
Ch: chain
St: stitch
Slip st: slip stitch
Sc: single crochet
Notes:
This pattern is worked back and forth in rows, with a turn at the end/ beginning.
The ch 1 at the beginning of the row does not count as a stitch.
This pattern is worked from the bottom up.
All of the stitches in this pattern are single crochets, because of this the sides portion (where all the color changes are) only tells you how many stitches to do in what color, this is what the number in the parenthesis means.
Rather than changing, cutting, and weaving in the ends of all the colors, the yarn is carried through the bags in the photos. Here's a great tutorial on color changes. In this pattern, the active yarn is worked over the inactive.
Also check out this post about tapestry crochet from Moogly, it's helpful.
You can replace the chain row with a foundation single crochet row.
Color A: is speckled tan, Color B: is pink, and Color C: is brown, in the photos shown here.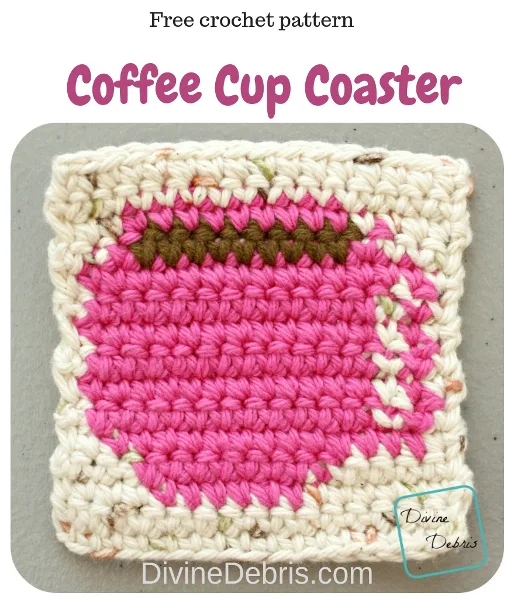 Coffee Cup Coaster Pattern Instructions
Row 1: A: Ch 17, sc into the second ch from the hook and into the next 15 sts – 16 scs
Row 2: A: Ch 1, turn, (16) – 16 scs
Row 3: A: Ch 1, turn, (6), B: (6), A: (4) – 16 scs
Row 4: A: Ch 1, turn, (3), B: (8), A: (5) – 16 scs
Row 5: A: Ch 1, turn, (1), B: (13), A: (2) – 16 scs
Rows 6 – 10: A: Ch 1, turn, (1), B: (12), A: (1), B: (1), A: (1) – 16 scs
Row 11: A: Ch 1, turn, (1), B: (13), A: (1) – 16 scs
Row 12: A: Ch 1, turn, (2), B: (1), C: (9), B: (1), A: (3) – 16 scs
Fasten off Color C.
Row 13: A: Ch 1, turn, (4), B: (9), A: (3) – 16 scs
Fasten off Color B.
Rows 14 – 15: A: Ch 1, turn, (16) – 16 scs
Fasten off, weave in all your ends on the wrong side of the coaster.
Tada! I hope you like this pattern and give it a try. It's a fun and quick design that you can throw into a cute theme basket or gift any time.