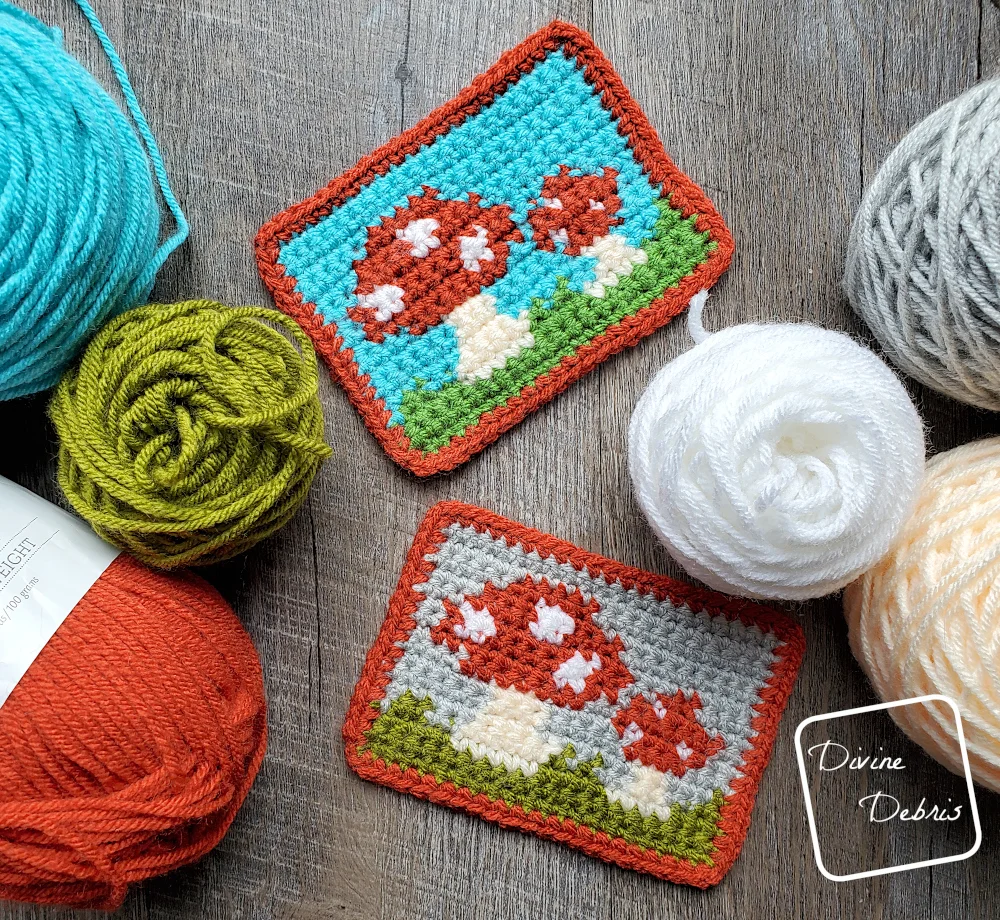 At some point in 2021 I decided, "oh, 2022 is going to be big for mushrooms." I don't quite know why, maybe it's all the compliments I get when I wear my Stuffed Mushroom Earrings, my C2C Mushroom Square, or the super awesome mug I bought myself for Christmas (check out her Etsy shop, she's amazing) but this year, it's mushrooms for me. Whatever the reason, I didn't want to get out of January without a new mushroom design – so hello to the Cute Mushrooms Mug Rug.
First off, any 80's & 90's kids feeling really nostalgic looking at these? It's the nature of graphed images, they just evoke the 8 bit games of our youths and it's so wonderful. Maybe that's why I love to make so many coasters, I just really enjoy the little bit of familiar and fun they feel. And it's probably just the nerd in me but these really delight me.
As with all my crochet colorwork/ tapestry designs, you can work these in whatever way feels right to you. I have floats on the back of the blue one and I used bobbins on the gray one. And like I say often on Instagram, when it comes to how you work color it doesn't matter what you call it, you do what feels good to you. I don't ever follow just one technique to change and carry colors, sometimes I carry them for a couple sts and then drop the color altogether and work the rest of the way across the project. As long as you steam block (which I always do for colorwork) then it's going to be a-OK. Don't just take my word for it, give it a try yourself.
And keeping with industry standards, if you'd like written instructions to this pattern you can pick those up in my Ravelry shop. I know talking about money is often icky but I split up these patterns this way so that people do have an incentive to pick up the pdf, it helps me to keep making patterns here on my blog. I hope you understand.
Anyway, I just want to say thank you so much for your support through 2021 and I hope to bring you some fun designs this year (maybe a few more mushrooms… ok definitely a few more mushrooms).
Please wear and wash your masks and be kind to each other.
This post is linked to the Loop Scoop by Moogly

Please note: I was provided the yarn for this pattern by We Crochet for the purposes of designing the Cute Mushroom Mug Rug crochet pattern, without compensation. I wasn't provided the yarn with the expectations of positive or negative reviews but I always enjoy using this yarn, I've used it many times and it's durable and colorful worsted weight yarn. If you purchase yarn through any of the links in this post, I will be compensated.
---
(this post contains affiliate links)
---
If you appreciate my weekly patterns I hope you'd consider purchasing an ad-free pdf of this pattern in my Ravelry shop and Lovecrafts shop!
Thank you to all my patrons on Patreon!
---
Where to purchase the Cute Mushrooms Mug Rug crochet pattern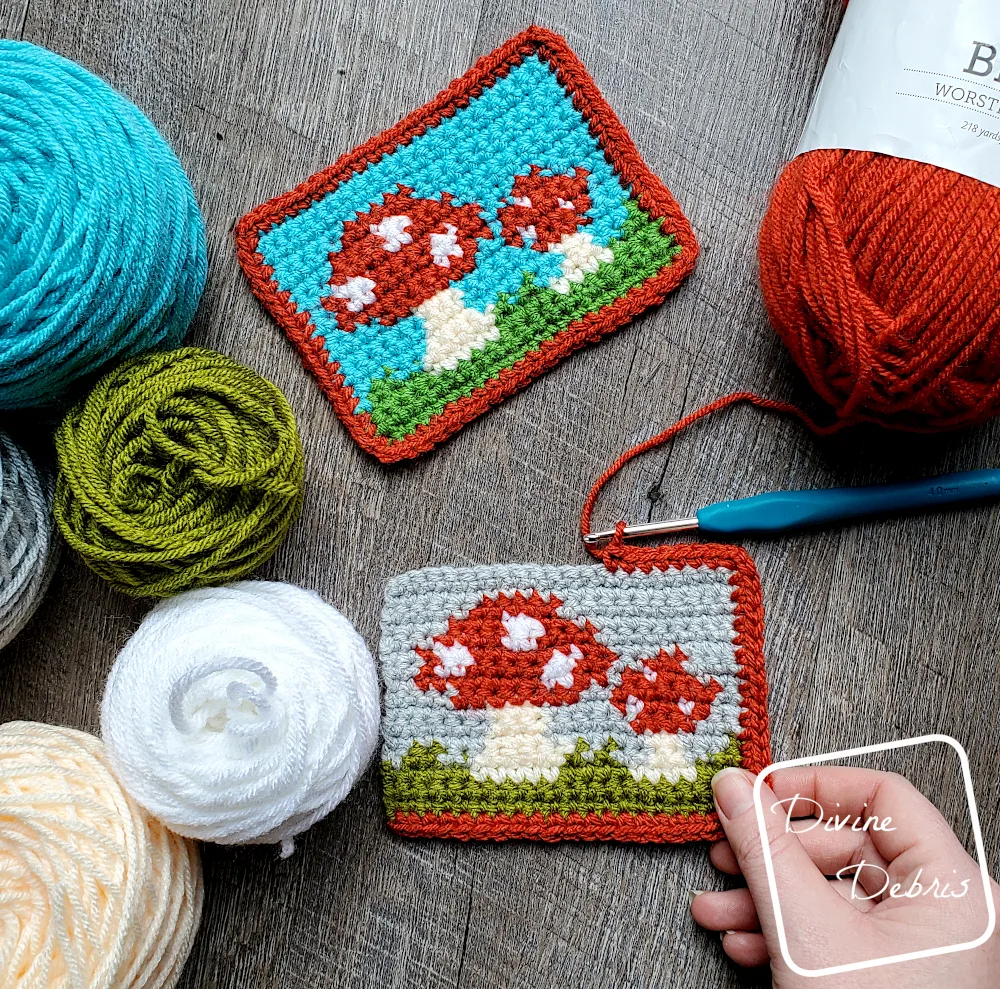 Level
Intermediate
Materials
US G (4.00 mm) crochet hook
Worsted weight/ size #4 yarn
I used Brava Worsted from WeCrochet

5 colors
Less than 1 oz/ 62 yds ea

Notions: scissors, measuring tape, yarn needle
Gauge
18 sc x 19 rows = 4" (blocked)
Terms/ Stitches used
Ch: Chain
St: Stitch
Sc: Single crochet
RS: Right side
Notes
As is industry standard, this pattern is just a free graph and not written instructions but you can purchase the pattern for a fee in my Ravelry shop.
This pattern is worked from the bottom up, row by row with a turn at the beginning of the row.
The ch 1 at the beginning of the rows does not count as a stitch.
The odd rows are the RS.
This pattern doesn't require you to carry the yarn, just use bobbins where necessary and change colors on the last pull through of the sc.
For row 1 you can do a Foundation sc if you'd prefer.
In the photos: Brava Worsted by We Crochet – Color A is green (Brava Worsted in Avocado), color B is cream (Brava in Cream), color C is gray (Brava in Dove Heather), color D is red (Brava in Paprika), and color E is white (Brava in White).
---
Blocked Finished Product Details (approx)
---
---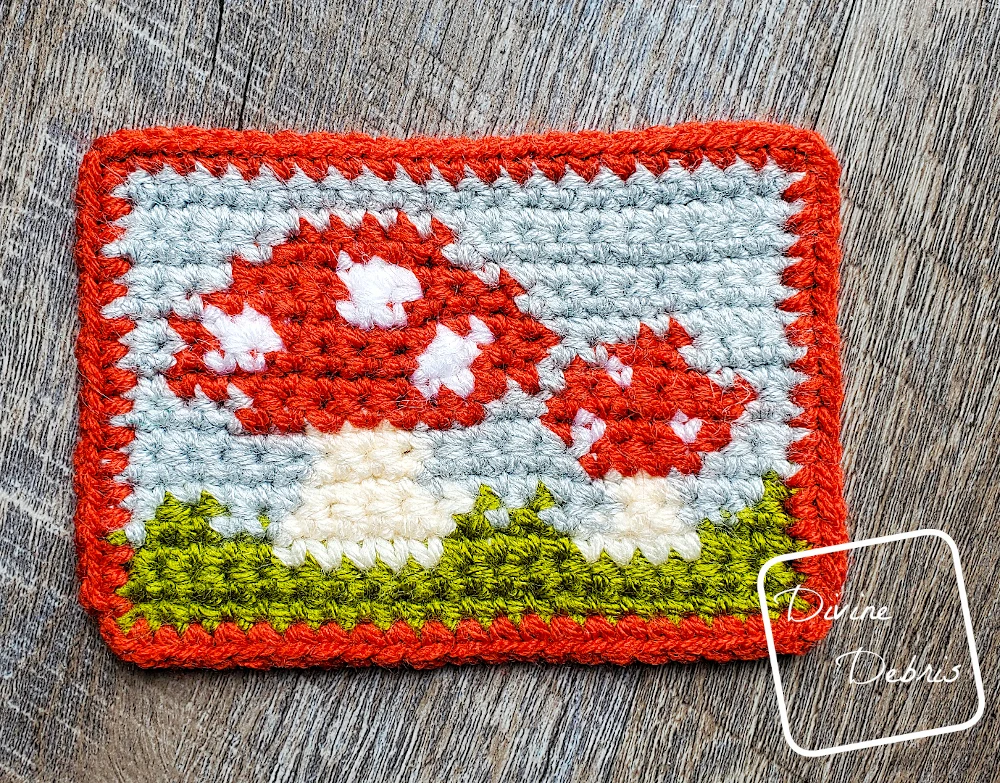 Cute Mushrooms Mug Rug Crochet Pattern Graph
Key: Color A is green, color B is tan, color C is blue, color D is red, and color E is white.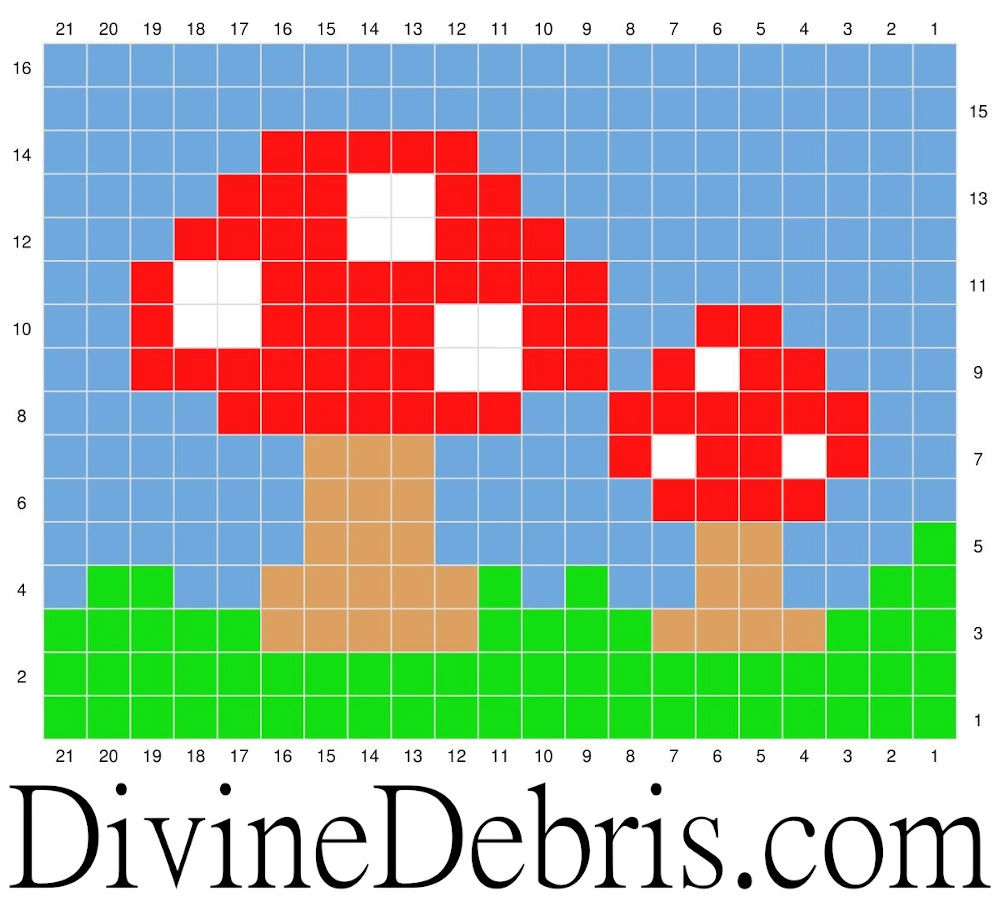 Finishing
Border
With the RS facing you, create a slipknot on your hook (this will make your first st a standing sc) with color D (or any color you'd like) and start on the other side of Row 1 (the ch row).
Row 1: Sc into the next 21 sts, ch 1 at the corner, rotate your piece, sc into the next 16 row ends, ch 1 at the corner, rotate your piece, sc into the next 21 sts (this will be Row 16), ch 1 at the corner, rotate your piece, sc into the next 16 row ends, ch 1 at the corner, join with a slip st – 74 sc, 4 ch-1 spaces
Fasten off, weave in your ends. Block if you'd like.
You can pick up written instructions for the Cute Mushrooms Mug Rug crochet pattern in my Ravelry shop.
---
Tada! There they are, the Cute Mushrooms Mug Rug crochet pattern! I hope you love it and use the hashtag #DivineDebris on Instagram and I'll share it in my stories!