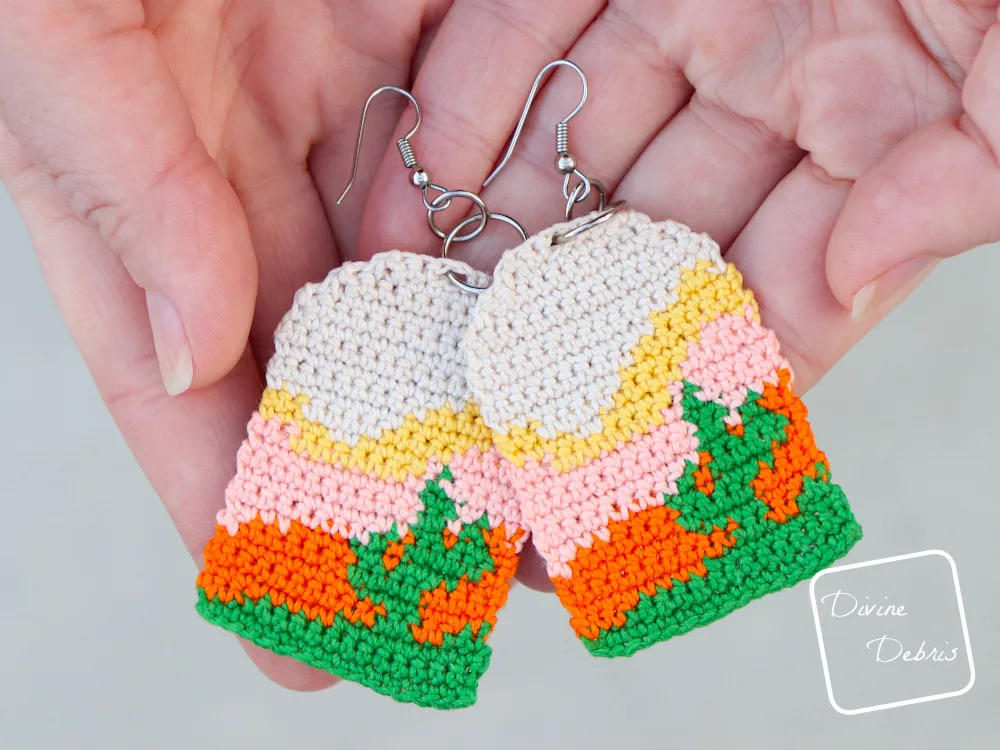 Hey there friends, how are things going with you this week? Making any big plans, big makes, or big mistakes? I feel like I've done all 3 so… I will not judge 😀 But what I will do it share with you a new idea I had and now I can't wait to make more of – tapestry/ color work earrings! And to kick off this new segment of my work, the Sedona Cactus Crochet Earrings.
Now it's no secret that crochet earrings are a big part of my origin story. I started making earrings initially and selling them on my own website (this one before I changed it to a full-time blog). Over the years I've continued to make earrings, you can find many of the patterns here on my blog, and I still like to add new designs from time to time when I find inspiration hit. Well friends, inspiration was loud this time and I decided to adapt… ish, my Cute Cactus Wall Hanging to a brand new design design but this time it would be smaller and more portable – thus Sedona Cactus Crochet Earrings were born.
I cannot believe I didn't think of this sooner. I have so, so much thread in my stash and I'm always looking for new ways to use it and a few weeks ago a thought occurred to me "why don't I make earrings? I could do that, right?" If you follow me on Instagram I had a huge duh moment and documented it (well, not in an embarrassing way) so people could see immediately a new make I was working on. It's such a new and exciting next step in my crochet journey. I can't wait to make more!
Now like all my crochet tapestry makes this is a combination of carrying yarn and using bobbins. I like to carry as seldom as I can and so these are basically the same front to back and so I didn't make another set to make them 2 sided. Nope, just added fabric stiffener and went for it. I can't wait to wear them in public (I haven't yet but I will, I promise you that). Do you have any requests or ideas for future earrings? And of course, you can totally make these into a coaster or something if you like the pattern but don't' want to use crochet thread – I totally understand that, I don't like using ti all the time either, it can be rough on the hands.
Overall I hope you like this pattern and give it a try. Don't forget to tag me in your photos so I can see your makes too! I love that part.
Copyright @ Divine Debris 2022. No part of this document may be reproduced or transmitted in any form by any means, electronic, mechanical, photocopying, or otherwise, without prior written permission from the author. Sales of finished products are permitted, but the designer requests that you link back to the pattern and credit Divine Debris with the original design under the Creative Commons Attribution-Share Alike license. If you have any questions, comments or concerns please contact info@divinedebris.com.
---
(this post contains affiliate links)
---
If you appreciate my weekly patterns I hope you'd consider purchasing an ad-free pdf of this pattern in my Ravelry shop and Lovecrafts shop!
Thank you Mari for becoming my newest patron on Patreon!
---
Where to purchase the Sedona Cactus Crochet Earrings pattern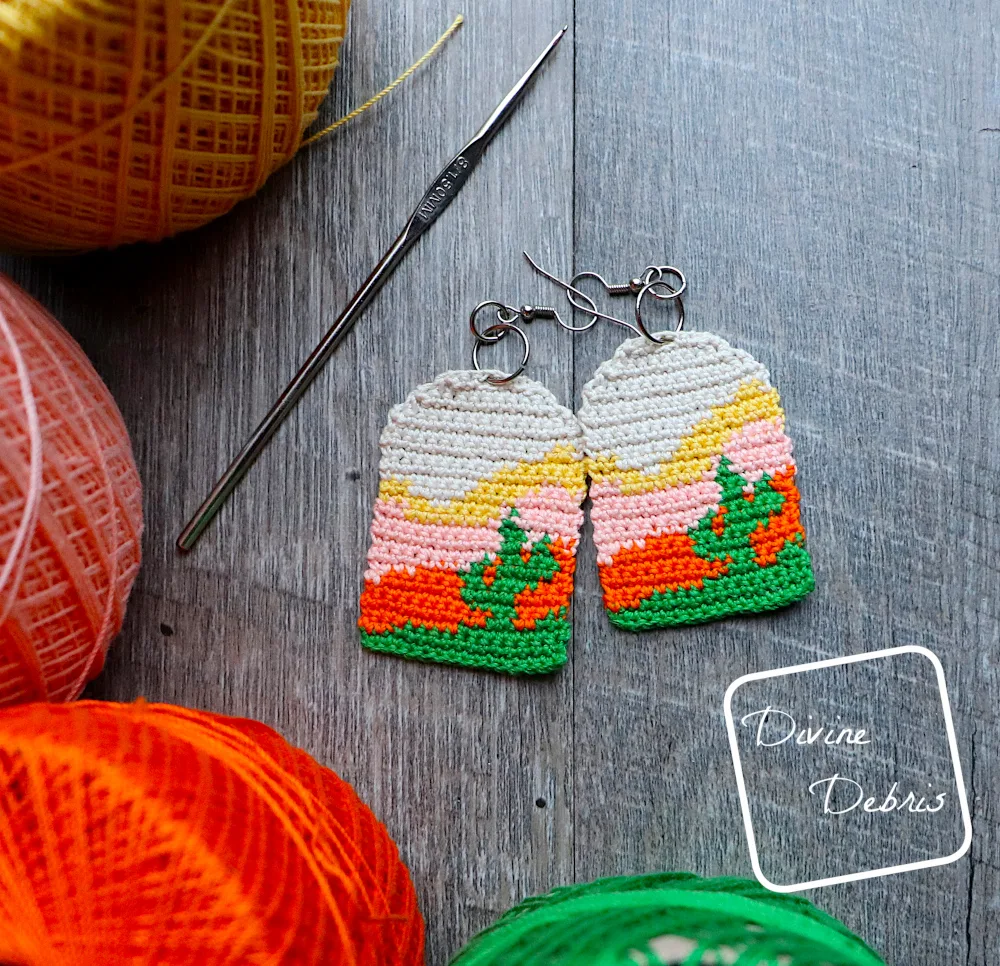 Level
Advanced Easy
Materials
US 1.50 mm steel crochet hook
Size 10 crochet thread
Needle that will weave in your ends
Jump rings
Metal french hooks
Jewelry pliers
Fabric stiffener (optional)
Gauge
Terms/ Stitches used
Ch: Chain
St: Stitch
Sc: Single crochet
Sc2tog: sc 2 sts together
RS: Right side
Notes
This pattern is worked from the bottom up, row by row with a turn at the beginning of the row.
The ch 1 at the beginning of the rows does not count as a stitch.
This whole pattern is worked in sc, so the instructions will only tell you the number and the color; ie: "A35" means sc 35 times in color A.
This pattern doesn't require you to carry the yarn, just use bobbins where necessary and change colors on the last pull through of the sc.In the photos: Color A is the green, color B is orange, color C is yellow, color D is peach, and color E is white. Aunt Lydia's Size 10 crochet thread was used.
---
Approx Finished Product Details for the Sedona Cactus Crochet Earrings (does not include findings/rings/hook)
---
---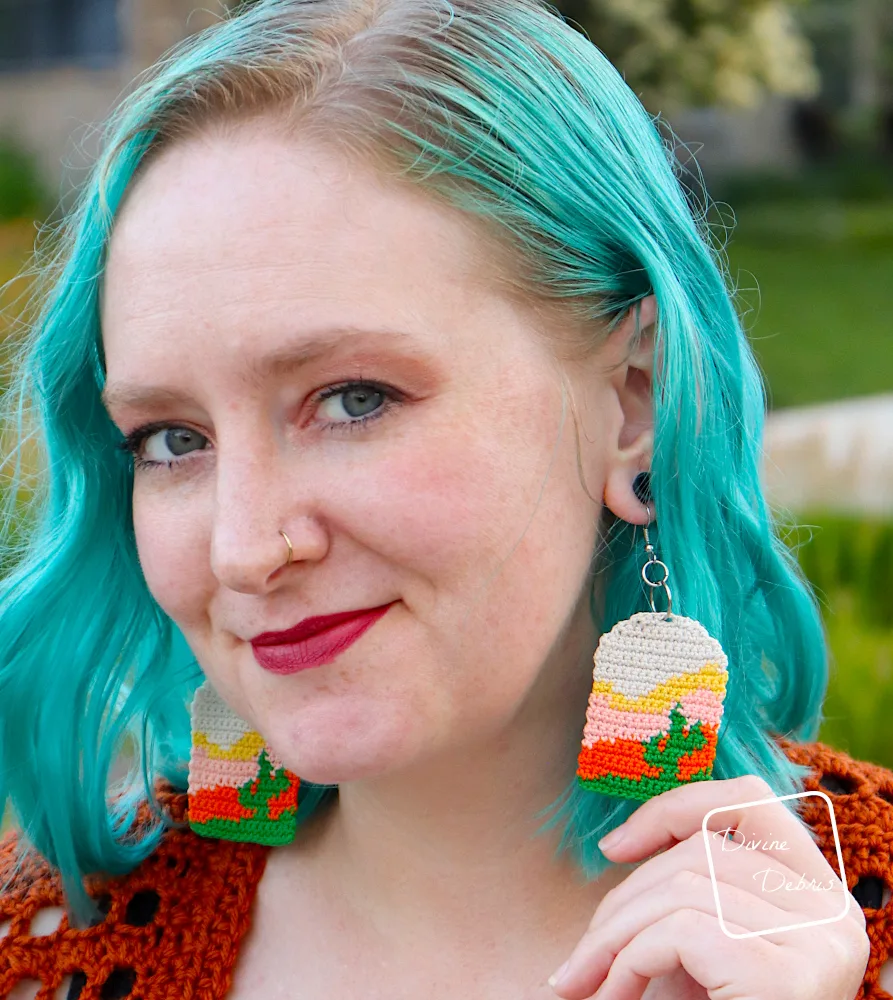 Sedona Cactus Crochet Earrings Pattern Instructions
Graph
Key: color A is green, color B is orange, color C is yellow, color D is peach, and color E is white.
If you'd like the written pattern for these earrings, you can pick it up in my Ravelry shop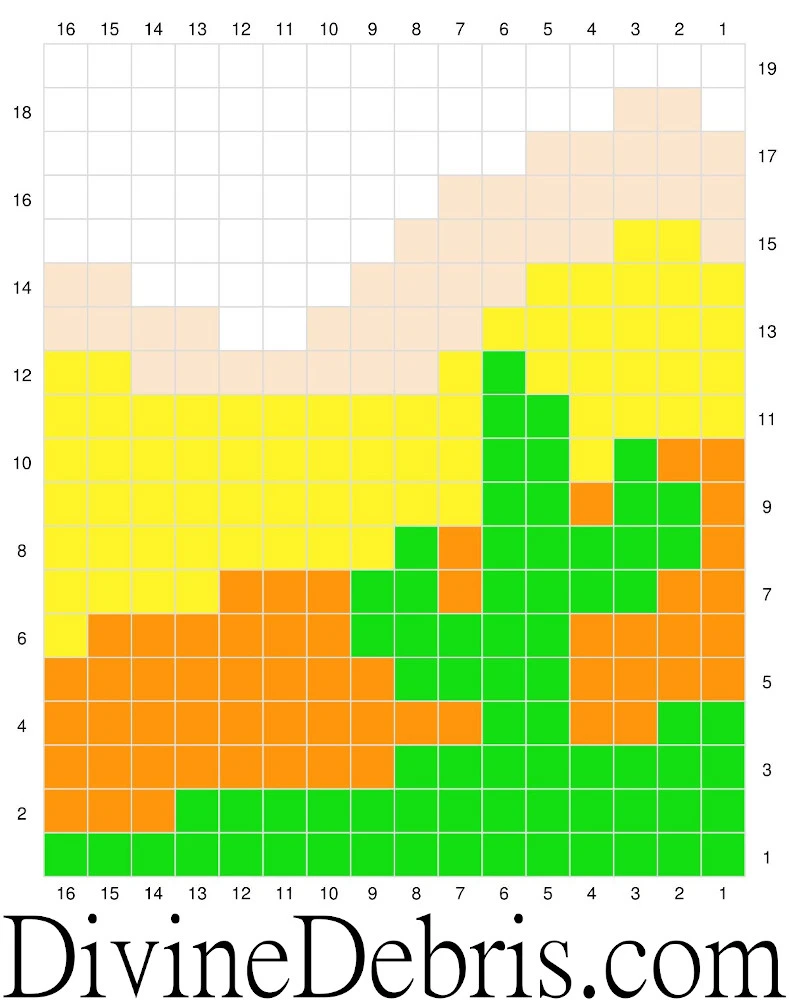 Decrease Top portion
Rows 20 – 23: E: Ch 1, sc2tog the first 2 sts, sc across until 2 sts remain, sc2tog the last 2 sts – 8 sc on row 23
Row 24: Ch 1, turn, sc2tog the first 2 sts, sc into the next st, ch 2, skip 2 sts, sc into the next st, sc2tog the last 2 sts – 4 sc
Fasten off, weave in all your ends.

Finishing
Like I do with all my earrings, I stiffened these with fabric stiffener. Just wet them down with the stiffener (I dilute it with water) and lay them flat to dry completely. When they're dry, attach the findings, such as jump rings, and wear.
Don't forget you can pick up the written instructions for these earrings in my Ravelry shop.
---
Tada! There they are, Sedona Cactus Crochet Earrings! I hope you love it and use the hashtag #DivineDebris on Instagram and I'll share it in my stories!