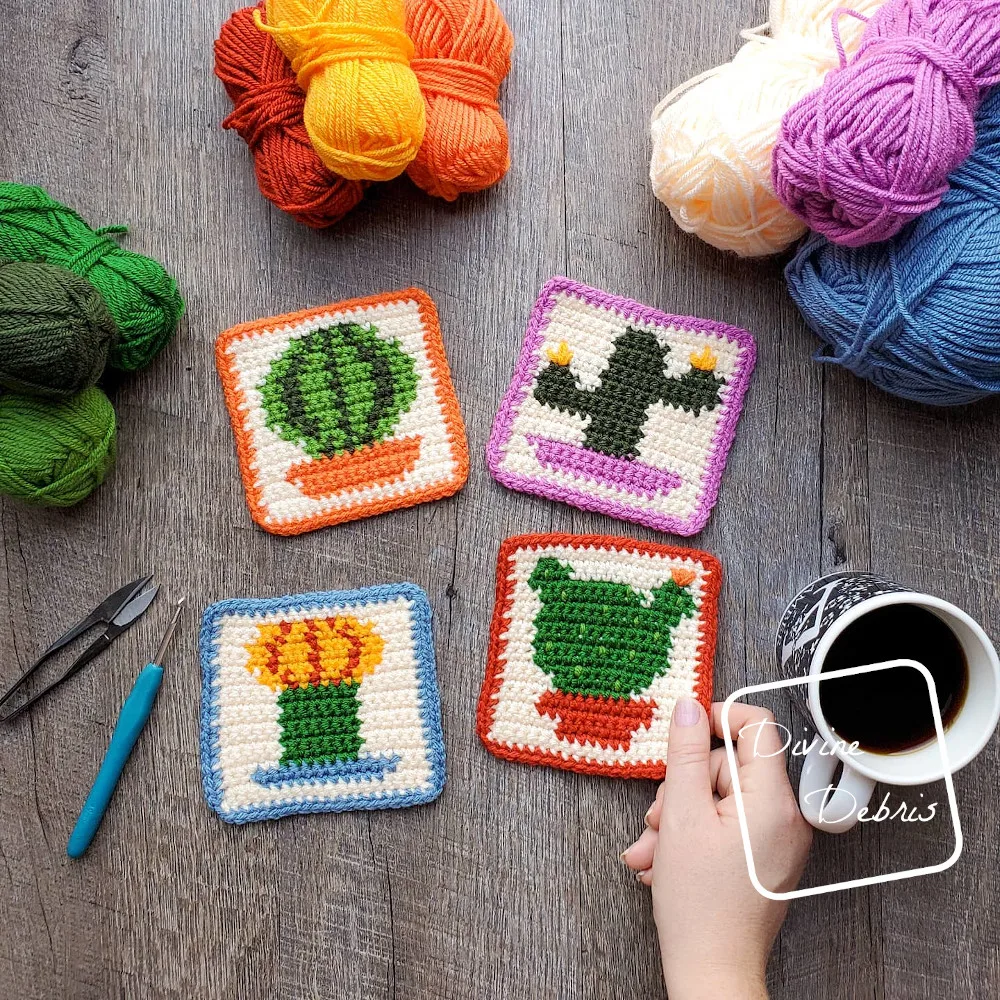 Will you look at that, it's July and that means I'm going to complain about how warm it is. And with that in mind, I designed this week's pattern to withstand the heat and the cold… condensation coming off your cups. They're coasters, cactus coasters to be specific! Say hello to the new Cactus Coaster Quartet Patterns!
Now if you follow me on Instagram you've probably seen these coasters when they started out. I had all this Brava laying around and then my friends at We Crochet sent me even more, some fun greens and oranges that I knew immediately what I wanted to make with them – some summer appropriate cactus coasters! Like I said, they're perfect for keeping your tables tidy and they remind you to stay prickly. And they're part of my fun year of color!
This year has been a big one for me to get back into tapestry designs. Well, not real tapestry, more of the hybrid version that I make where I carry some yarn, use bobbins, and keep both sides as tidy as possible. And these coasters, like the wall-hangings I've made (such as the Cool Waves Wall-Hanging and the Moon Rise Wall-Hanging) are a big part of what's filling me with such joy when it comes to color work. Like I've always said, it's like painting with yarn and when you've got this bright Brava yarn, it's even more paining like.
Anyway, got off on a color work tangent, I hope you like these new patterns. These are great little gift options and would also make a fantastic blanket. Could you imagine these in c2c then all seamed up. Ooh… that gives me an idea.
See ya next week!
Please note: I was provided the yarn for this pattern by We Crochet for the purposes of designing the Cactus Coaster Quartet Patterns, with compensation. I wasn't provided the yarn with the expectations of positive or negative reviews but I did enjoy using this yarn, I've used it many times and it's always a great worsted acrylic yarn. If you purchase yarn through any of the links in this post, I will be compensated.
This post is linked to The Loop Scoop 17 by Moogly and Petals to Picots
---
(this post contains affiliate links)
---
If you appreciate my weekly patterns I hope you'd consider purchasing an ad-free pdf of this pattern in my Ravelry shop and Lovecrafts shop!
Thank you Marie for becoming my newest patron on Patreon!
---
Where to purchase the Cactus Coaster Quartet patterns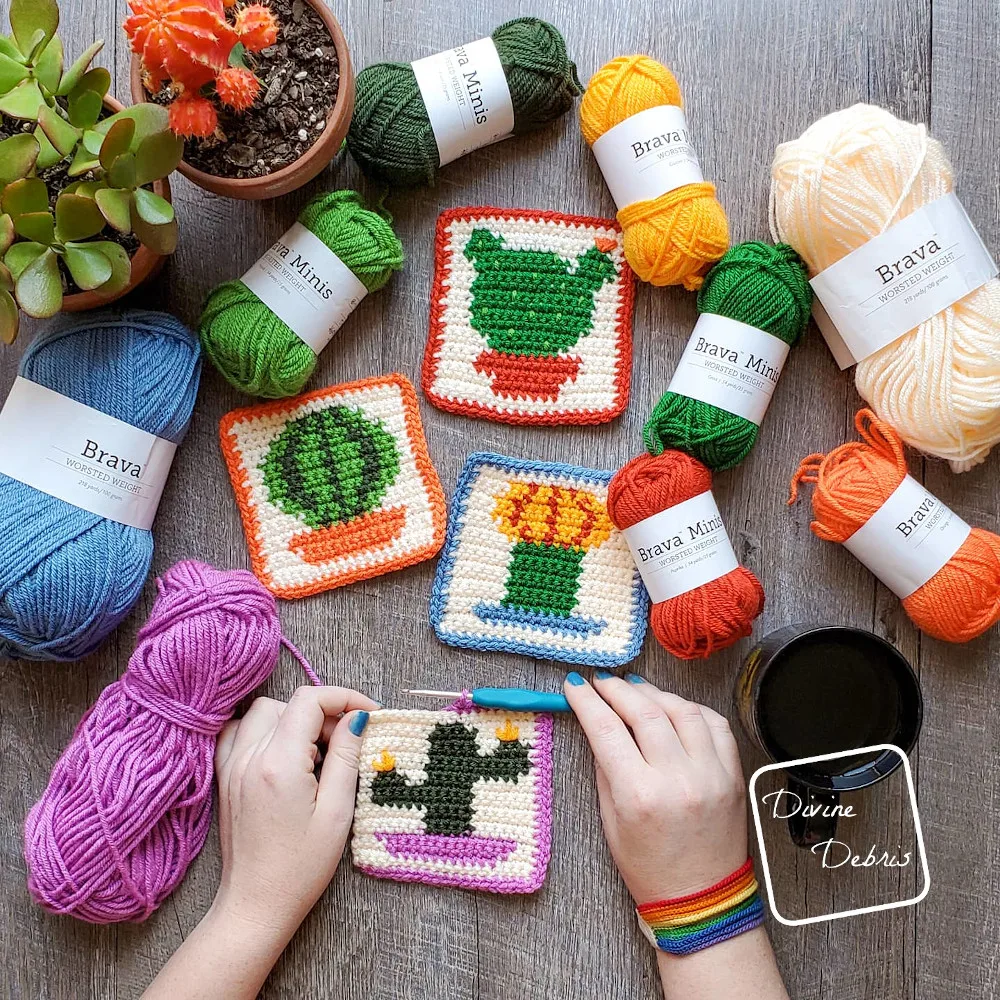 Materials
US G (4.00 mm) crochet hook
Worsted weight/ size #4 yarn
Yarn needle
Steamer (optional)
Terms/ Stitches used
RS: Right Side
Ch: chain
St: stitch
Sc: single crochet
Notes
As is industry standard, this pattern is just a free graph and not written instructions but you can purchase the pattern for free in my Ravelry shop.
All of the coasters are worked from the bottom up in rows, with a ch and turn at the beginning of the row.
The ch 1 at the beginning of the rows does not count as a stitch.
Blocking is suggested for these patterns.
The RS is are the even numbered rows for all the coasters.
This whole pattern is worked in sc, so the instructions will only tell you the number and the color; ie: "A35" means sc 35 times in color A.
The colors for the individual coasters are listed below with the graphs. All of them were made using Brava Worsted by We Crochet. For specifics, please refer to the paid pdf.
---
Approx finished product details for each coaster
---
---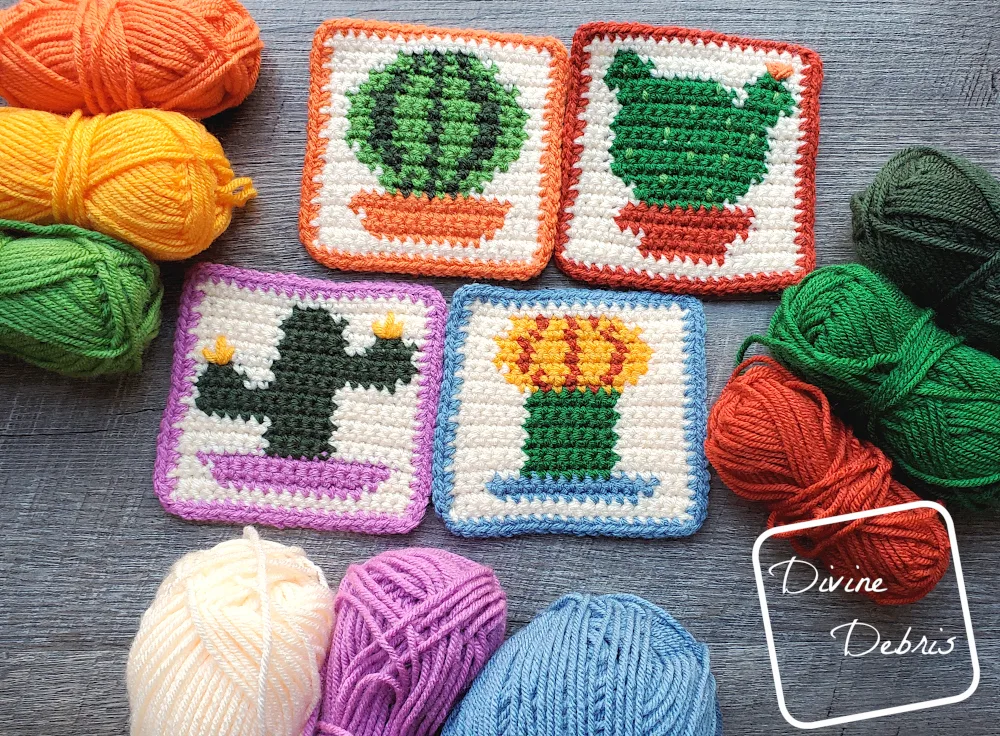 Cactus Coasters Quartet crochet patterns
Coaster 4
Graph Key: Color A is white, color B is blue, color C is green, color D is yellow, and color E is red.
Yarn details: Color A is cream (Brava Worsted in Cream), color B is blue (Brava in Denim), color C is green (Brava in Grass), color D is yellow (Brava in Canary), and color E is red (Brava in Paprika).
Finishing
Border
With the RS facing you, create a slipknot on your hook (this will make your first st a standing sc) with whatever color B was from the coaster. Start on the other side of Row 1 (the ch row).
Row 1: Sc into the next 19 sts, ch 1 at the corner, rotate your piece, sc into the next 19 row ends, ch 1 at the corner, rotate your piece, sc into the next 19 sts (this will be Row 19), ch 1 at the corner, rotate your piece, sc into the next 19 row ends, ch 1 at the corner, join with a slip st — 76 sc, 4 ch-1 spaces
Fasten off, weave in your ends. Block if you'd like.
For Coaster 1
Use a contrasting color, create little needles on the body of your cactus by going back and forth from the front to the back of the coaster (with your yarn needle). Then use another color to create a little flower on one of the nubs of the coaster. You can also use Puffy Paint or any other type of fabric paint that will be visible.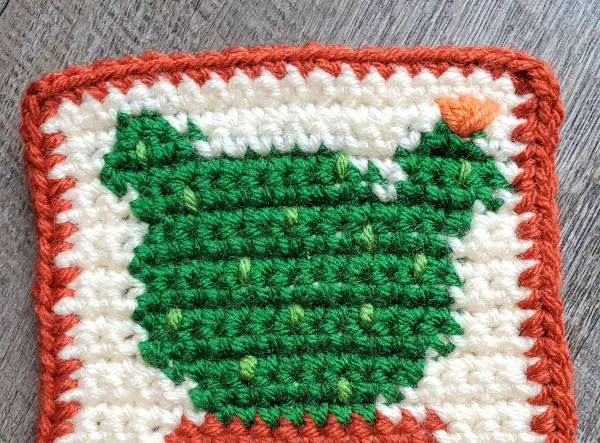 ---
Tada! There they are, the Cactus Coaster Quartet Patterns! I hope you love it and use the hashtag #DivineDebris on Instagram and I'll share it in my stories!