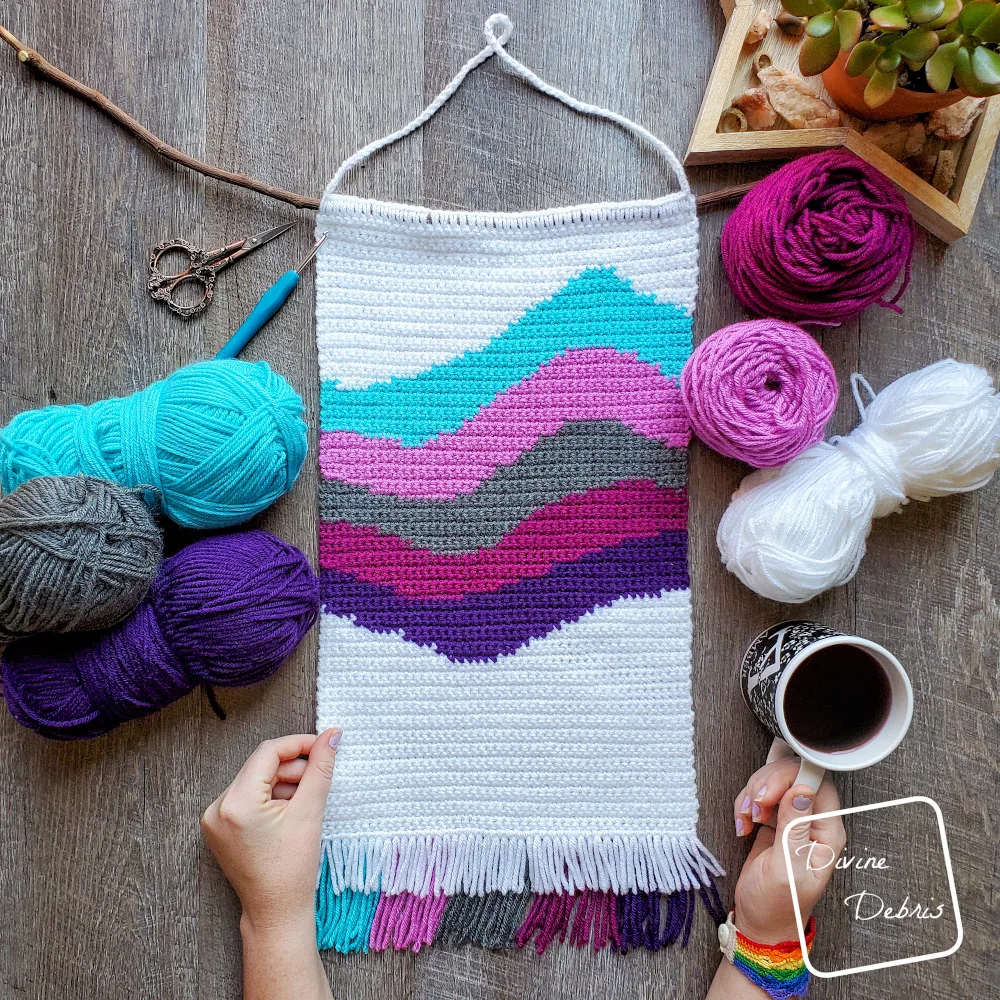 Another day another wall-hanging, am I right? At this point I may run out of wall space before I run out of ideas. I just love not only the process of making wall-hangings but the freedom of color with it. So, this week I have for you the endlessly customizable, Cool Waves Wall-Hanging.
My idea for this wall-hanging coming from wanting to do more with my Moon Rise Wall-Hanging design from last month. I really loved how that turned out but I wanted to make it more, wavy. Yep, it's not super insightful or anything, but I really did just want to make it wavy. Ha!
Oh, and do you see the fringe on this? It's made with 2 rows, using the front and back loops of the original ch row. You can make a foundation single crochet row or use the back bumps for this. I have a couple links in the notes if you're wanting to make 2 layers of fringe like I did.
But… I know that fringe is pretty divisive but I am a fan of it. I think, especially for something like this, it adds so much to the project. It can add such personality and complexity.. . not to mention, as a home decor piece, it doesn't need to be washed much so it also means fringe that's just for show. So, that's good.
Anyway, I hope you really like this design. Below is the graph but I do have the written pattern in my Ravelry shop or on LoveCrafts if you'd rather have the numbers written up for you. It's all about the sc either way, just make sure you change colors on that last pull through.
Overall, I hope you're not intimated by the color work. Just make some bobbins and try not to get the yarn all tangled (that's really the hardest part of this pattern). And remember to have fun!

I hope you like this pattern and give it a try.
This post is linked to Loop Scoop 16
Please note: I was provided the yarn for this pattern by We Crochet for the purposes of designing the Cool Waves Wall-Hanging crochet pattern, with compensation. I wasn't provided the yarn with the expectations of positive or negative reviews but I did enjoy using this yarn, I've used Brava Worsted many times and it's always a great worsted acrylic yarn. If you purchase yarn through any of the links in this post, I will be compensated.
---
(this post contains affiliate links)
---
If you appreciate my weekly patterns I hope you'd consider purchasing an ad-free pdf of this pattern in my Ravelry shop and Lovecrafts shop!
Thank you Mae-Anne for becoming my newest patron on Patreon!
---
Where to purchase the Cool Waves Wall-Hanging crochet pattern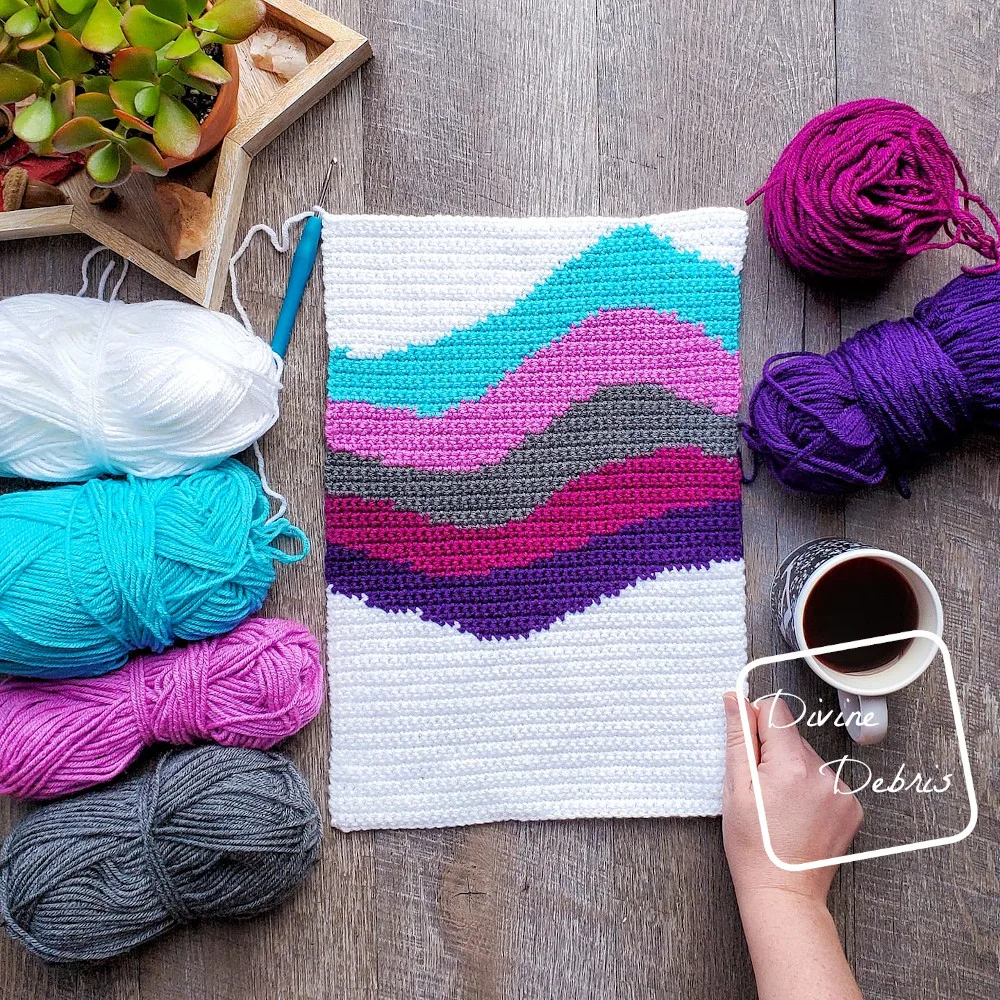 Materials
US G (4.00 mm) crochet hook
Worsted weight/ size #4 yarn

6 colors
Color A approx 2 oz/ 124 yds
Colors B – F approx less than 1 oz/ 62 yds
I used Brava Worsted for this pattern, specifics in the Notes section

Notions: scissors, measuring tape, yarn needle
Wooden dowel/ stick (more than 12" across)
Terms/ Stitches used
Ch: chain
St: stitch
Sc: single crochet
---
Approx finished product details
| | |
| --- | --- |
| Height | Width |
| 17.5" in height (not counting fringe)/ loop at the top | 10.5" wide (not including stick/dowel) |
---
---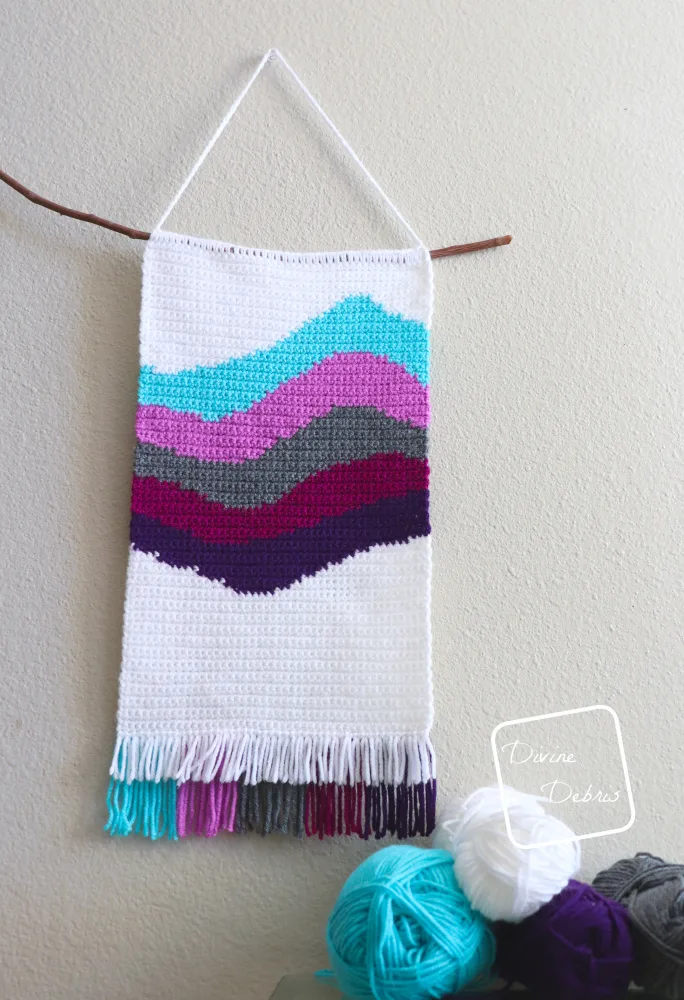 Cool Waves Wall-Hanging crochet pattern Graph
Key: color A is white, color B is dark purple, color C is magenta, color D is gray, color E is lavender, and color F light blue.
You can buy the pdf with written instructions on Ravelry or on LoveCrafts.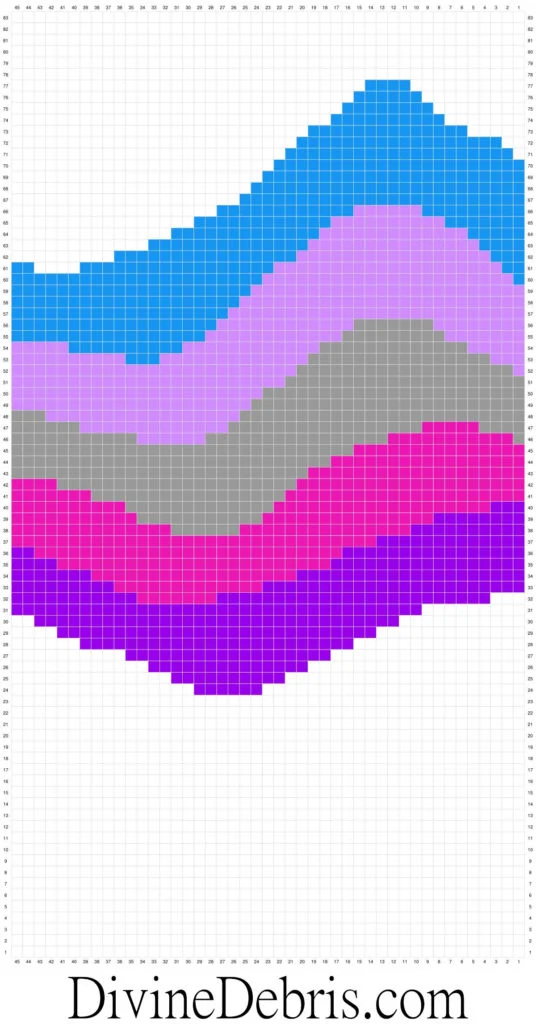 Top/Hanging
Row 84: From where you left off on Row 83, ch 1, turn, sc around the wooden dowel/ stick and into row 83 across — 45 sc
Row 85: Ch 70, skip the entire row, slip st into the first 1 of row 84 — 1 ch-70 space
Fasten off, weave in your ends.
Fringe (optional)
The fringe was created using 2 both loops on the other side of Row 1's original ch row. With colors B – F cut into 9 8" pieces and looped through the back loops and color A cut into 45 4" pieces and looped through the front loops.
---
Tada! There they are, the Cool Waves Wall-Hanging pattern! I hope you love it and use the hashtag #DivineDebris on Instagram and I'll share it in my stories!