Happy new pattern Tuesday everyone!
Who needs a fun, simple, and twisty headband pattern? This week that's what you're getting.
When I say this design is easy, I really, really mean it.
In the that past I've made some fun headbands, some complicated like the Diamonds Earwarm, some simple like the Willow Headband, and then some super full of texture like the Ashley Headband. But for this design I wanted to go easy, like quick gift in one evening easy. And you know a good herringbone half double crochet design. Or maybe you know that. But it's true, I do.
And because we (here in the US) are finally moving into the cooler months, I wanted to make a new headband to wear for hikes or for runs that will be nice. Not to mention, because this design is so simple you could adapt it to thicker yarn and make it great for even cooler temps.
Overall, I just hope you like this simple design and make a bunch of them to go with all your outfits 😀

This post is linked to Hookin' on Hump Day #200
---
(this post may contain affiliate links)
---
If you appreciate my weekly patterns I hope you'd consider purchasing an ad-free pdf of this pattern in my Ravelry shop.
Thank you Christina for becoming my newest patron on Patreon!
---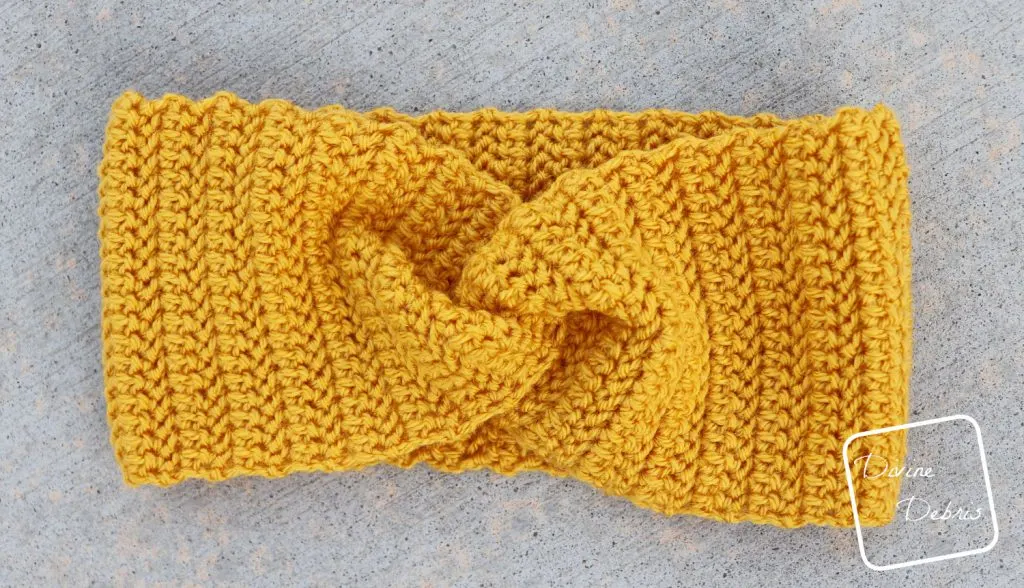 Materials
US G (4.00 mm) crochet hook
Size 3/DK weight yarn
Yarn needle
Terms/ Stitches used
RS: right side
Ch: chain
St: stitch
Notes
Herringbone half double crochet: yarn over, insert your hook into the stitch, yarn over and draw through the stitch and the first loop on your hook, yarn over and draw through the last 2 loops on your hook.
This pattern is worked in 1 piece, in back and forth rows with a turn at the beginning/end of the row. The ends are then seamed up to create the twist.
The ch-1 at the beginning of the row does not count as a stitch. The ch-1 is used in place of the traditional ch-2 to eliminate extra space on the beginning of the row. Feel free to use the ch-2 if you prefer.
Make your ch-1 approx the same high as a hdc.
This design is very easy to make taller, just chs to the beginning ch row. And to make it bigger or smaller in diameter, just add or subtract rows.
The size in the photos is 22″ and was made using Paintbox Yarns Simply DK in Mustard.
Finished product dimensions (measurements may vary by gauge and yarn used)
20″
22″
Yarn: 1.3 oz/112 yds
Height: 4″
Diameter: 10″
Yarn: 1.5 oz/129 yds
Height: 4″
Diameter: 11″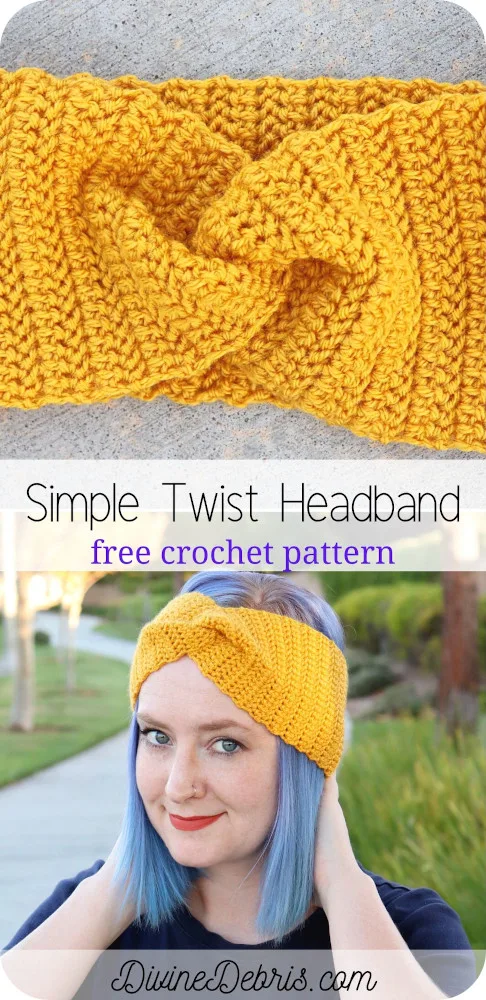 Simple Twist Crochet Headband Pattern Instructions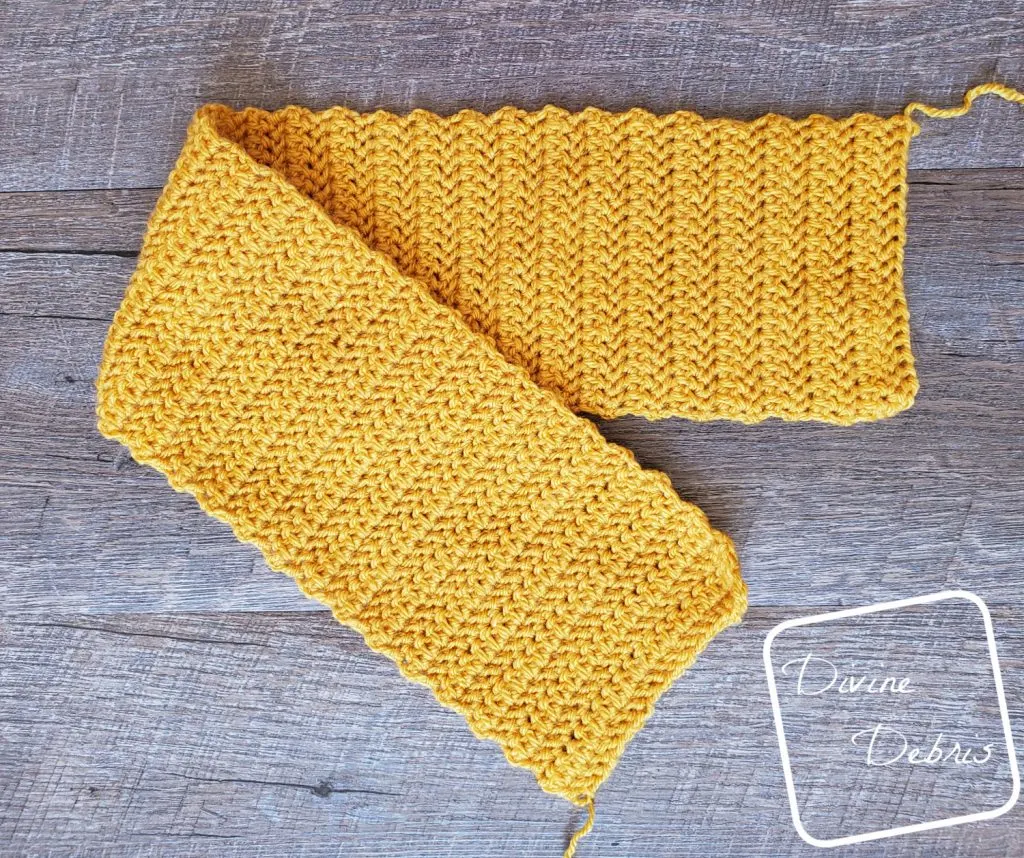 Sizing as follows: 20″ (22)"
Row 1: Ch 20, HBhdc into the 3rd ch from the hook (the skipped stitches count as a Hdc), HBhdc into the next 17 sts – 19 HBhdc
Rows 2 – 60 (66): Ch 1, turn, HBhdc into the next 19 sts – 19 HBhdc
Fasten off leaving a long tail.
Seaming
Fold row 60 (66) in half and use the tail you left to sew together, in your preferred method of seaming, the first 9 and last 9 sts of the row. Starting at the unseamed stitch on row 60 (66) sew the first 9 sts from row 1 to the seam you just created. Make sure you don't have a twist in the band at all, the back will remain flat. Continue wrapping row 1 around the seam from row 60 (66) and sew the last 9 sts to the other side of the seam. Weave in all your ends.
Below are some photos to help your seaming. If you'd like an alternate method for seaming, check out the Pretty in Gingham Headband pattern here.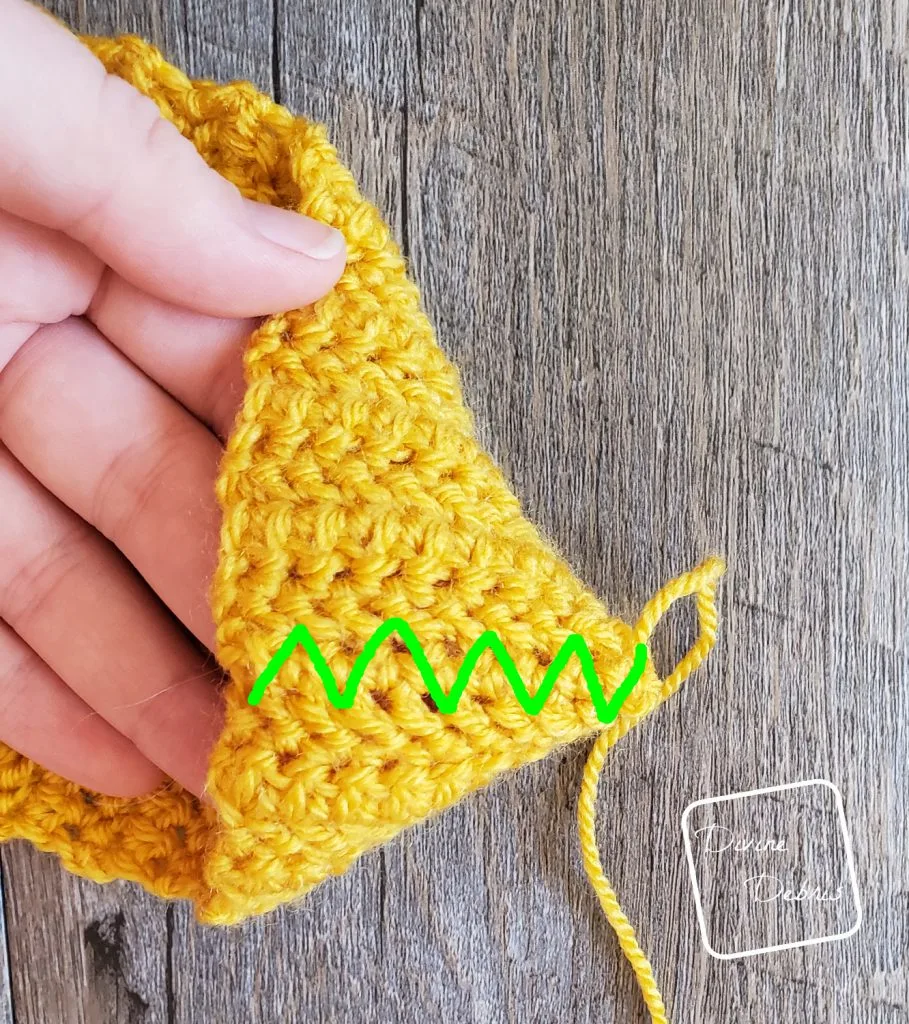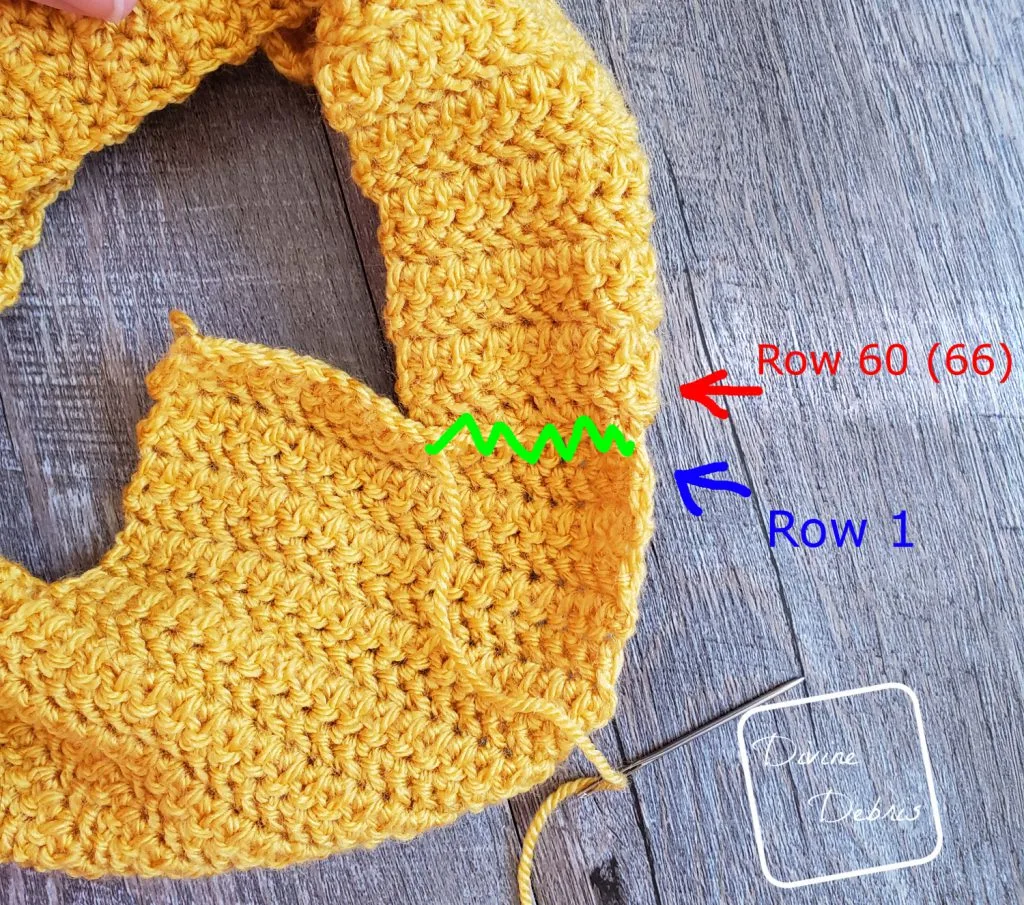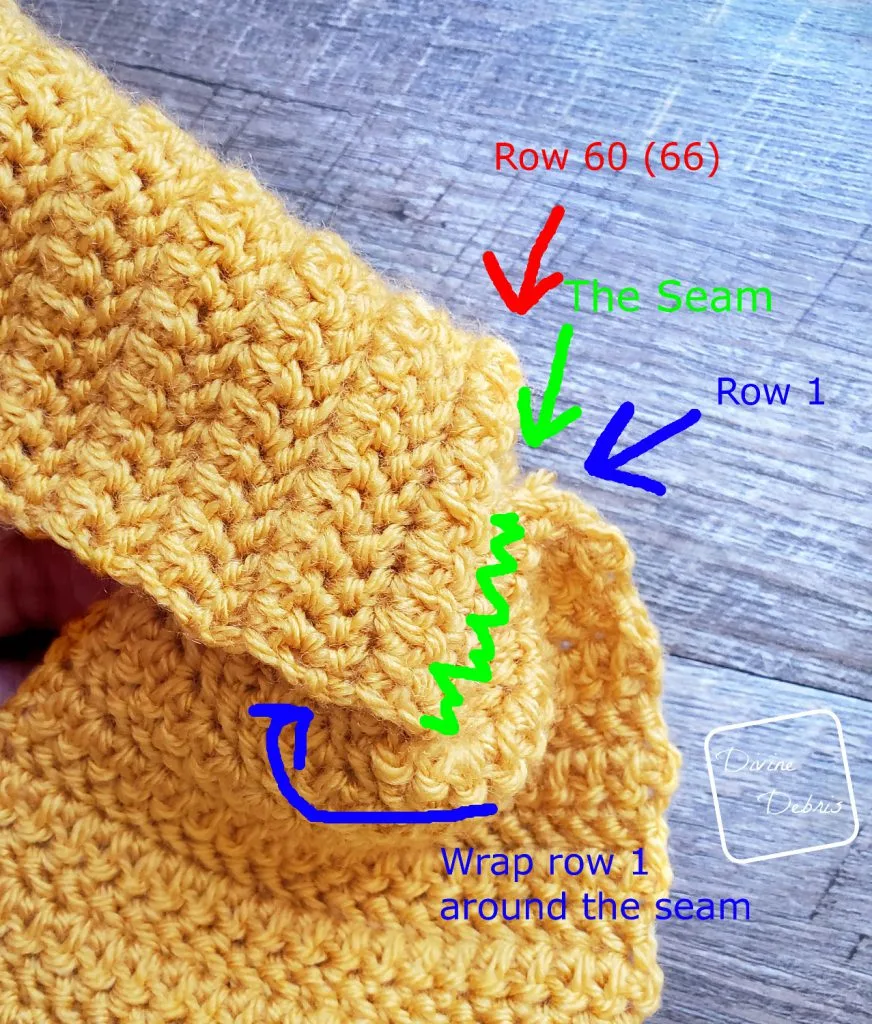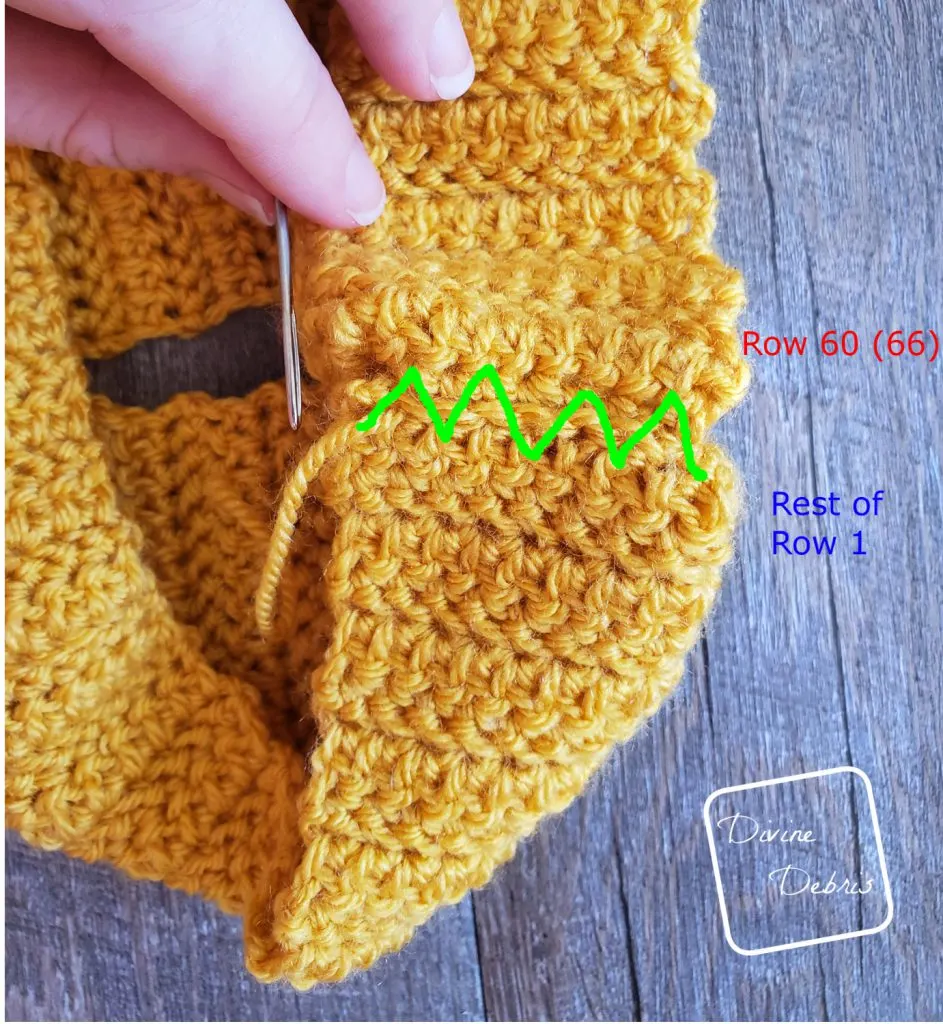 Here's a video to help seaming
You could find the other pattern, the Artemis Headband, here
Now just adjust your headband so it looks like the ends are swirling a little (if that makes sense) and wear all the time 😀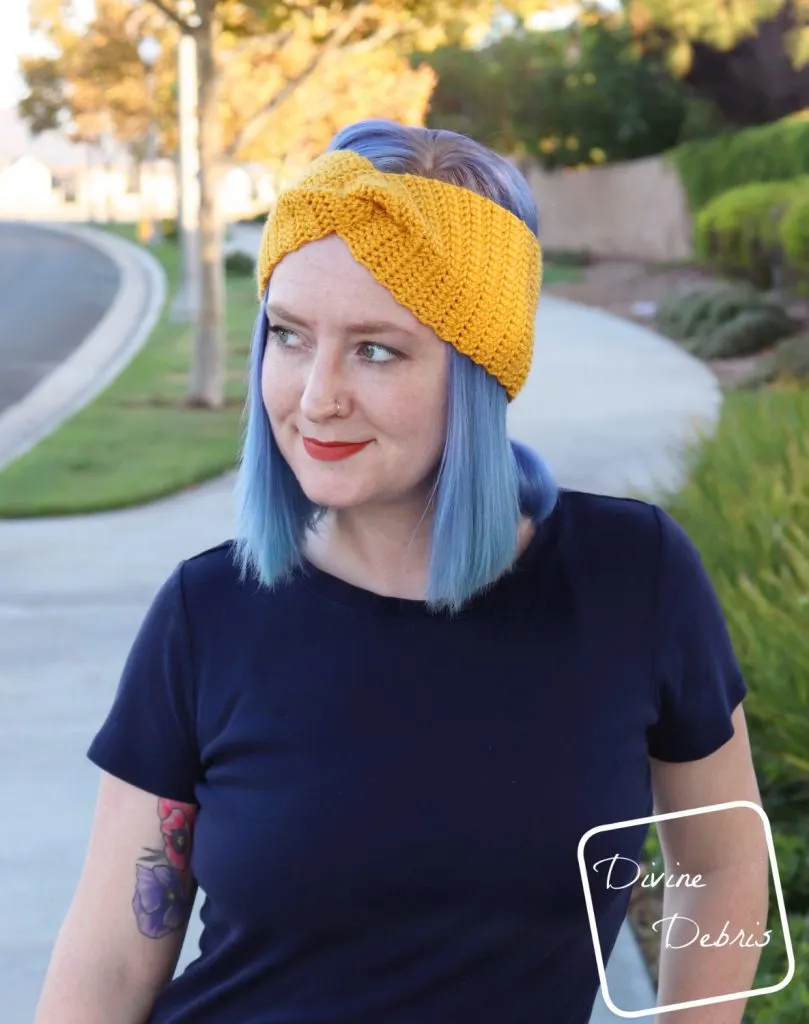 Tada! There it is, the Simply Twist Headband! I hope you love it and use the hashtag #DivineDebris on Instagram and I'll share it in my stories!