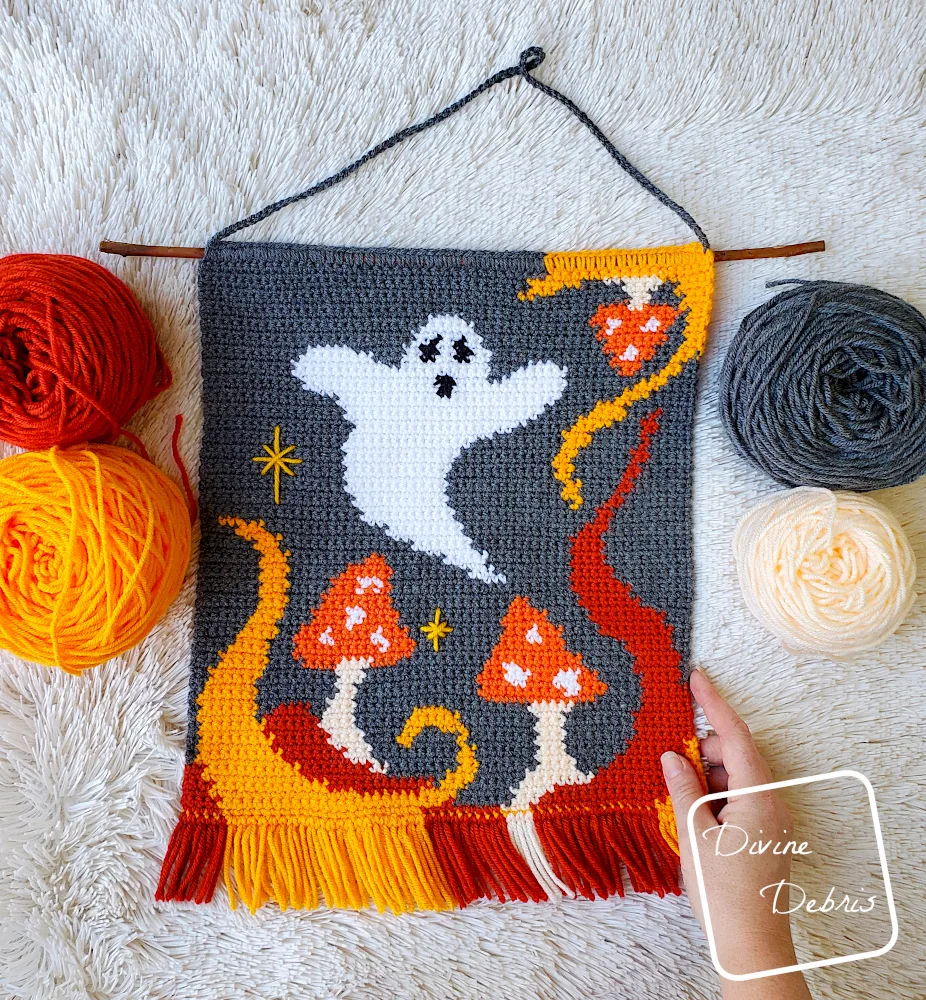 Oh my, are you excited? I am so excited! Why you might be asking… well it's because of today's new pattern. I have been so into this pattern since I designed it that I couldn't wait for it to come out. And if you follow me on Insta or TikTok you've seen this one a lot because I've been so into it. So… who's gonna join me for the Ghost in the Mushrooms Wall Hanging.
Last month I brought you the Ghostly Mushroom Wall Hanging and while I was working on it I loved how it was turning out but in my heart of hearts, I wanted more. I wanted something more Halloweenish. I wanted the bright colors and fun mushrooms but I also wanted a bigger and bolder ghost. So, I designed one. That's just one of the perks of being a crochet designer I guess (the other is yarn is really soft).
I basically worked backward with this design, graphed out the ghost first and then designed the rest of the piece around it. I wanted movement, kind like the Follow the Moon Wall Hanging, but I wanted to bring in a classic Halloween vibe. At first I had blacks and oranges and the a couple purples, very modern Halloween but it just wasn't working for me. The gray yarn (Brava Worsted by We Crochet in Cobblestone) was so pretty but still soft that I thought some really vibrant oranges or reds would be the best way to go… and I was right. Man I love when things turn out the way I want them to. Anyway, as I added movement swirls to the colors, the mushrooms were a must and before I knew it, the wall hanging was done. All bright and colorful.
So what do you think? Do you think this would make a great home decor piece for you? Or maybe a pillow or bag (make two, seam them together)? Of course I added a couple stars and some fringe, because I love finishing touches on my wall hangings but you can add as much or as little as you'd like. Just remember to have fun with it my friends!
I've said it before, but when it comes to color work you should do what works the best for you. I used bobbins for this particular pattern and made sure to turn the piece back and forth rather than in a circle as I worked the rows. I have a couple Reels on my Instagram that show how I change colors from the front and also the back, so if you're struggling with changing colors those might help you. But I firmly believe that anyone can make a color work project like this, you just need to know how to make a single crochet 🙂 Oh, and a little bit of steam blocking will help straighten your piece right up.
And keeping with industry standards, if you'd like written instructions to this pattern you can pick those up in my Ravelry shop. I know talking about money is often icky but I split up these patterns this way so that people do have an incentive to pick up the pdf, it helps me to keep making patterns here on my blog. I hope you understand.
Anyway, I hope you like this pattern and give it a try. Please wear and wash your masks and be kind to each other.
Please note: I was provided the yarn for this pattern by We Crochet for the purposes of designing the Ghost in the Mushrooms Wall Hanging crochet pattern, without compensation. I wasn't provided the yarn with the expectations of positive or negative reviews but I always enjoy using this yarn, I've used it many times and it's durable and colorful worsted weight yarn. If you purchase yarn through any of the links in this post, I will be compensated.
This post is linked to Loop Scoop 48.
Copyright @ Divine Debris 2022. No part of this document may be reproduced or transmitted in any form by any means, electronic, mechanical, photocopying, or otherwise, without prior written permission from the author. Sales of finished products are permitted, but the designer requests that you link back to the pattern and credit Divine Debris with the original design under the Creative Commons Attribution-Share Alike license. If you have any questions, comments or concerns please contact info@divinedebris.com.
---
(this post contains affiliate links)
---
If you appreciate my weekly patterns I hope you'd consider purchasing an ad-free pdf of this pattern in my Ravelry shop and Lovecrafts shop!
Thank you to all my lovely patrons on Patreon!
---
Where to purchase the Ghost in the Mushrooms Wall Hanging crochet pattern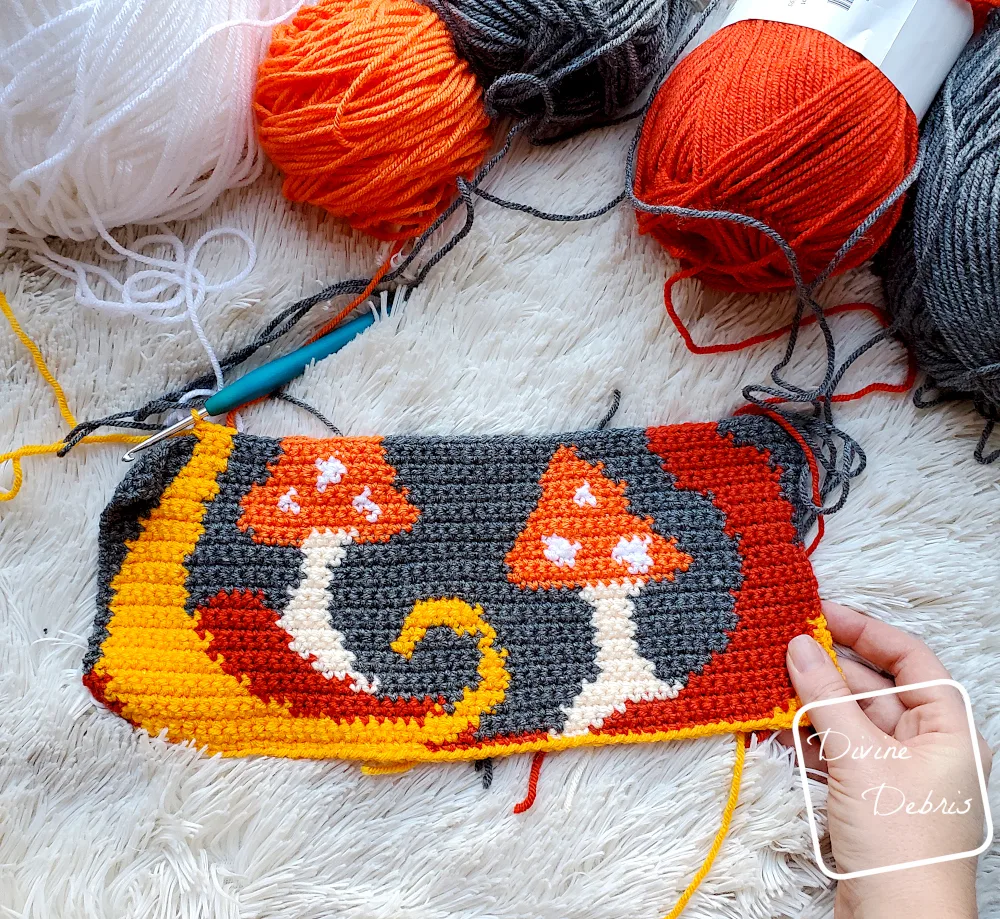 Level
Intermediate (need to know how to read a graph and do color work)
Materials
US G (4.00 mm) crochet hook
Worsted weight/ size #4 yarn

D: 2.2 oz/ 136 yds
Others: 1 oz/ 62 yds ea (or less)

Notions: scissors, measuring tape, yarn needle
Wooden dowel/ stick (more than 14″ across)
Gauge
17 sc x 20 rows = 4" (blocked)
Terms/ Stitches used
Ch: Chain
St: Stitch
Sc: Single crochet
RS: Right side
Notes
As is industry standard, this pattern is just a free graph and not written instructions but you can purchase the pattern for a fee in my Ravelry shop.
This pattern is worked from the bottom up, row by row with a turn at the beginning of the row.
The ch 1 at the beginning of the rows does not count as a stitch.
The odd rows are the RS.
This pattern doesn't require you to carry the yarn, just use bobbins where necessary and change colors on the last pull through of the sc.
In the photos: Brava Worsted by We Crochet – Brava Worsted by We Crochet – color A is yellow (BW in Caution), color B is red (BW in Paprika), color C is tan (BW in Cream), color D is gray (BW in Cobblestone), color E is orange (BW in Orange), color F is white (BW in White), and color G is black (BW in Black).
---
Blocked Ghost in the Mushrooms Wall Hanging Finished Product Details (approx, not including stick/ dowel/ fringe)
---
---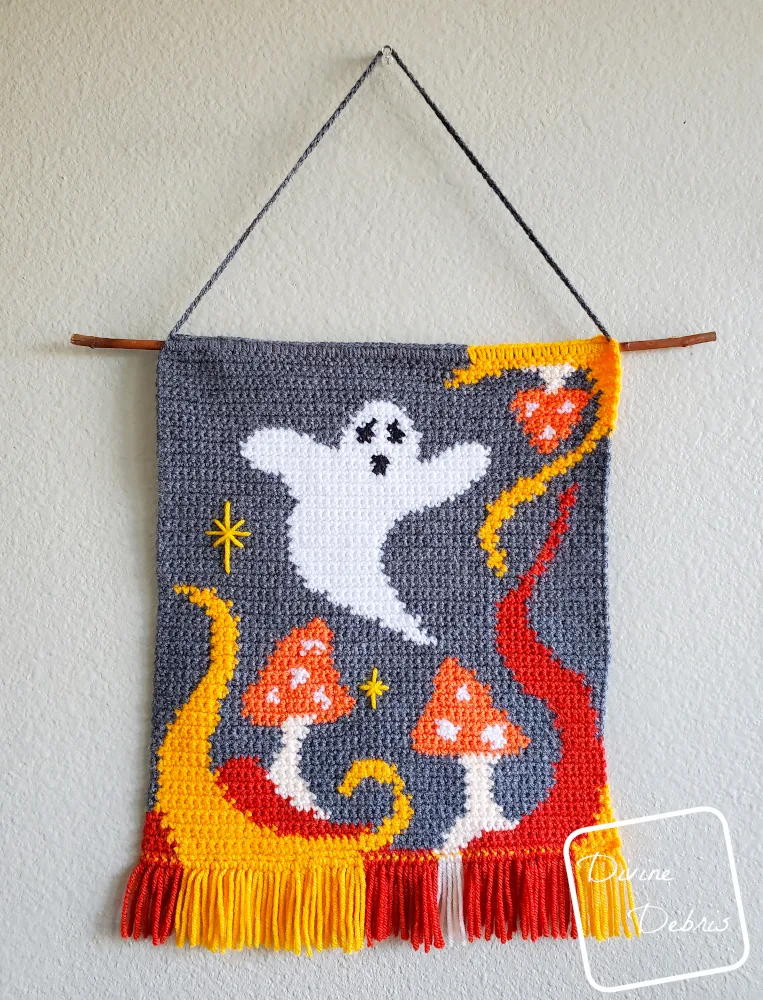 Ghost in the Mushrooms Wall Hanging Crochet Pattern Graph
Key: Color A is yellow, color B is red, color C is tan, color D is gray, color E is orange, color F is white, and color G is black.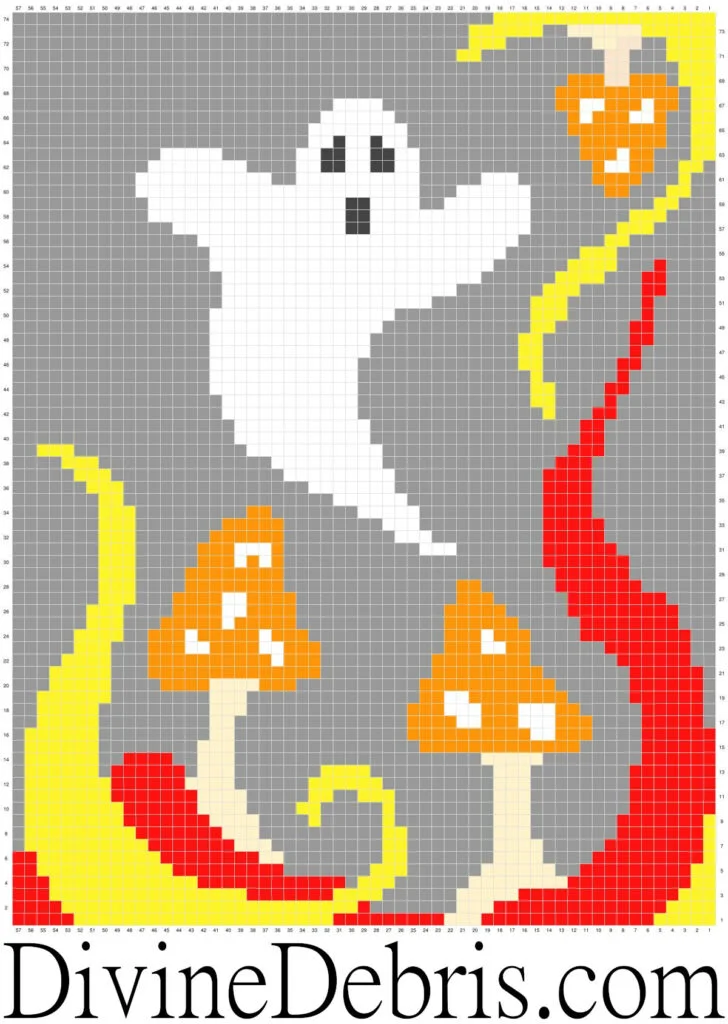 Top/Hanging
Row 75: A: From where you left off on Row 74, ch 1, turn, sc around the wooden dowel/ stick
and into Row 74 across – 57 sc (feel free to change colors or not across the row)
Row 76: Ch 80, skip the entire Row 75, slip st into the first st of Row 75 — 1 ch-80 space
Fasten off, weave in your ends.
Fringe (optional)
Feel free to add any details, such a fringe or surface crochet, to customize the final look of your wall-hanging.
You can pick up written instructions for the Ghost in the Mushrooms Wall Hanging crochet pattern in my Ravelry shop.
---
Tada! There they are, the Ghost in the Mushrooms Wall Hanging crochet pattern! I hope you love it and use the hashtag #DivineDebris on Instagram and I'll share it in my stories!