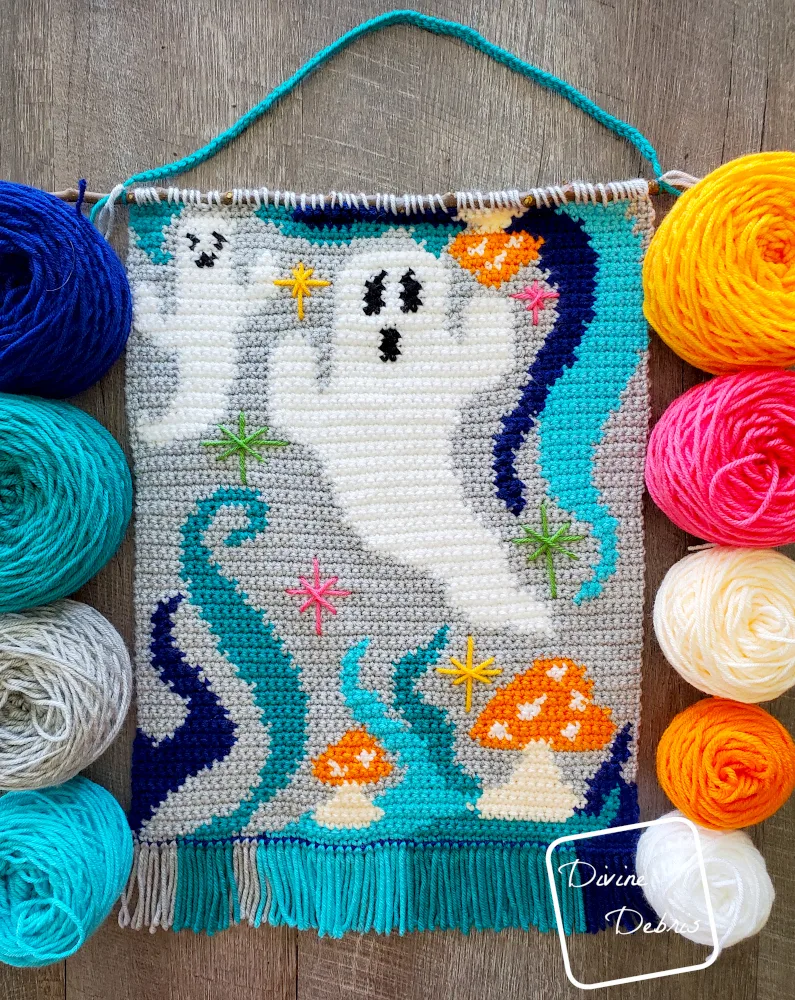 You know what? I almost named this post "nothing to be scared of" because this week's new pattern isn't really spooky at all. It's more cute. It's cutesy Halloween – at least it is in all the bright and playful colors I use to make it 😀 And That's totally fine with me, there's always more room for cute. Don't you agree? If you do… then say hello to the Ghosts of the Blue Lagoon Wall Hanging.
I didn't originally intend to release a 2nd wall hanging this month but some things had to be shifted around so, it had to be. Personally I'm not mad it at, this new design makes me smile so much and I hope it makes you smile too. And after the response to my Mug'Shroom Wall Hanging, I'm hoping a little bit of spooky helps this one be more liked. And this one is a variation, like a sister piece, to last year's Ghost in the Mushrooms Wall Hanging, but it's brighter. Like a fire and ice combo.
For this wall hanging I mostly used a bobbin technique (keeping the yarn attached to the skein or multiple skeins as the case often is) and made sure to turn the piece back and forth rather than in a circle as I worked the rows. I have a couple Reels on my Instagram that show how I change colors from the front and also the back, so if you're struggling with changing colors those might help you. With all the individual bits of color, I had separate pieces of yarn attached. It did get a little messy but kept on trucking and it worked out. It's so nice to snip the yarn when the time comes 🙂
And keeping with industry standards, if you'd like written instructions to this pattern you can pick those up in my Ravelry shop. I know talking about money makes people uncomfortable but I split up these patterns this way so that people do have an incentive to pick up the pdf, it helps me to keep making patterns here on my blog. I hope you understand.
Overall, I do hope you like this week's new pattern. It's a very fun and colorful take on a Halloween make. It's for those of us who like Halloween all the time, not just in September and October 😀
Remember to be kind to yourself and others, and wash your hands and masks.
This post is linked to Loop Scoop 69.
Please note: I was provided the yarn for this pattern by We Crochet for the purposes of designing the Ghosts of the Blue Lagoon Wall Hanging crochet pattern, without compensation. I wasn't provided the yarn with the expectations of positive or negative reviews but I've used Brava Worsted many times for home decor, garments, and whatnot and it's one of my favorite worsted yarns to use – especially for nearly all my wall hangings. This post contains affiliate links. If you purchase yarn through any of the links in this post, I may be compensated.
Copyright @ Divine Debris 2023. No part of this document may be reproduced or transmitted in any form by any means, electronic, mechanical, photocopying, or otherwise, without prior written permission from the author. Sales of finished products are permitted, but the designer requests that you link back to the pattern and credit Divine Debris with the original design under the Creative Commons Attribution-Share Alike license. If you have any questions, comments or concerns please contact info@divinedebris.com.
---
(this post contains affiliate links)
---
If you appreciate my patterns I hope you'd consider purchasing an ad-free pdf of this pattern in my Ravelry shop and Lovecrafts shop!
---
Where to purchase the Ghosts of the Blue Lagoon Wall Hanging crochet pattern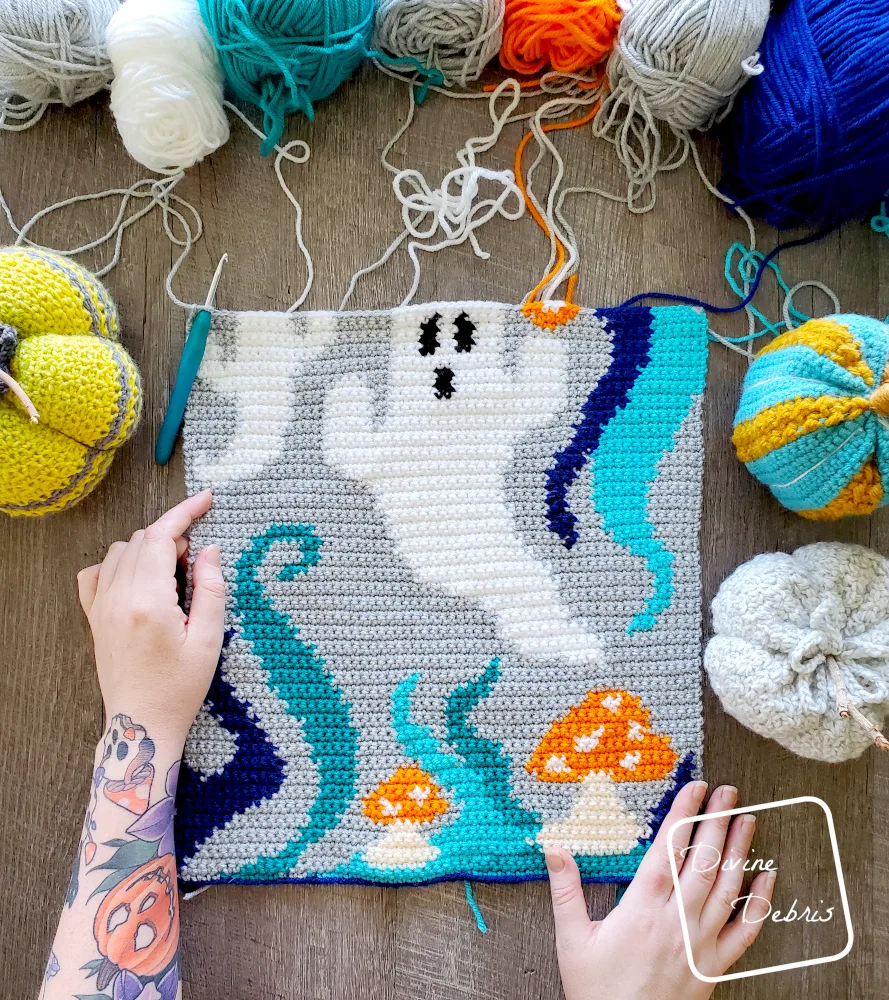 Level
Intermediate (need to know how to read a graph and do color work)
Materials
US G (4.00 mm) crochet hook
Worsted weight/ size #4 yarn
Notions: scissors, measuring tape, yarn needle
Wooden dowel/ stick (more than 13" across)
Gauge
18 sc x 20 rows = 4" (blocked)
Terms/ Stitches used
St: Stitch
Ch: Chain
RS: Right side
Sc: Single crochet
Notes
As is industry standard, this pattern is just a free graph and not written instructions but you can purchase the pattern for a fee in my Ravelry shop.
Begin with a ch 58 in color A, turn, and start in the 2nd ch from the hook. Each row begins with a "ch 1, turn" and all st counts are 57 sc.
This pattern is worked from the bottom up, row by row with a turn at the beginning of the rows.
The ch 1 at the beginning of the rows does not count as a stitch.
This pattern doesn't require you to carry the yarn, unless you'd like to. I just used bobbins where necessary and changed colors on the last pull through of the sc.
Blocking is suggested for this pattern.
In the photos: Brava Worsted by We Crochet – color A is dark blue (BW in Celestial), color B is teal (BW in Marina), color C is light blue (BW in Cornflower), color D is gray (BW in Dove Heather), color E is cream (BW in Cream), color F is orange (BW in Orange), color G is white (BW in White), and color H is black (BW in Black).
---
Blocked Ghosts of the Blue Lagoon Wall Hanging crochet pattern Finished Product Details (approx, not including stick/ dowel/ fringe)
---
---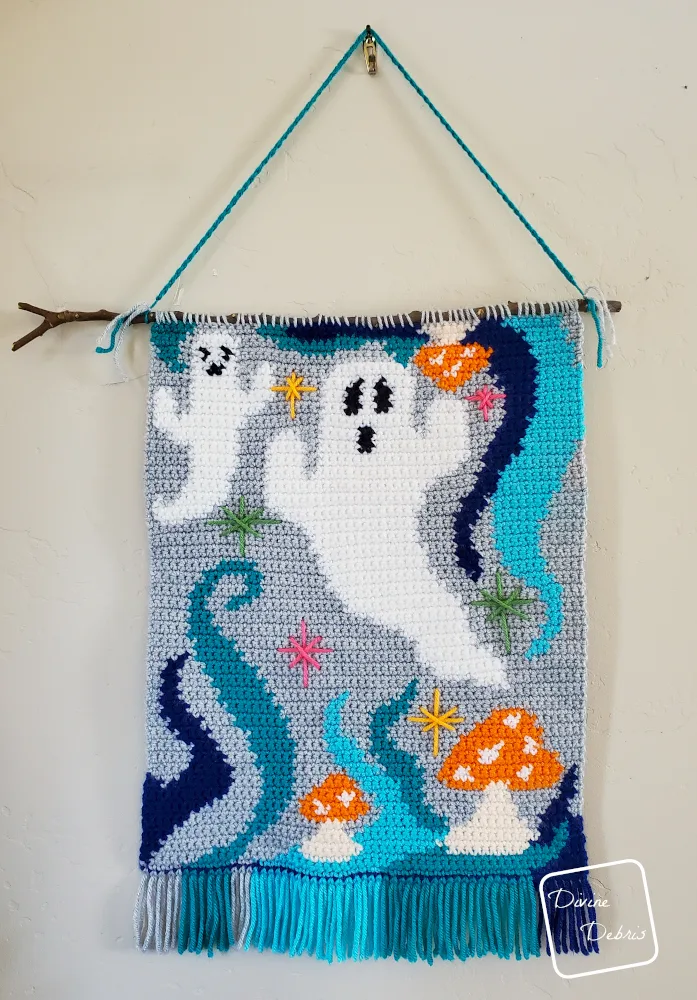 Begin with a ch 58 in color A, turn, and start in the 2nd ch from the hook. Each row begins with a "ch 1, turn" and all st counts are 57 sc.
Top/ Hanging
With color B, sew your wooden dowel or stick to your wall hanging (or sc into the last row across if you'd like).
For the hanger, ch 70 with color B and tie the ends to the first and last sts on the final row of the wall hanging.
Fringe (optional)
Feel free to add any details, such a fringe or surface crochet (added lots of stars), to customize the final look of your wall-hanging. I added 3″ pieces of fringe to the other side of Row 1 to match the colors used on Row 1.
You can pick up written instructions for the Ghosts of the Blue Lagoon Wall Hanging crochet pattern in my Ravelry shop.
---
Tada! There they are, the 'Ghosts of the Blue Lagoon Wall Hanging crochet pattern! I hope you love it and use the hashtag #DivineDebris on Instagram and I'll share it in my stories!