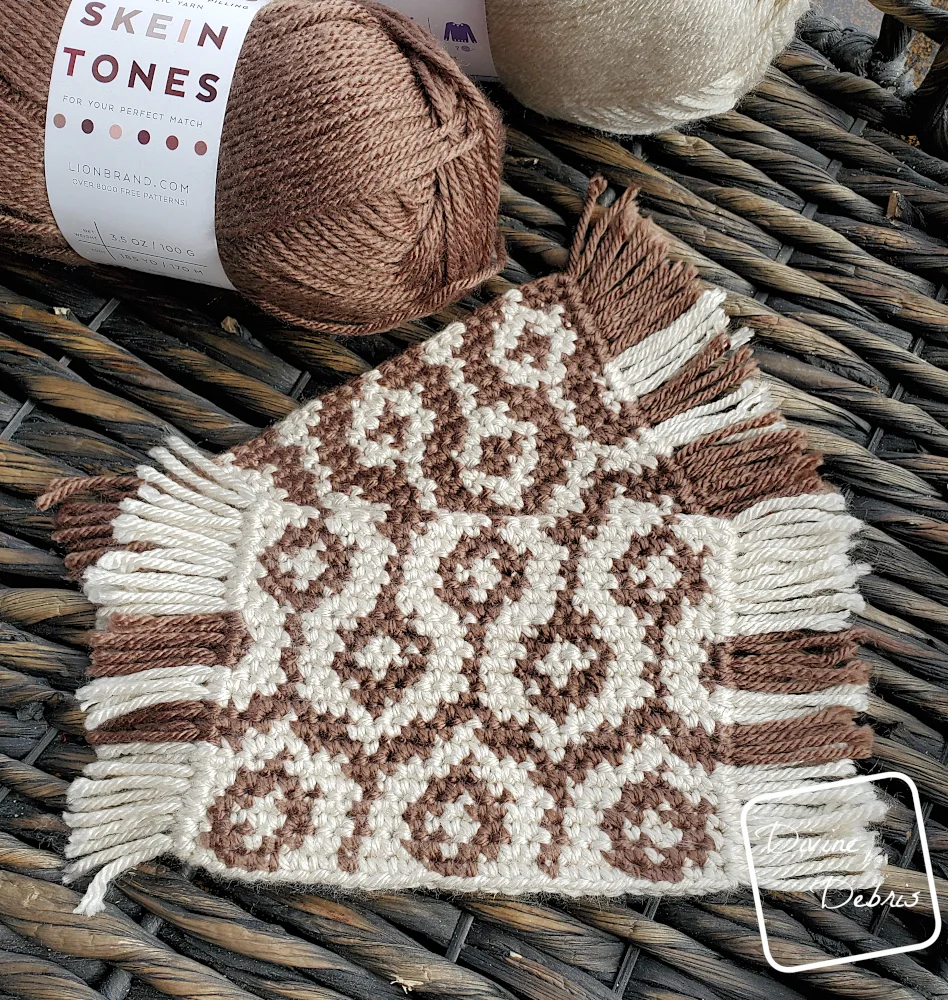 Hi there! It's just about Halloween and I have to say I'm going to miss this time of yarn. I know I've said it many times before, but it's one of my favorite time of the year to design for. It just makes me so inspired. And for the last design of the month, I wanted to make it fun but interesting and so I designed the Torrance Mug Rug crochet pattern.
First I have to ask, does this design look familiar to you? I hope so, because I was super inspired by the classic horror movies that are playing constantly in my house and made a variation of the iconic carpet from the Overlook Hotel from The Shining. Now, this isn't exactly the same, being 2 colors and all, but I wanted to keep this to a coaster and not a blanket so it needed to be simplified a bit. But I think it's pretty close all things considered. And that's why it's named the Torrance Mug Rug, after the family in the book/ movie. 🙂
Now I know it looks a little bit complicated but I swear it's not. It's only 2 colors, which I always suggest is a good place to start when trying out tapestry crochet. That way you can work on changing colors and tension and don't have to worry about involving other colors. I would just suggest when you're working with the RS facing you, keep the carried yarn behind the previous row's sts and when you're working with the WS facing you, keep the carried yarn in front of the previous rows sts. That's the best way, I've found, to keep the carried yarn from peeking through too much (although not entirely, but that's just the nature of the color work).
Anyway, I do hope you like this new pattern. It's a lot of fun, IMO, and it works up as fast you can crochet. I made both my samples in an afternoon. Oh! And don't forget to steam block your mug rug, it helps to soften the whole design, which could be on the thicker side when you're carrying yarn like this. And steam blocking helps to make fringe look so much nicer. This is the steamer I use.
Please note: I was not provided the yarn for this pattern by Lion Brand Yarn for the purposes of designing the Torrance Mug Rug crochet pattern. I've been using Basic Stitch yarn for years and I love it. It works up really well and I love it for color work like this or the Rainbow Coffee Coaster. This post contains affiliate links. If you purchase through any of the links in this post, I may be compensated.
Copyright @ Divine Debris 2023. No part of this document may be reproduced or transmitted in any form by any means, electronic, mechanical, photocopying, or otherwise, without prior written permission from the author. Sales of finished products are permitted, but the designer requests that you link back to the pattern and credit Divine Debris with the original design under the Creative Commons Attribution-Share Alike license. If you have any questions, comments or concerns please contact info@divinedebris.com.
---
(this post contains affiliate links)
---
If you appreciate my patterns I hope you'd consider purchasing an ad-free pdf of this pattern in my Ravelry shop and Lovecrafts shop!
---
Where to purchase the Torrance Mug Rug Crochet Pattern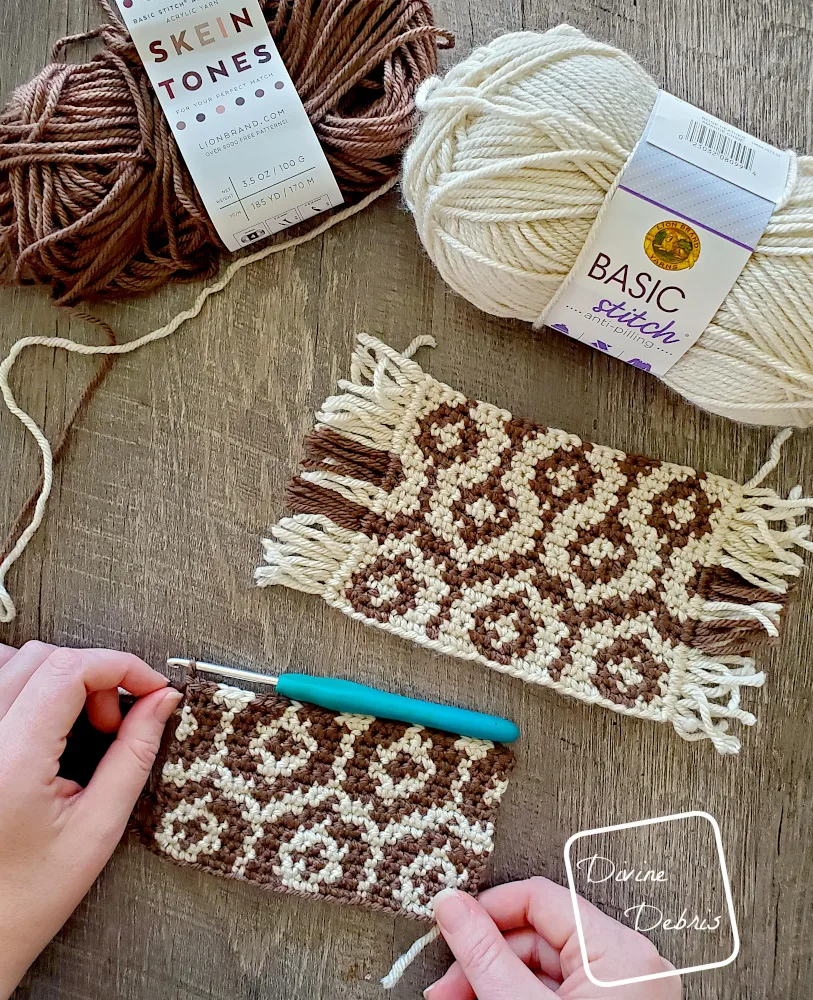 Level
Intermediate (need to know how to read a graph and do color work)
Materials
US G (4.00 mm) crochet hook
Worsted/ medium/ size #4 weight yarn
Notions: scissors, measuring tape, yarn needle
Gauge
20 sc x 20 rows = 4" (blocked)
Terms/ Stitches used
St: Stitch
Ch: Chain
RS: Right side
Notes
You can purchase the easy to print version of this pattern for a fee in my Ravelry shop.
This coaster is worked from the bottom up in rows, with a ch and turn at the beginning of the row.
Begin with a ch 28 in color A, turn, and start in the 2nd ch from the hook. Each row begins with a "ch 1, turn" and all st counts are 27 sc.
The ch 1 at the beginning of the rows does not count as a stitch.
Blocking is suggested for this pattern.
The odd rows are the right side.
This whole pattern is worked in sc, so the instructions will only tell you the number and the color; ie: "15" highlighted in cream means sc 15 times in your cream color.
For the samples: color A is cream and color B is brown to match the graph but in the photos the reverse is also shown. Basic Stitch by Lion Brand Yarn was used for both mug rugs.
---
Blocked Torrance Mug Rug Crochet Pattern Finished Product Details (approx not including fringe)
---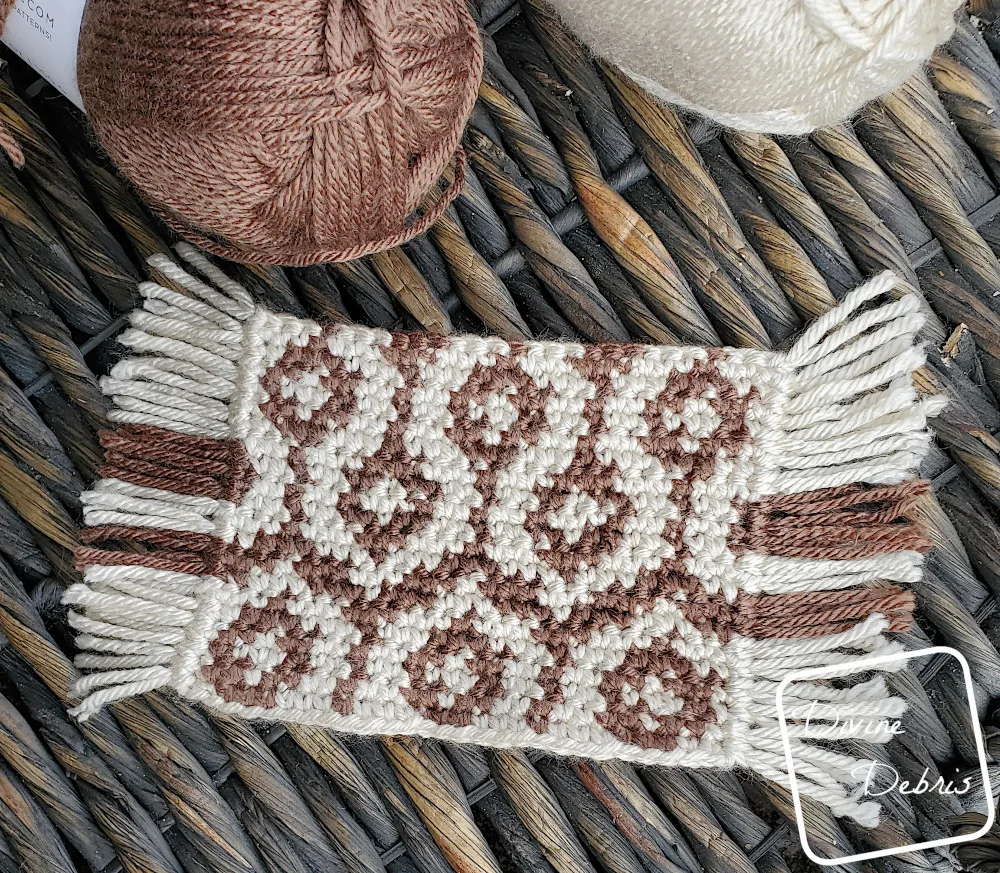 Looking for written instructions? Buy them on Ravelry here.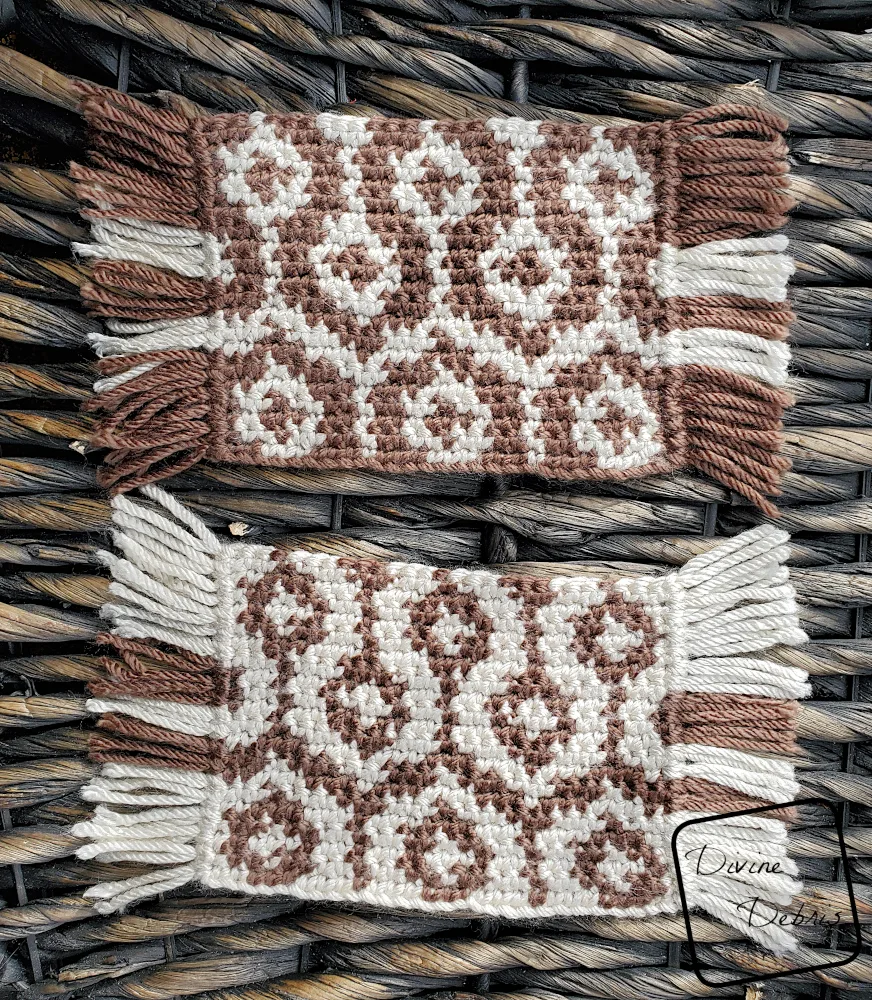 Finishing
For the fringe: Cut 40 3" pieces of yarn so they match the color used on the row ends. Then loop the individual pieces through the first and last stitches of the row so the colors line up
---
Tada! There they are, the Torrance Mug Rug Crochet Pattern! I hope you love it and use the hashtag #DivineDebris on Instagram and I'll share it in my stories!