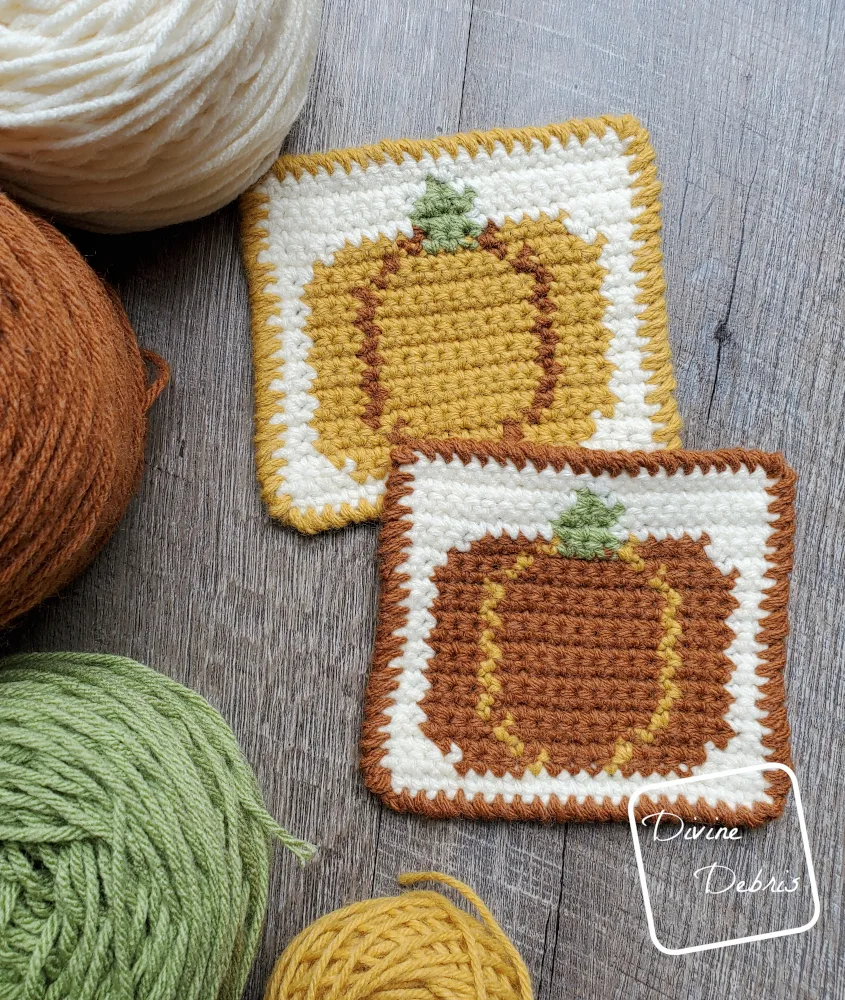 Did you know that I'm one of those annoying people who start celebrating Fall the minute August ends? I really am, because it's my favorite time of year and after the heat wave we had here in Southern California, I am so ready for a really long and calm Fall. And that's why I decided the 2nd pattern of September was going to be the first pumpkin pattern of 2022 Fall – say hello to the Fall Pumpkin Coaster crochet pattern.
Last month I made a very simple wall hanging pattern for Clover (you can pick it up here on Ravelry) and I liked the way it turned out so much that I decided I wanted to make something else to match it, so I made a coaster. You can never have too many coasters, right? And then if you want you can make this into a blanket done in C2C squares or a place mat or a bag or… honestly anything you can think of. It's just a really straightforward pumpkin pattern that that's very much what I wanted for the first pumpkin of 2022 Fall.
Now my favorite part of this coaster are the line details that go down the pumpkin but you can definitely leave those off if you don't want too many ends to deal with. But when I was working this design I used bobbins for the different colors and just changed colors across the rows by picking up and dropping the colors when I needed or didn't need them. I hope that makes sense. Here's an Instagram Reel of me working on one of them that might help you see what I mean. I prefer to use bobbins when I can, but I do also mix in a bit of carrying yarn when I need to. It's all what feels right in the moment, ya know? But this is a good pattern to test out your color work, intarsia/ tapestry skills 🙂
Oh and that border! That was the thing people liked the best when I shared it on Instagram. It's a Crab Stitch but worked forward. The first time I used the Crab Stitch (also called the Reverse Single Crochet) it was the single crochet backwards with that cute little texture. While I didn't hate that overall when I found the stitch could be worked forward with a twist to get the same texture, I was so much happier. I don't quite know why but it's just better to me and my hands. But either border works for this pattern. Or no border if you prefer. It's all about how you want your final piece to turn out.
Anyway, I hope you like this pattern and give it a try and make some pumpkin spice coffee to celebrate the first pumpkin of Fall 2022. Please wear and wash your masks and be kind to each other. It's been a hard one these few years, we need solidarity more than ever <3
Copyright @ Divine Debris 2022. No part of this document may be reproduced or transmitted in any form by any means, electronic, mechanical, photocopying, or otherwise, without prior written permission from the author. Sales of finished products are permitted, but the designer requests that you link back to the pattern and credit Divine Debris with the original design under the Creative Commons Attribution-Share Alike license. If you have any questions, comments or concerns please contact info@divinedebris.com.
---
(this post contains affiliate links)
---
If you appreciate my weekly patterns I hope you'd consider purchasing an ad-free pdf of this pattern in my Ravelry shop and Lovecrafts shop!
Thank you Meaghan for becoming my newest patron on Patreon!
---
Where to purchase the Fall Pumpkin Coaster crochet pattern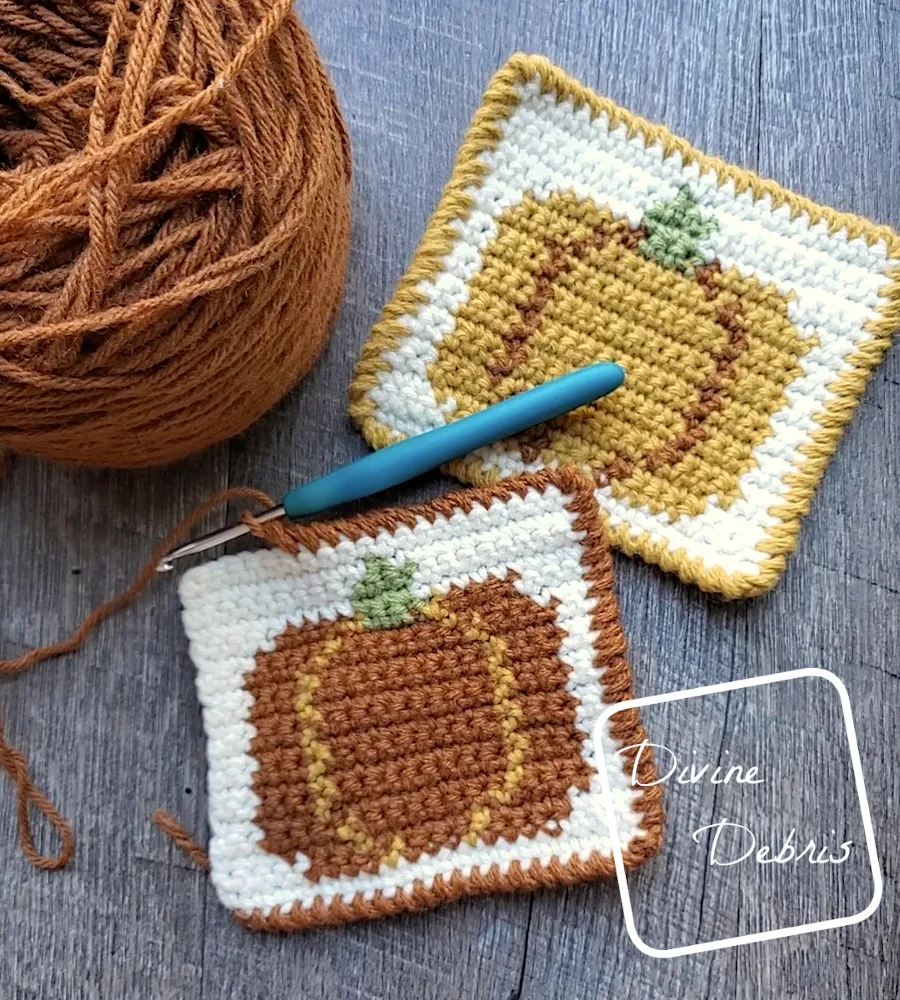 Level
Intermediate (need to know how to read a graph and do color work)
Materials
US G (4.00 mm) crochet hook
Worsted weight/ size #4 yarn

At least 4 colors
Less than 1 oz/ 62 yds each color
I used stash yarn I had for this

Notions: scissors, measuring tape, yarn needle
Gauge
19 sc x 20 rows = 4" (blocked)
Terms/ Stitches used
Ch: Chain
St: Stitch
Sc: Single crochet
RS: Right side
Fcs: Forward crab stitch (explained in the notes)
Notes
As is industry standard, this pattern is just a free graph and not written instructions but you can purchase the pattern for a fee in my Ravelry shop.
Forward crab stitch (Fcs): Insert your hook into the stitch, pull up a loop, turn your hook clockwise once so you twist the stitch, yarn over, pull through the 2 loops on your hook. Also called a Twisted Single Crochet (here's a Moogly video on it). This stitch is like a crab stitch, only you work it forward with a twist to give your border some texture.
This coaster is worked from the bottom up in rows, with a ch and turn at the beginning of the row.
The ch 1 at the beginning of the rows does not count as a stitch.
Blocking is suggested for this pattern.
The odd rows are the right side.
In the photos: color A is cream, color B is brown or mustard, color C is mustard or brown (color C is the lines that go through the pumpkin), and color D is green.
---
Blocked Fall Pumpkin Coaster crochet pattern measurements (approx)
---
---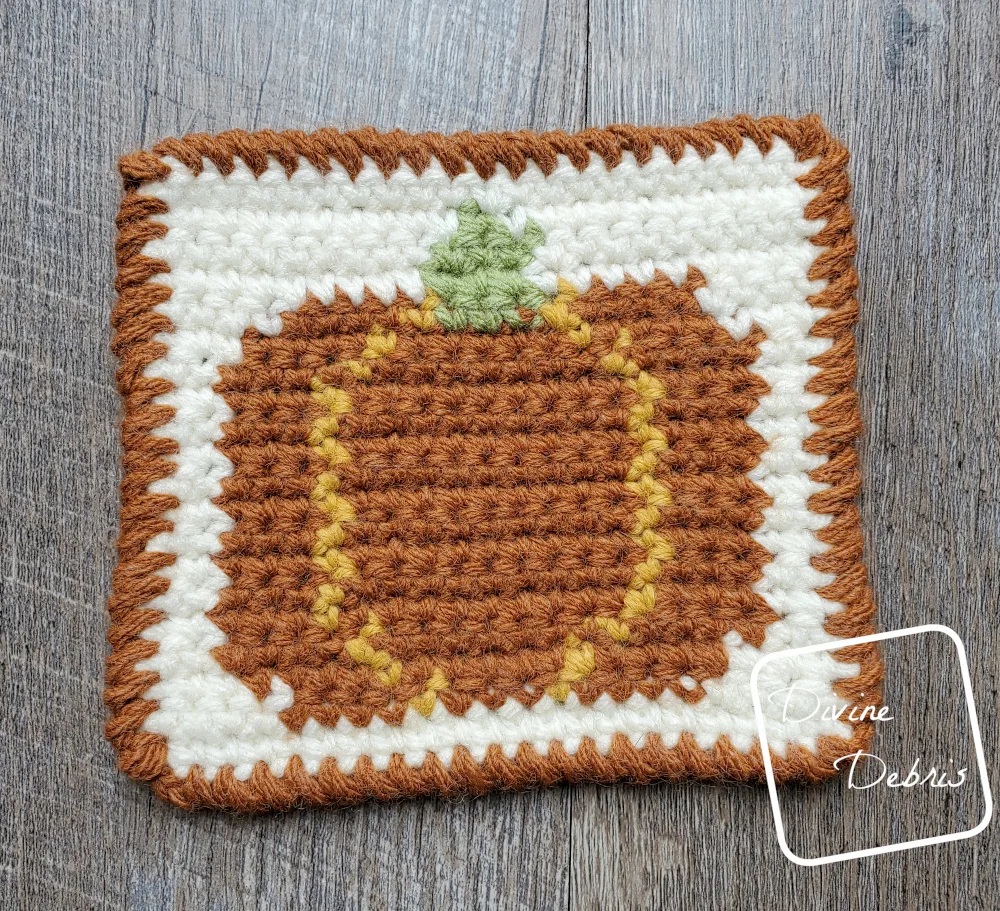 Fall Pumpkin Coaster Coaster Crochet Pattern Graph
Key: Color A is white, color B is orange, color C is brown, and color D is green.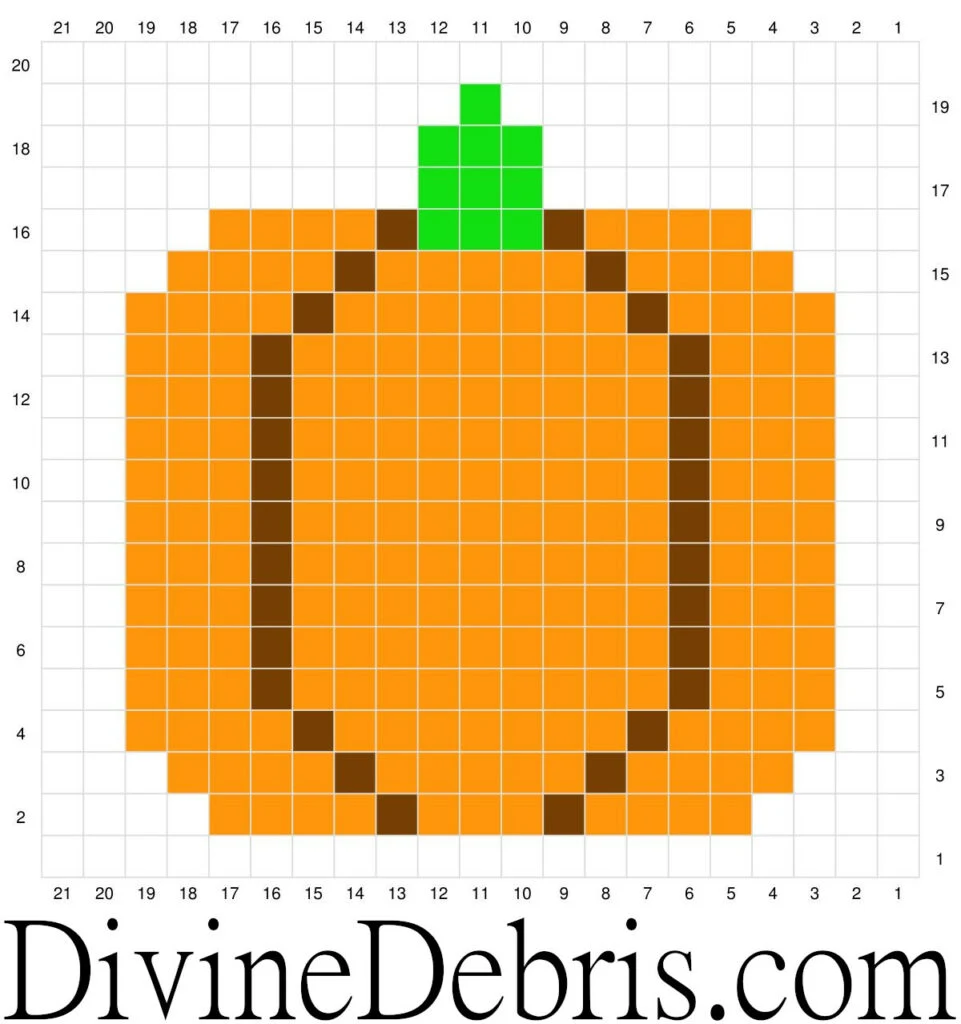 Finishing (optional)
Border
With the RS facing you, join your yarn in the first st on the other side of Row 1 of the coaster.
Row 1: Ch 1, fcs into the next 21 sts, ch 1 at the corner, fcs into the next 20 row ends, ch 1 at the corner, fcs into the next 21 sts of Row 20, ch 1, fcs down the next 20 row ends, ch 1, join with a slip st – 82 sc, 4 ch-1 spaces
Fasten off, weave in your ends. Block if you'd like.
You can pick up written instructions for the Fall Pumpkin Coaster crochet pattern in my Ravelry shop.
---
Tada! There there it is, the Fall Pumpkin Coaster crochet pattern! I hope you love it and use the hashtag #DivineDebris on Instagram and I'll share it in my stories!