I know I'm super coffee-centric, I've said I love coffee A LOT on more than one occasion, but I thought I'd mix it up a bit with a new coaster in the tapestry crochet style with another beverage I like, wine. 😀 I actually got the idea for this while working up another coffee themed design, but I wanted to show this one off first. I hope you all like it, it's pretty simple and a good way to get into tapestry if you've never done it before. Remember, just go slow and do it one stitch at a time if you've never tried it before. There are videos and links in the notes if you're still confused or stop by my Facebook page and ask a question on it and I'll try to answer it during today's LIVE chat.
Materials:
US G (4.00) mm crochet hook
Worsted weight/ size #4/ medium weight yarn

 .5 Oz/ 30 yards
I used random cotton yarn for this (3 colors)

Yarn needle
Gauge:
4.5" x 4.5" = 19 dcs x 9 rows
Terms/ stitches:
RS: right side (side that faces out)
Ch: chain
St: stitch
Slip st: slip stitch
Sc: single crochet
Notes:
This pattern is worked back and forth in rows, with a turn at the end/ beginning.
The ch 1 at the beginning of the row does not count as a stitch.
This pattern is worked from the bottom up.
All of the stitches in this pattern are single crochets, because of this the sides portion (where all the color changes are) only tells you how many stitches to do in what color, this is what the number in the parenthesis means.
Rather than changing, cutting, and weaving in the ends of all the colors, the yarn is carried through the bags in the photos. Here's a great tutorial on color changes. In this pattern, the active yarn is worked over the inactive.
Also check out this post about tapestry crochet from Moogly, it's helpful.
You can replace the chain row with a foundation single crochet row.
Feel free to add a border to the coaster if you want to give it a more "finished" look.
Color A: is blue, Color B: is white, and Color C: is red, in the photos shown here.
Finished dimensions:
Pattern instructions:
Row 1: A: Ch 16, sc into the second ch from the hook and into the next 14 sts – 15 scs
Row 2: A: (RS) Ch 1, turn, (4), B: (7), A: (4) – 15 scs
Row 3: A: Ch 1, turn, (5), B: (5), A: (5) – 15 scs
Row 4: A: Ch 1, turn, (6), B: (3), A: (6) – 15 scs
Rows 5 – 10: A: Ch 1, turn, (7), B: (1), A: (7) – 15 scs
Row 11: A: Ch 1, turn, (5), C: (5) A: (5) – 15 scs
Row 12: A: Ch 1, turn, (4), C: (7) A: (4) – 15 scs
Rows 13 – 14: A: Ch 1, turn, (3), C: (9), A: (3) – 15 scs
Fasten off Color C.
Rows 15 – 17: A: Ch 1, turn, (3), B: (1), A: (7), B: (1), A: (3) – 15 scs
Row 18: A: Ch 1, turn, (3), B: (9), A: (3) – 15 scs
Fasten off Color B.
Row 19: A: Ch 1, turn, (15) – 15 scs
Fasten off, weave in all your ends on the wrong side. If you want, as I said in the notes, to add a border to the whole coaster to make it look more "finished" feel free to do so, it will be super cute! I think this will go well with some nice wine gifts for the holidays, but that's just me.
Have a good week!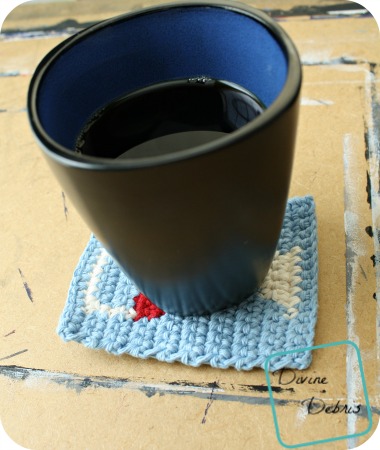 This post is linked to the Linky Ladies Community Link Party #64.