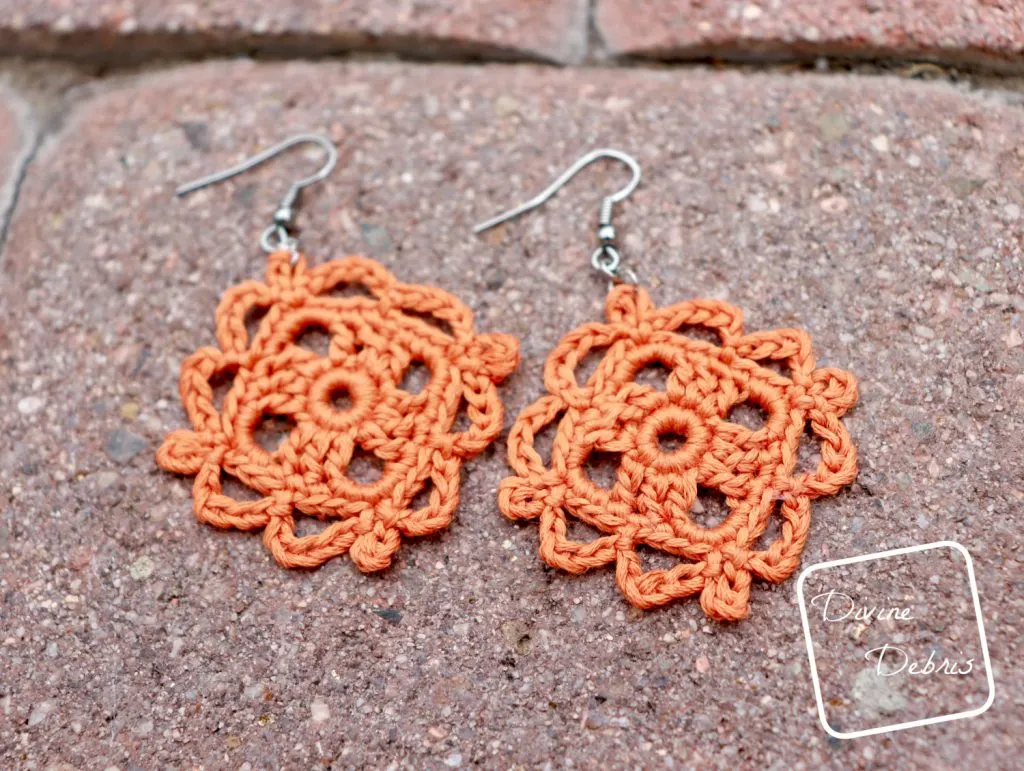 Happy April friends! Is it all Spring looking where you are? It's definitely rainy April here. I keep hoping to see a change in weather but it hasn't arrived yet. So, instead I'm going to ready myself for Spring with this week's new pattern – the Courtney Earrings crochet pattern.
Ok, ok. I know that for a lot of people, this pattern is going to be an immediate "nope" because of that small crochet hook. But I'm telling you, these earrings are so easy that you could make them in a few minutes and then glare at the tiny hook for days after. Set it aside for however long you need, teach it who's boss. Because you can make these earrings in under 30 minutes. When I was working on this pattern (after finding the photo in my FB album) I made 3 pairs of earrings in one day. Takes no time. I promise 🙂
Anyway… A week ago I asked on both Facebook and Instagram which people would rather see, the Emma or Courtney earrings – an overwhelming amount of people wanted the Courtney Earrings. They were the clear winner. Like, whoa! Winner. So I set out to make the earrings and see if there were ways to dress up this very simple design.
I added some beads, I did 2 colors, and I think later I'm going to add some fringe some of the other earrings. Basically I wanted to show you all the fun you could do with this design. Ooh! And I used DMC Floss for the yellow ones, because they have some lovely colors that I don't have in cotton thread. Better still, you can make one pair a skein of Floss, so that's handy right? So very many options to make each an every pair of the Courtney Earrings unique and special.
I hope that the options I've shown here have inspired you (and the small hook doesn't dissuade you from trying this pattern). And if you're like me and you're stuck at home trying to think of new projects to try, I hope you give this design a shot. And if you find you like them, give some of my other earring patterns a try.
Stay healthy and safe friends <3
This post is linked to
Hookin' on Hump Day 212
---
(this post contain affiliate links)
---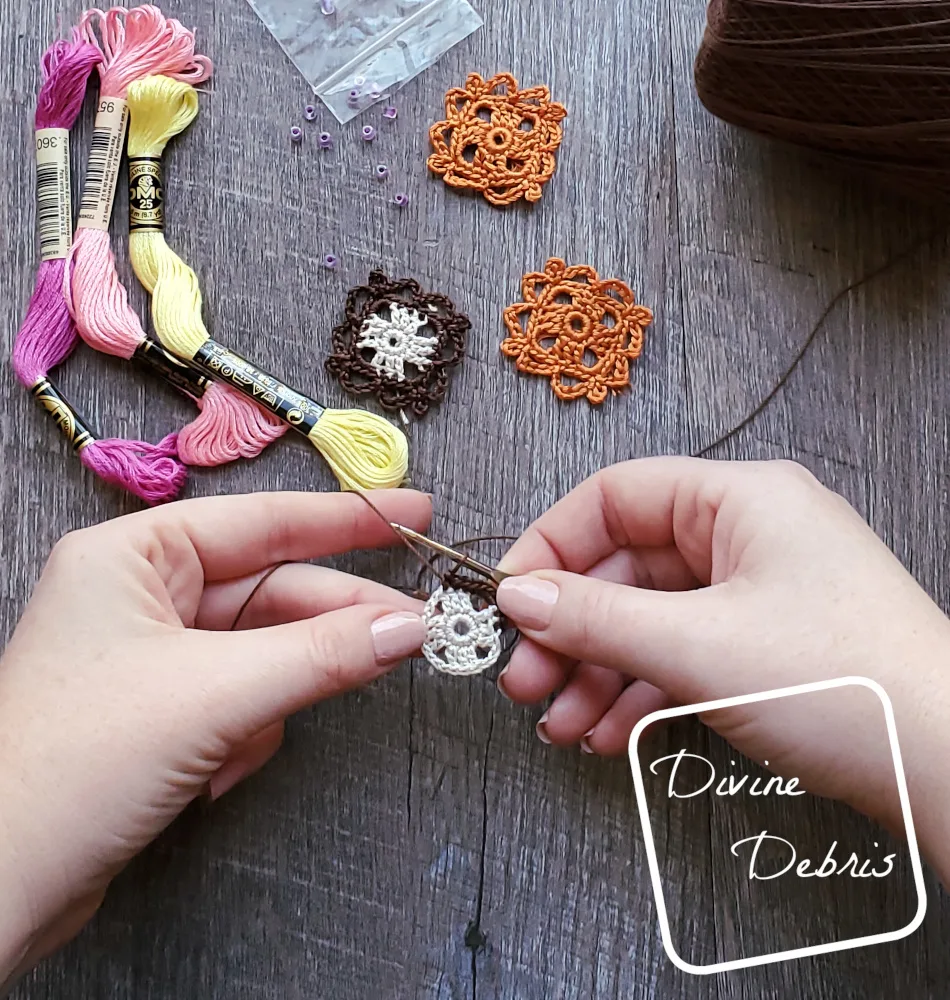 If you appreciate my weekly patterns I hope you'd consider purchasing an ad-free pdf of this pattern in my Ravelry shop.
Thank you to all my patrons on Patreon!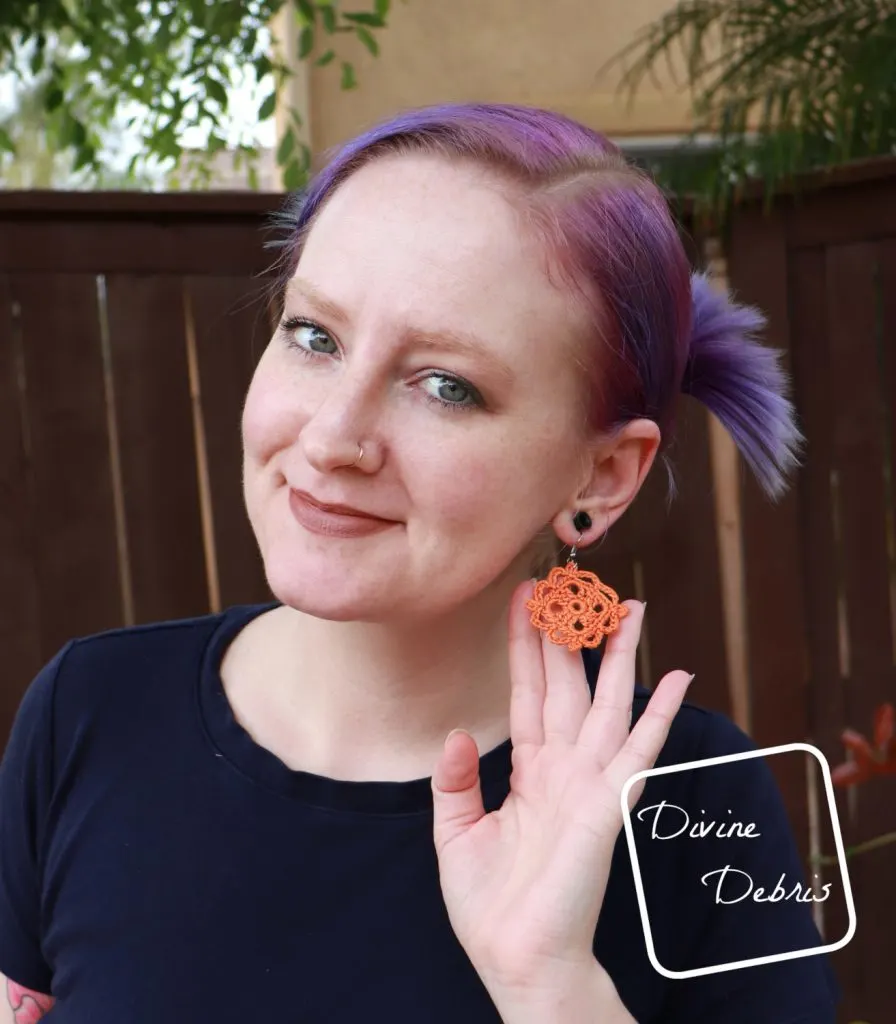 ---

Materials
US 2.25 mm crochet hook
Size 10 crochet thread
Needle that will weave in your ends
Jewelry pliers (I used these)
Terms/ Stitches used
RS: right side
Rnd: round
Ch: chain
St: stitch
Join
Slip st: slip stitch
Sc: single crochet
Dc: double crochet
Notes
These earrings are worked in the round, with a slip st into the first st of the rnd to join.
The ch 1 at the beginning of some rows does not count as a stitch.
You will need to know how to create a slipknot on your hook for this pattern.
You will need to stiffen your earrings with fabric stiffener to wear correctly.
Aunt Lydia's size 10 Crochet thread and DMC floss were used for these earrings.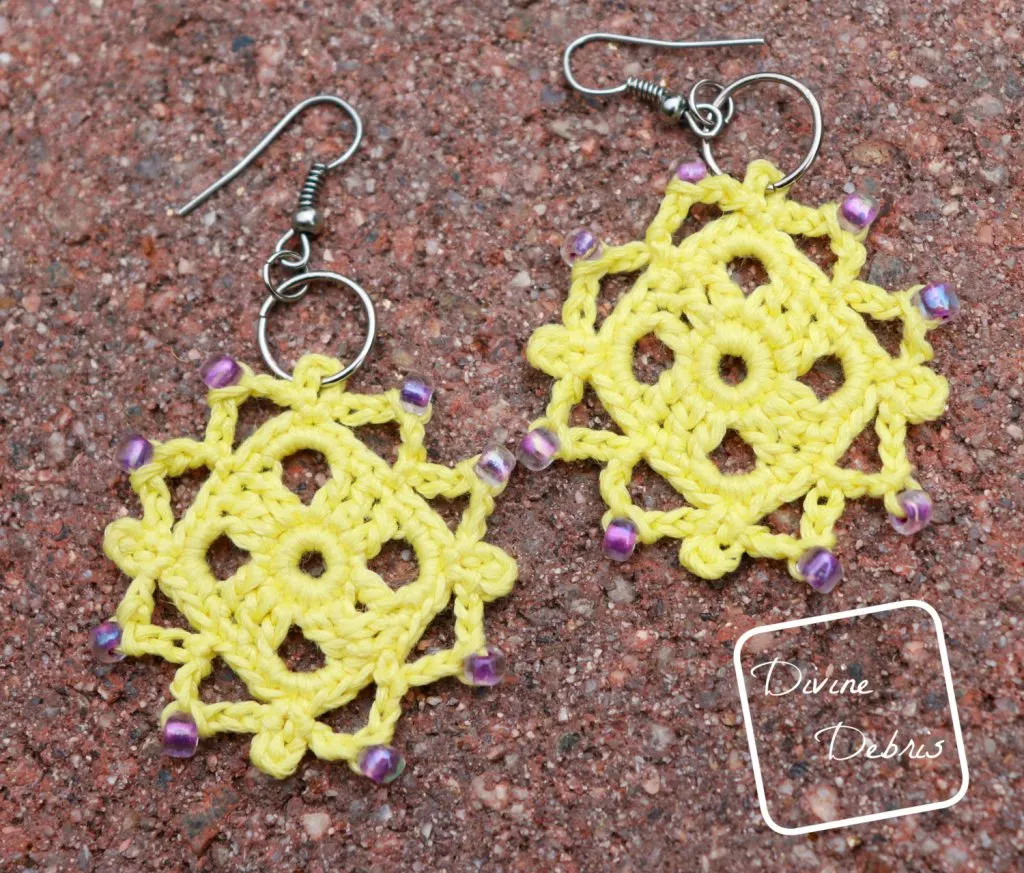 Finished product dimensions (measurements may vary by gauge and yarn used)
1.5" x 1.5"
---
Courtney Earrings Pattern instructions
Rnd 1: Ch 5, slip st to form a ring *do not twist this ring*
Please note: this ch-5 is to create a very snug center of the earring. You're going need to squish the 12 sc for the next rnd into the ring.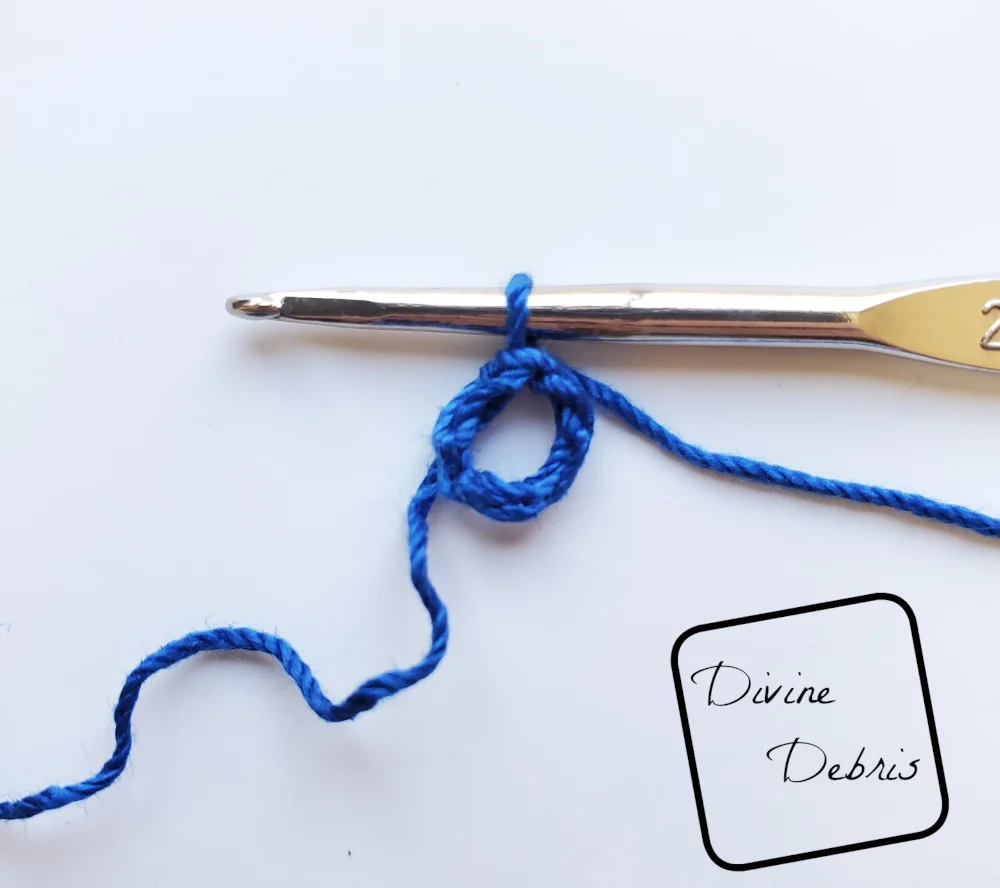 Rnd 2: Ch 1, sc 12 times into the ring, join – 12 sc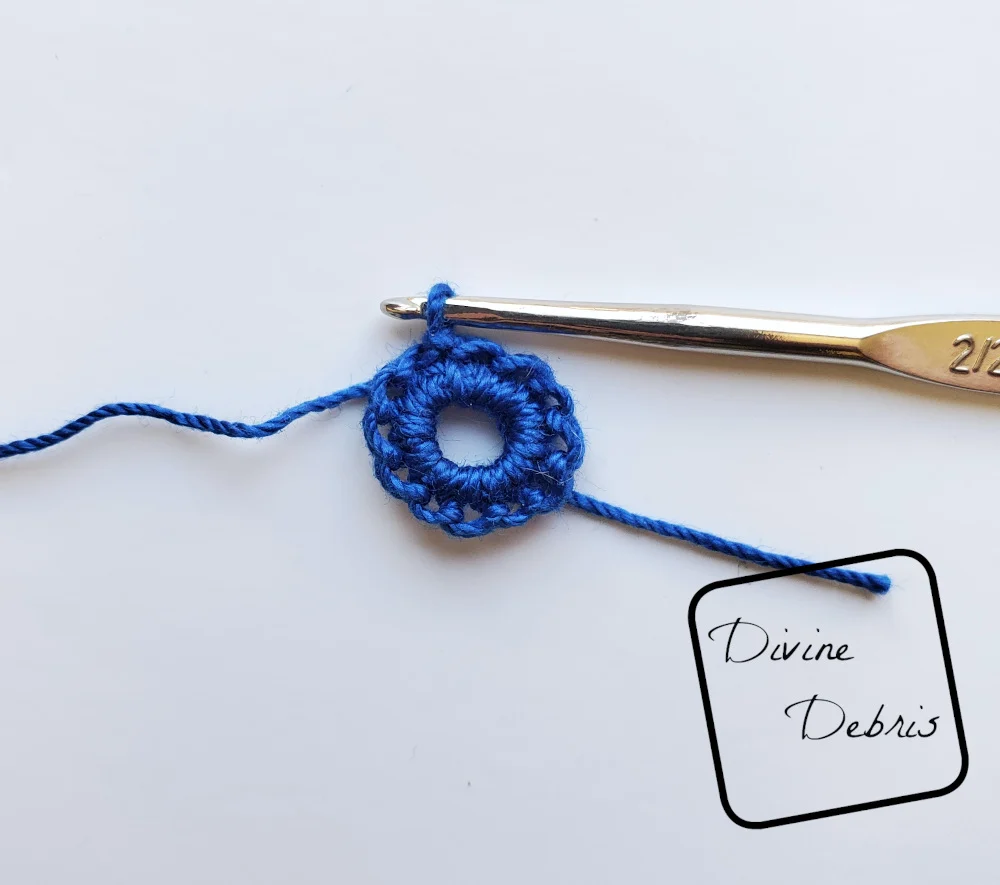 Rnd 3: Ch 3 (counts as a dc), dc into the next st, ch 3, *dc into the next 3 sts, ch 3,* repeat from * to * twice more, dc into the next st, join – 12 dc, 4 ch-3 spaces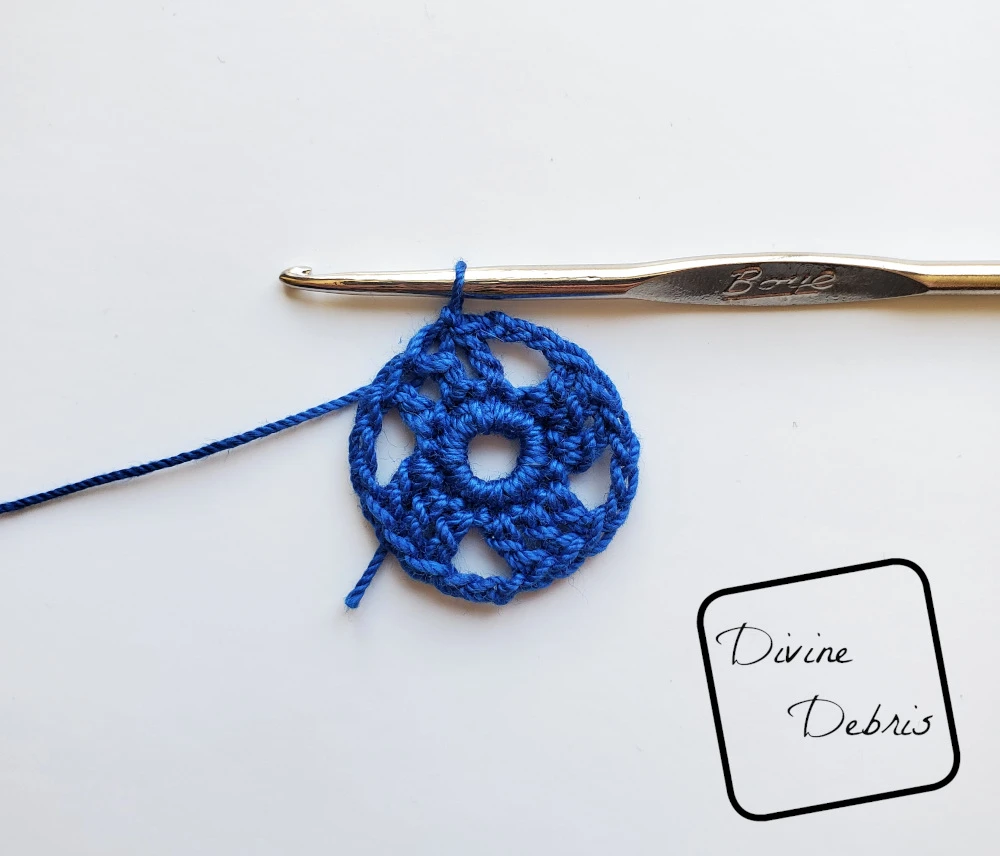 Rnd 4: Ch 1, sc into the same st as join, sc into the next st, sc 5 times into the ch-3 space, *sc into the next 3 sts, sc 5 times into the ch-3 space,* repeat from * to * twice more, sc into the next st, join – 32 sc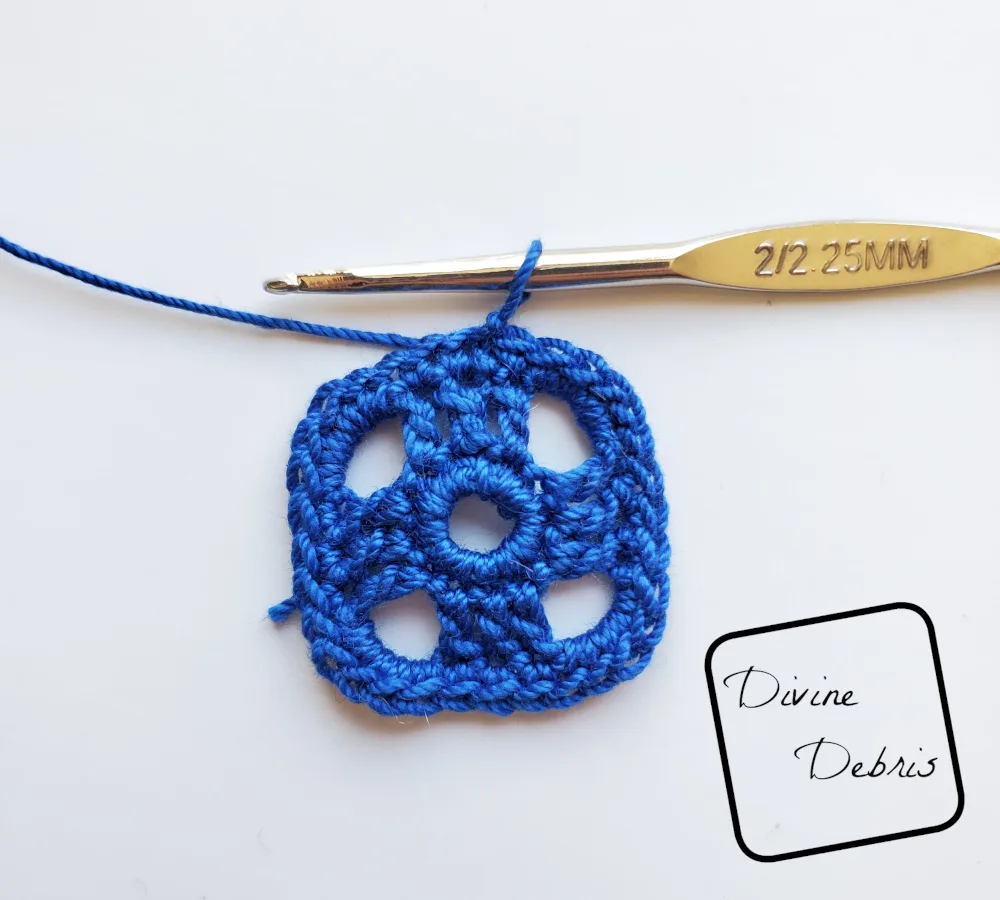 Rnd 5: Ch 6, skip the next 3 sc, (slip st, ch 5, slip st) into the next sc, *ch 6, skip 3 sc, slip st into the next st, ch 6, skip 3 sc, (slip st, ch 5, slip st) into the next sc,* repeat from * to * twice more, ch 6, slip st into the same st as join – 8 ch-6 spaces, 4 ch-5 spaces
Fasten off, weave in your ends.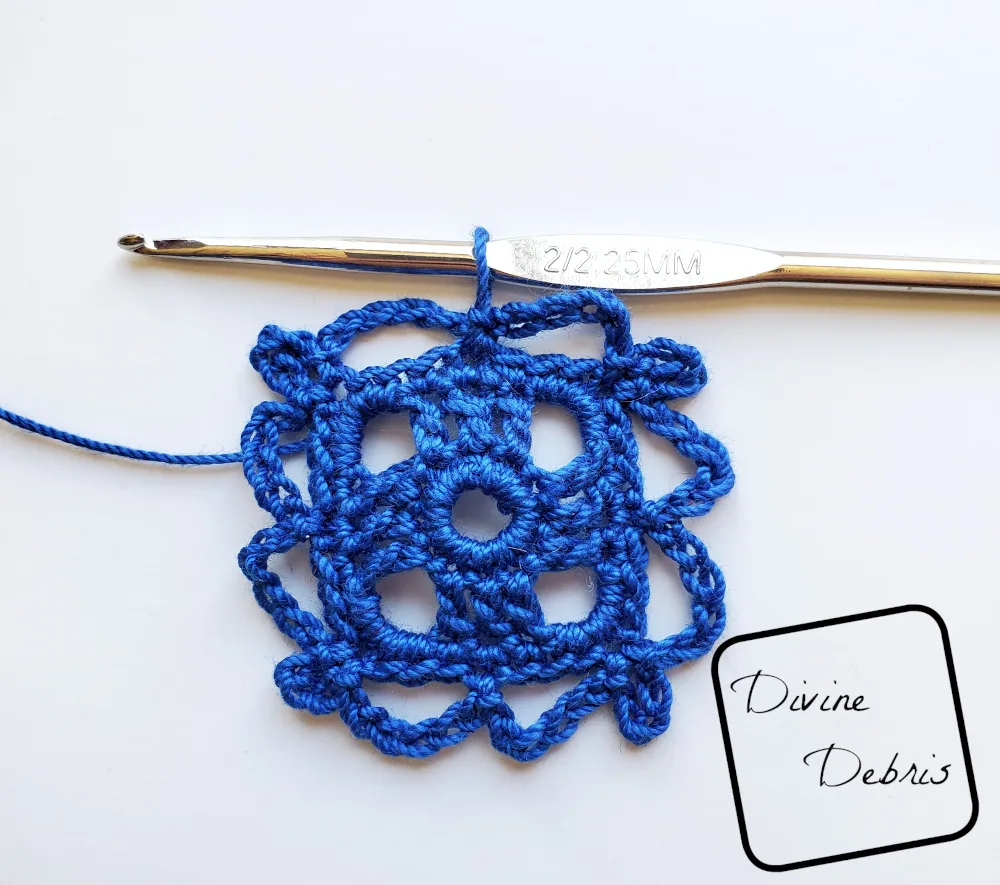 -Finishing-
Like I do with all my earrings, I stiffened these with fabric stiffener. Just wet them down with the stiffener (I dilute it with water some) and lay them flat to dry completely. When they're dry, attach the findings and wear.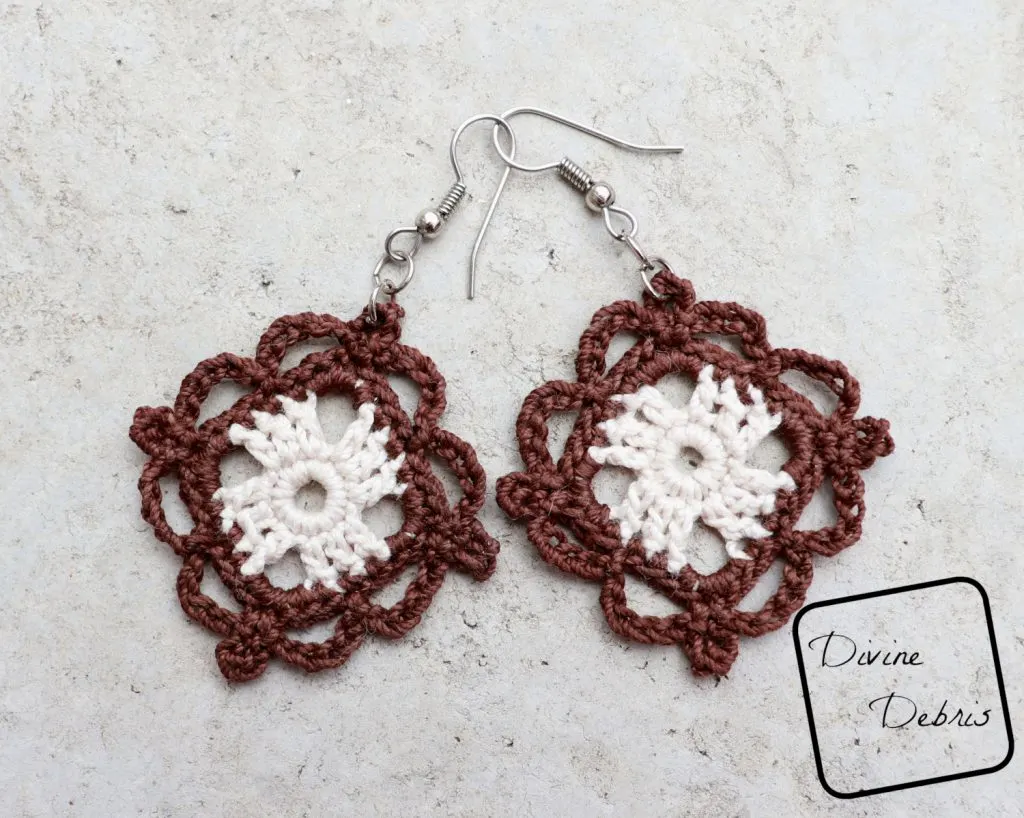 Tada! There it is, the Courtney Earrings crochet pattern! I hope you love it and use the hashtag #DivineDebris on Instagram and I'll share it in my stories!