While Halloween isn't quite here yet, I've decided no more Halloween patterns (not that I'm sick of them, I just got something else in mind). Instead, I've unveiling another hat pattern, which I've posted photos of on FB, the Katie Hat. It's the companion to Katie Cowl, only I used bulky yarn for the first time in my pattern writing. I've bought bulky yarn, and then put it down in my stash, but I never too comfortable with it, dunno why. It's not as stretchy as other yarns and that makes it difficult, for me, to work with. Also, can we talk about how it gives your hands a work out? My thumb aches something fierce! Regardless, I took a chance with some bulky yarn in making the Katie Hat, because I had pretty yarn on hand. Pretty yarn makes a crafter do things they might not always do.
You can make this hat with pretty much any yarn you have on hand, you just need to add more rows until you get to a width that works for you, most hats are 18″, 20″, 22″ or 24″ in circumference.
Materials:
US K (6.50 mm) Crochet Hook
Size #5/ Bulky Yarn
5.2 0z/ 161 yards
Needle to sew ends
Gauge:
12 dcs x 6 rows = 4.25″ 4.25″
Terms/ stitches used:

RS: Right Side
St: Stitch
Ch: Chain
Slip st: Slip Stitch
Sc: Single Crochet
Hdc: Half Double Crochet
Tr: Treble Crochet
Notes:
This hat is worked in two parts. The first is the main body which is worked flat, with rows worked back and forth and a turn at the beginning (or end) of the row. You secure the first row to the last to create a tunnel. Then you cinch the open end (opposite the brim) closed. The second is the brim, which is worked on one end of tunnel.
The right side is the side that the back of the hdc/ slip st row and tr front are facing out.
You can make the rows as long as you want, just make sure it's an even amount. Just chain an odd amount + 4 for your first row.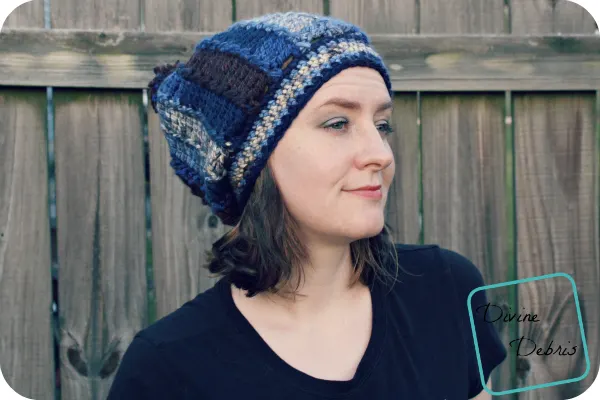 Finished measurements (for pattern as written):
Height: 11″
Width: 9″(brim) – 10.25″
Pattern instructions:
Row 1:(RS) Ch 27, tr into the 5th ch from the hook and across – 24 trs
Row 2: Ch 1, turn, slip st into the first st, hdc into the next st, *slip st into the next st, hdc into the next st,* repeat from * to * 10 more times – 12 hdcs
Row 3: Ch 4 (counts as a tr here and throughout), turn, tr into the next 23 sts – 24 trs
Row 4: Ch 1, turn, slip st into the first st, hdc into the next st, *slip st into the next st, hdc into the next st,* repeat from * to * 10 more times – 12 hdcs
Rows 5 – 32: repeat rows 3 – 4
Fasten off leaving a piece of yarn that is longer than a row. Use this piece of yarn to secure row 1 to row 32 with your preferred method of joining.
Now that you have a tunnel, cinch one end closed by weaving a piece of yarn and your needle back and forth on the tr rows, do this all the way around. Once you reach the place where you began, pull the pieces of yarn opposite each other to close the hole. Weave your ends in to secure the hole closed.
Brim:
Row 1: Opposite the closed end, start in any tr (do it close to seam from Row 1/32 that way you only have one seam place), sc 3 times into each tr edge all the way around, slip st into the first sc to secure – 48 scs
Rows 2 – 5: Ch 1, sc into the same st as join and into the next 47 sts, slip st into the first st to secure – 48 scs
Fasten off. Weave in your ends.
Note: Due to the lack of stretch in the bulky yarn, try on the hat before you fasten off, you may need to do 4 scs into the edge of trs (or a mixture of the two, maybe). Mine was a bit tight, not uncomfortably so, just tighter than I usually prefer and had I done 4 scs and not 3 it would have been perfect. (making the stitch count 64 scs)
Optional:
Lately I've really been on this adding pom poms to hats kick, I did it with my Kimberly Hat, I just really like it. I reads Winter to me or something, and it's kinda playful. For whatever reason, I decided to also add one to this hat. I have a Susan Bates pom pom maker and basically used this video to create the pom pom. You don't have to do this, I just wanted to. The hat looks great without it.
There ya go! Remember, you can really change up how many/ few stitches the rows have as well as how many rows you do to get a completely different looking hat each time you make this pattern. You could also use whatever yarn you have on hand, I used Red Heart Unforgettable in the Katie Cowl and it turned out lovely, you could easily do that for the hat as well (to make a matching set) you'll just have to increase the rows.
Also new this week is my Tabitha Cowl. It's the matching cowl to the Tabitha Hat I released January 2015. Both patterns are reversible, include multiple sizes and are on sale for $1.99 until November 2nd.
Have a great week! And have no fear, this will not be my final bulky yarn pattern. *evil laugh* :p
This post is linked to The Linky Ladies' Community Link Party #23, Oombawka Designs' Link and Share Wednesday #116, Rebeckah's Treasures' Saturday Link Party #19.