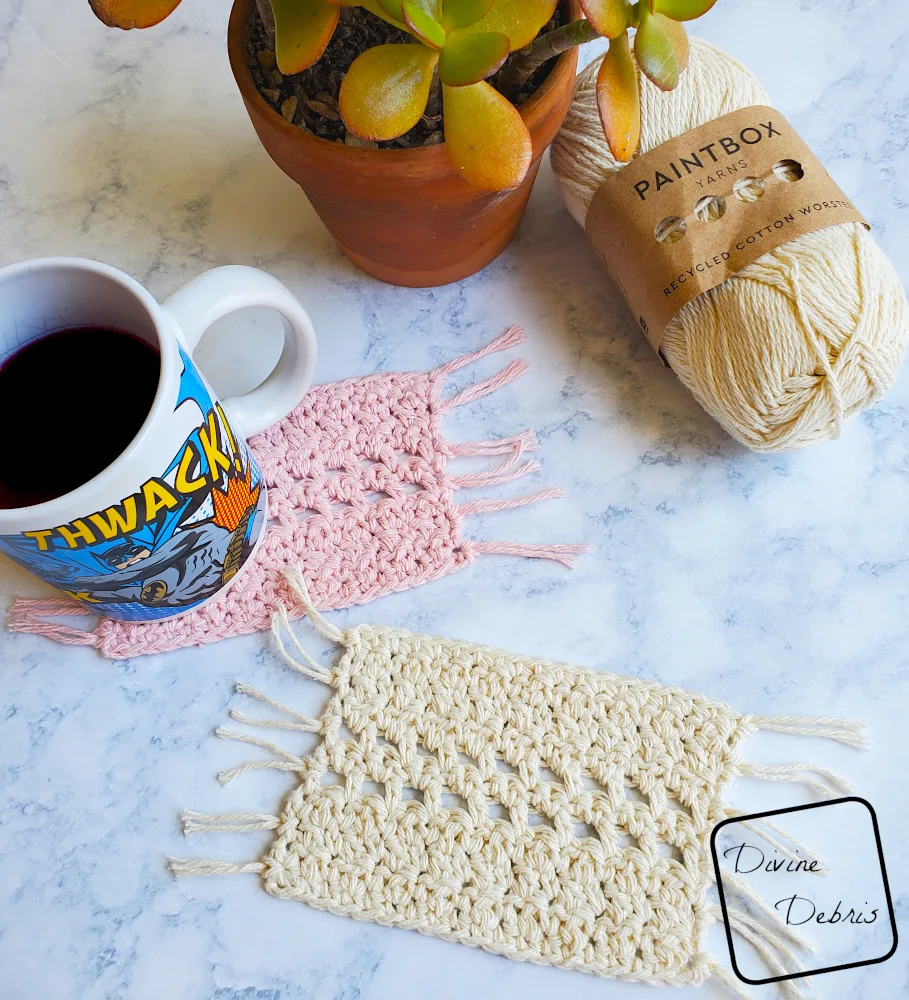 August is here! It means we have only one more month until it's socially acceptable for me to push Halloween onto everyone. Ha! If you've been around here for a while you know that Halloween is my favorite. But! Before we get there, I have another month of patterns for you to enjoy starting with this week's new Kieran Mug Rug crochet pattern.
Also something you may have noticed if you've been following my blog for a while, I love a good coaster. I think they're fantastic little projects that help to break up the monotony of a larger project (like a sweater or a blanket) and a great little stash busting opportunity that make great gifts. I've made loads of them over the years and lately I've really been into ones that are intarsia/tapestry looking… which I do love, don't get me wrong, but I need to mix things up a bit sometimes.
And that brings me to the second point I wanted to make – this is a new addition to my Kieran line (which started with the Kieran Cardigan). Well, it wasn't a line before but I have this tendency to make things in the same textures over and over (especially when it's such a fun texture). And the other day I was thinking about this year's pumpkin pattern and realized the Kieran would make a perfectly squishy pumpkin and then thought "why wait for pumpkins, I should make a new Kieran pattern now." So, that's how we got here, my friends, with a new mug rug and ideas for even more designs in the future.
As for this mug rug in particular, it's super easy. I kept it not too wide but you can make it wider or thinner as you'd like by adding/ subtracting sts in multiples of 2, as long as you keep the base count odd. Feel free to add rows to make it taller so it's more square or add a border. Ooh, or fringe on all 4 edges, not just the wider ones. It's totally up to you how you want to make this pattern. It's really simple and uses like half an oz of yarn, so it's a great stash buster. I really hope you like it. Don't forget to tell me in the comments what you think 🙂
I hope you're doing well and having a good start to your August. Be kind to yourself and to those around you, we're all just trying out best in the world. And as always, wash your hands and wear/ wash your masks <3 <3
Copyright @ Divine Debris 2022. No part of this document may be reproduced or transmitted in any form by any means, electronic, mechanical, photocopying, or otherwise, without prior written permission from the author. Sales of finished products are permitted, but the designer requests that you link back to the pattern and credit Divine Debris with the original design under the Creative Commons Attribution-Share Alike license. If you have any questions, comments or concerns please contact info@divinedebris.com.
---
(this post contains affiliate links)
---
If you appreciate my weekly patterns I hope you'd consider purchasing an ad-free pdf of this pattern in my Ravelry shop and Lovecrafts shop!
Thank you Anastasia for being my newest patron on Patreon!
---
Where to purchase the Kieran Mug Rug crochet pattern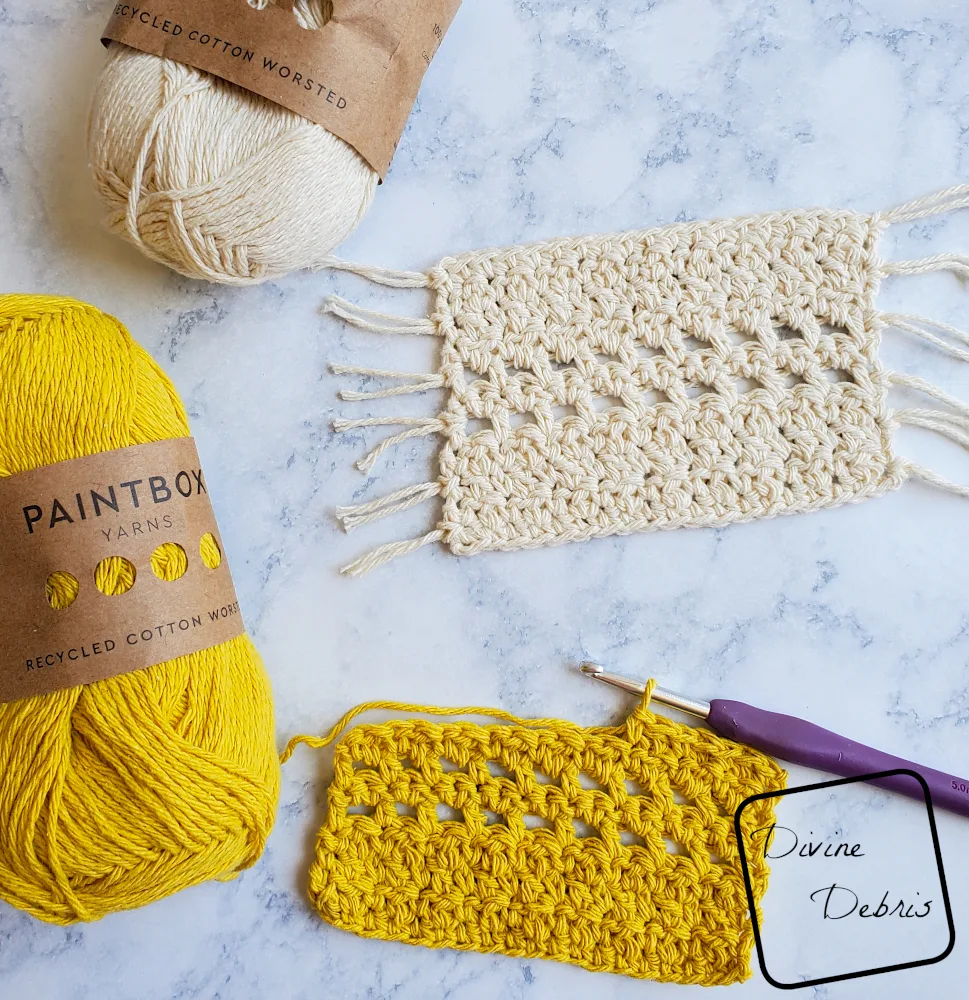 Level
Easy
Materials
US H (4.00 mm) crochet hook
Size #4/ worsted/ medium weight yarn
Notions: scissors, measuring tape, yarn needle
Gauge
15 sc/dc x 12 rows = 4" (blocked)
Terms/ Stitches used
Sk: Skip
St: Stitch
Ch: Chain
RS: Right side
Sc: Single crochet
Dc: Double crochet
Hdc: Half double crochet
Notes
For gauge: Chain an even amount of chs that will give you an over 4" swatch (your row st count needs to be odd), sc into the 2nd ch from the hook, *dc into the next st, sc into the next st,* repeat from * to * across. Row 2: Ch 1, turn, sc into the first sc, *dc into the next dc, sc into the next sc,* repeat from * to * across. Repeat row 2 as many times as you need to get more than 4" swatch then measure a blocked section.
The ch-1 at the beginning of some rows does not count as a stitch.
You can work into the ch-1 space or into the ch, it's entirely up to you.
Blocking is suggested for this pattern.
The multiple of this pattern is 2, just be sure to keep the final stitch count odd.
The samples were made with Paintbox Recycled Cotton Worsted.
Buy this pattern on Ravelry here.
---
Approx Finished Product Details for the Kieran Mug Rug crochet pattern (blocked)
Width
5"
Height
3.5" – 3.75"
---
---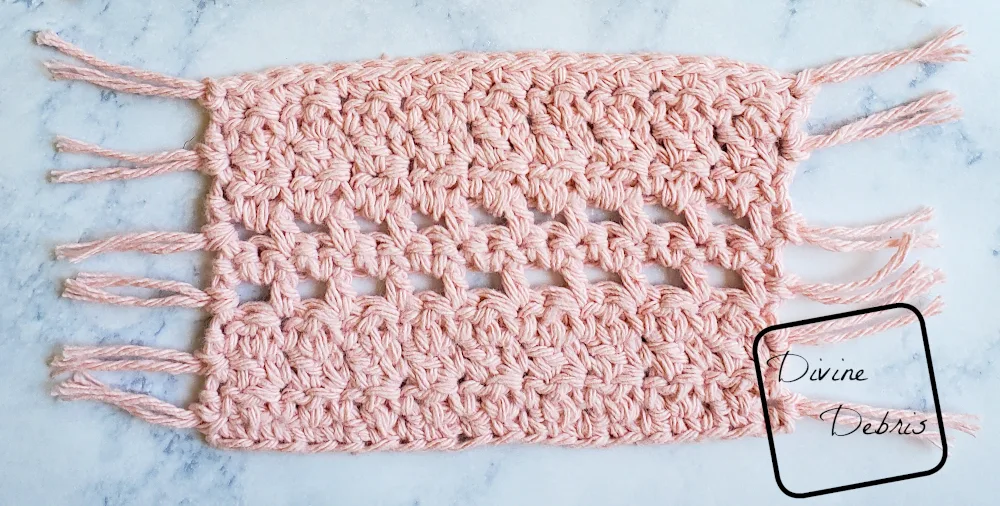 Kieran Mug Rug crochet pattern Instructions
(RS) Row 1: Ch 20, sc into the 2nd ch from the hook and across – 19 sc
Row 2: Ch 1, sc into the first st, *dc into the next st, sc into the next st,* repeat from * to * across – 10 sc, 9 dc
Rows 3 – 4: Ch 1, turn, sc into the first sc, *dc into the next dc, sc into the next sc,* repat from * to * across – 10 sc, 9 dc
Row 5: Ch 1, turn, hdc into the first st, *ch 1, sk the next st, hdc into the next st,* repeat from * to * across – 10 hdc, 9 ch-1 spaces
Row 6: Ch 1, turn, sc across (this includes the hdc and ch1 spaces) – 19 sc
Row 7: Repeat Row 5.
Rows 8 – 10: Repeat Rows 2 – 4.
Row 11: Ch 1, turn, sc across – 19 sc
Fasten off, weave in your ends. Block your piece if necessary (this may help even out the row ends).
Fringe (optional)
Cut 12, 2" – 3" pieces of yarn and starting on the end st of Row 1, attach your fringe on every other row until you reach row 11. Feel free to add more fringe or eliminate it all together.
And don't forget you can buy the Kieran Mug Rug crochet pattern on Ravelry.
---
Tada! There it is, the Kieran Mug Rug Crochet Pattern! I hope you love it and use the hashtag #DivineDebris on Instagram and I'll share it in my stories!